David Bowie 2004-06-04 Wantagh ,Tommy Hilfiger at Jones Beach Theatre (DIEDRICH).
Sound Quality Rating
– 01. Intro Music.flac
– 02. Rebel Rebel.flac
– 03. Queen Bitch.flac
– 04. Cactus.flac
– 05. Sister Midnight.flac
– 06. New Killer Star.flac
– 07. China Girl.flac
– 08. All The Young Dudes.flac
– 09. The Loneliest Guy.flac
– 10. The Man Who Sold The World.flac
– 11. Battle For Britain (The Letter).flac
– 12. Hallo Spaceboy.flac
– 13. Heathen (The Rays).flac
– 14. Under Pressure.flac
– 15. Station To Station.flac
– 16. Win (snippet).flac
– 17. Ashes To Ashes.flac
– 18. Quicksand.flac
– 19. Modern Love.flac
– 20. Im Afraid Of Americans.flac
– 21. "Heroes".flac
– 22. Slip Away.flac
– 23. White Light White Heat.flac
– 24. Diamond Dogs.flac
– 25. Five Years.flac
– 26. Suffragette City.flac
– 27. Ziggy Stardust.flac
Label : No label
Audio Source : Audience recording
Lineage : DAT
Taping Gear : Schoeps CCM4's > Sony PCM-M1 (DAT)
Taper: Unknown
Recording Location: Recorded 10 Rows FOB, 12 Seats Right of Center
Total running time : 2:15:39
Sound Quality : Good. Equals record or radio/TV apart from a slight noise and some dullness.
Attendance : Unknown
Artwork : By Saloca 2004
'Slip Away,' David Bowie's Uncle Floyd tribute
A lot of strange characters have populated David Bowie's songs over the years. But it was still a shock, in 2002, when Bowie released a song about New Jersey's leading neo-vaudeville comedian/honky tonk piano player, "Uncle" Floyd Vivino.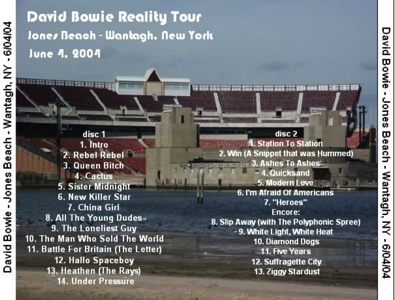 The song was "Slip Away," from Bowie's "Heathen" album — a dreamy little number in which Bowie sings about Oogie and Bones Boy (puppet characters on Vivino's long-running low-budget TV show, "The Uncle Floyd Show") and croons, in the chorus: "Sailing over Coney Island/Twinkle, twinkle, Uncle Floyd/We were dumb but you were fun, boy/How I wonder where you are."
How did Bowie end up writing about Floyd? Well, Bowie spent a lot of time in New York in the late '70s and early '80s, when Vivino's show was most popular. Vivino (who is now 63 and still performs frequently in the Garden Stage) told me, in a 2002 interview for The Star-Ledger, that Bowie once told him John Lennon had introduced him to the show.
Here's Bowie's explanation, as posted on his web site, davidbowie.com, in 2002:
"Back in the late '70s, everyone that I knew would rush home at a certain point in the afternoon to catch the Uncle Floyd show. He was on UHF Ch. 68 and the show looked like it was done out of his living room in New Jersey. All his pals were involved and it was a hoot. It had that Soupy Sales kind of appeal and though ostensibly aimed at kids, I knew so many people of my age who just wouldn't miss it. We would be on the floor it was so funny. Two of the regulars on the show were Oogie and Bones Boy, ridiculous puppets made out of ping-pong balls or somesuch … I just loved that show."
Below is footage of Bowie performing the song at the Tommy Hilfiger at Jones Beach Theatre in Wantagh, N.Y., in 2004, with some help from members of the group, the Polyphonic Spree.
Be sure to check out Bowie's comments about Floyd in the clip, and the classic Floyd footage he incorporates into his stage show.
New Jersey is celebrating its 350th birthday this year. And in the 350 Jersey Songs series, we are marking the occasion by posting 350 songs — one a day, for almost a year — that have something to do with the state, its musical history, or both.



David Bowie Tour band 2003-2004 A Reality Tour
A Reality Tour was a worldwide concert tour by David Bowie in support of the Reality album. The tour commenced on 7 October 2003 at the Forum Copenhagen, Denmark, continuing through Europe, North America, Asia, including a return to New Zealand and Australia for the first time since the 1987 Glass Spider Tour. Bowie retired from performing live in 2006, making this tour his last.
The tour grossed US$46 million, making it the ninth-highest-grossing tour of 2004.
The Tour band
• David Bowie – vocals and acoustic guitar
• Earl Slick – lead guitar
• Gerry Leonard – guitar, backing vocals
• Gail Ann Dorsey – bass guitar, vocals
• Sterling Campbell – drums, percussion
• Mike Garson – keyboards, piano
• Catherine Russell – backing keyboards/backing vocals
Start date 11 June 2002
End date 23 October 2002



(Visited 1,030 times, 1 visits today)