David Bowie 2004-04-01 -Toronto ,Air Canada Center – Toronto Reality 2004 –
Sound Quality Rating
– 01, Concert Intro.flac
– 02, Rebel Rebel.flac
– 03, Modern Love.flac
– 04, New Killer Star.flac
– 05, Fame.flac
– 06, Cactus.flac
– 07, All The Young Dudes.flac
– 08, China Girl.flac
– 09, Never Get Old.flac
– 10, The Loneliest Guy.flac
– 11, The Man Who Sold The World.flac
– 12, Hallo Spaceboy.flac
– 13, Sunday.flac
– 14, Heathen (The Rays).flac
– 15, Band Introductions.flac
– 16, Under Pressure .flac
– 17, Days.flac
– 18, Slip Away Space Oddity Tease.flac
– 19, Looking For Water.flac
– 20, Ashes To Ashes.flac
– 21, Hang On To Yourself.flac
– 22, Quicksand .flac
– 23, I'm Afraid Of Americans.flac
– 24, "Heroes".flac
– 25, Crowd Noise.flac
– 26, Starman (Encore).flac
– 27, Five Years (Encore).flac
– 28, Suffragette City (Encore).flac
– 29, Ziggy Stardust (Encore).flac
Label : No Label
Audio Source : Audience recording
Lineage : Unknown
Taping Gear : Unknown
Taper: Burnboy
Recording Location: Unknown
Total running time : 2:12:52
Sound Quality : Very good. Equals record or radio/TV apart from a slight noise and some dullness.
Attendance : Unknown
Artwork : Yes
Note : same as 'Toronto 2004'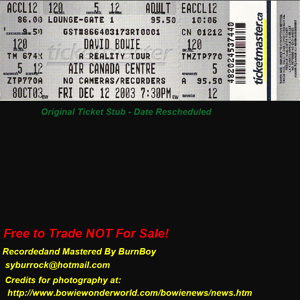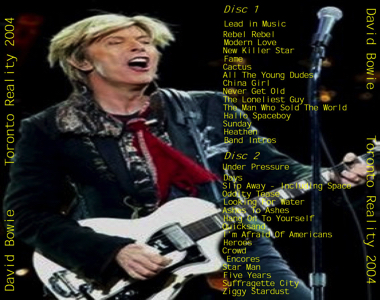 Review : Chuck Mogat
Back in 1990, a forward-looking David Bowie vowed to blow out his old songbook one last live time with the hit-laden Sound + Vision tour. A decade-and-a-half later, the erstwhile "thin white duke" seems to have come to terms with the fact that, collectively, his back catalogue remains bigger than he ever was, or is ever likely to be again. Accordingly, the set list for Bowie's ongoing Reality tour relies heavily on the shape-shifting, genre-melding artist's material of yore. While Bowie has trotted out the oldies on occasion since 1990, those efforts to mine the velvet goldmine haven't been nearly as extensive as they are this time out. In fact, were it not for the tour's moniker, even those particularly devoted fans in attendance could have been forgiven for being unaware that Bowie had a new disc in the offering. But whereas Sound + Vision was effectively a "greatest hits" tour, this latest trek presents more of a "best of" package, as curated by someone well versed in the deeper, slightly more obscure recesses of Bowie's musical oeuvre. Sure, there was plenty to satisfy meat and potato fans (like show-opener "Rebel Rebel" and Let's Dance tracks "Modern Love" and "China Girl), but even the fat guy dressed up like the wizard from Labyrinth must have been at least a little surprised and delighted to hear Dave turn in a rare rendition of the Hunky Dory epic "Quicksand," or re-establish his claim to "All the Young Dudes" and the Queen co-written "Under Pressure." A glossed-up version of the Pixies' "Cactus" served as another of the set's higher points of interest, along with at least half of the tracks from Rise and Fall of Ziggy Stardust. In stark contrast to the pretence of that era, though, this was Bowie at his most casual and relaxed, sharing laughs with the audience and carrying on between songs. That backyard barbecue vibe, compounded with an undeniably uplifting set by show-opening happy cult the Polyphonic Spree, and a ubiquitous curtain of pot smoke, helped to deliver the feel-good concert experience of the year.
April 1, 2004, at Air Canada Centre:
"He opened his set with a storming Rebel Rebel and kept it buzzing early on with an anthemic All the Young Dudes and a slightly anemic Fame," wrote The Globe's Simon Beck, about Mr. Bowie's make-good concert after a 2003 postponement. "But this was not the greatest-hits show it was hyped up to be. And not for nothing. During every new song, the audience patiently sat through while waiting for Major Tom to reorbit, it was clear Mr. Bowie was most in his element. His energy level seemed to surge in reverse relation to the crowd's familiarity with the songs."
David Bowie Tour band 2003-2004 A Reality Tour
A Reality Tour was a worldwide concert tour by David Bowie in support of the Reality album. The tour commenced on 7 October 2003 at the Forum Copenhagen, Denmark, continuing through Europe, North America, Asia, including a return to New Zealand and Australia for the first time since the 1987 Glass Spider Tour. Bowie retired from performing live in 2006, making this tour his last.
The tour grossed US$46 million, making it the ninth-highest-grossing tour of 2004.
The Tour band
• David Bowie – vocals and acoustic guitar
• Earl Slick – lead guitar
• Gerry Leonard – guitar, backing vocals
• Gail Ann Dorsey – bass guitar, vocals
• Sterling Campbell – drums, percussion
• Mike Garson – keyboards, piano
• Catherine Russell – backing keyboards/backing vocals
Start date 11 June 2002
End date 23 October 2002



.
(Visited 818 times, 1 visits today)