David Bowie 2003-10-27 Munich ,Olympiahalle – Christmas Songs – Munich Oct 20th '03 –
Sound Quality Rating
– 01. Intro Music.flac
– 02. Rebel Rebel.flac
– 03. New Killer Star.flac
– 04. Fame.flac
– 05. Cactus.flac
– 06. Sister Midnight.flac
– 07. Announcement.flac
– 08. Afraid.flac
– 09. China Girl.flac
– 10. Fall Dog Bombs the Moon.flac
– 11. Hallo Spaceboy.flac
– 12. Sunday.flac
– 13. Under Pressure.flac
– 14. GADs Shoes.flac
– 15. Ashes To Ashes.flac
– 16. Band Introductions.flac
– 17. Fashion.flac
– 18. Intrumental – fashion Walk.flac
– 19. Never Get Old.flac
– 20. The motel.flac
– 21. 5-15 The Angels have gone.flac
– 22. Loving The Alien.flac
– 23. She'll Drive A Big Car.flac
– 24. I'm Afraid Of Americans.flac
– 25. "Heroes".flac
– 26. Heathen.flac
– 27. Encore Break.flac
– 28. Encore 01 – Bring Me The Disco King.flac
– 29. Band Introduction.flac
– 30. Encore 02 Hang On To Yourself.flac
– 31. Encore 03 Suffragette City.flac
– 32. Encore 04 – Ziggy Stardust.flac
Label : No label
Audio Source : Audience recording
Lineage : Unknown
Taping Gear : Unknown
Taper: Unknown
Recording Location: Unknown
Total running time : 2:14:04
Sound Quality : Good. Equals record or radio/TV apart from a slight noise and some dullness.
Attendance : Unknown
Artwork : Yes
David Bowie's A Reality Tour stopped of at Munich's Olympiahalle in Germany last night, for what David referred to as the "Christmas Show". He apparently wished the audience a Happy Christmas on more than one occasion… The man's not the full ticket if you ask me!
The assembled Munichians were lucky enough to be treated to a version of Iggy Pop's Sister Midnight for the first time since the Poughkeepsie show. It's also interesting to note that two fifths of the songs are taken from the last two studio albums, with five songs each from Reality and Heathen featuring in last night's set.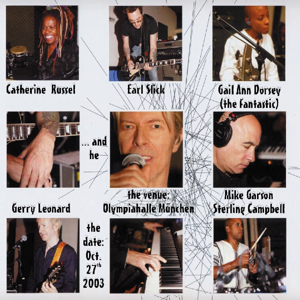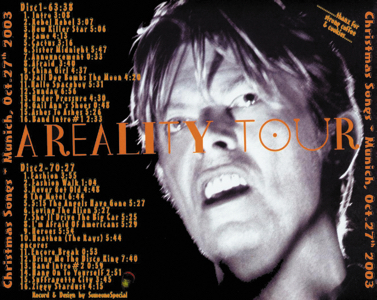 David Bowie Tour band 2003-2004 A Reality Tour
A Reality Tour was a worldwide concert tour by David Bowie in support of the Reality album. The tour commenced on 7 October 2003 at the Forum Copenhagen, Denmark, continuing through Europe, North America, Asia, including a return to New Zealand and Australia for the first time since the 1987 Glass Spider Tour. Bowie retired from performing live in 2006, making this tour his last.
The tour grossed US$46 million, making it the ninth-highest-grossing tour of 2004.
The Tour band
• David Bowie – vocals and acoustic guitar
• Earl Slick – lead guitar
• Gerry Leonard – guitar, backing vocals
• Gail Ann Dorsey – bass guitar, vocals
• Sterling Campbell – drums, percussion
• Mike Garson – keyboards, piano
• Catherine Russell – backing keyboards/backing vocals
Start date 11 June 2002
End date 23 October 2002



(Visited 558 times, 1 visits today)