David Bowie 2002-10-02 London Hammersmith Odeon / Carlin Apollo and Maida Vale Studios – Resurrection –
Sound Quality Rating
101. Introduction
102. Life On Mars?
103. Ashes To Ashes
104. Look Back In Anger
105. Survive
106. Breaking Glass
107. Cactus
108. China Girl
109. Slip Away
110. Absolute Beginners / Band Introductions
201. Alabama Song
202. Speed Of Life
203. Be My Wife
204. Fame
205. I'm Afraid Of Americans
206. 5:15 The Angels Have Gone
207. I've Been Waiting For You
208. Afraid
209. Fashion
210. Rebel Rebel
211. "Heroes"
212. Heathen (The Rays)
Encores
301. Sunday
302. I Would Be Your Slave
303. Moonage Daydream
304. Changes
305. Starman
306. A New Career In A New Town
307. Everyone Says "Hi"
308. The Bewlay Brothers *
309. Sound And Vision
310. Hello Spaceboy
311. Let's Dance
312. Ziggy Stardust
Label : Temple Of Sound (Japan)
Audio Source : Audience recording
Lineage :
Taping Gear : Unknown
Taper: Unknown
Recording Location: Unknown
Total running time : 2:42:51
Sound Quality : very good. Equals record or radio/TV apart from a slight noise and some dullness.
Attendance : Unknown
Artwork : Yes
Note * : Denotes first time performed on tour.
Recorded at the Hammersmith Odeon, 2nd October 2002 this is a very good Audience recording indeed.
The show is complete, and the Encores alone would be equivalent to the entire set on a lot of artists running to 12 songs and clocking in at over an hour in duration!
There is also a bonus set from a BBC session that has been previously available as both "Back At The Beeb" and "Back To The Beeb" from BBC Radio 2 In Concert, recorded at the BBC Maida Vale studios on 18th September 2002 and broadcast on the Jonathan Ross show.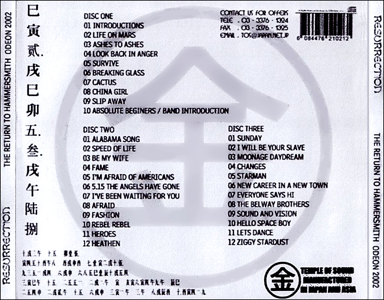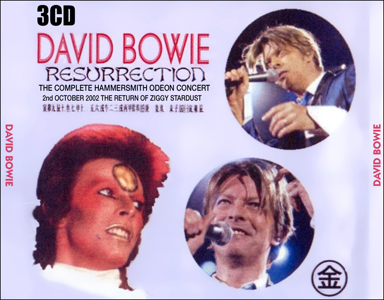 David Bowie Tour band 2002 Heathen Tour
The David Bowie Heathen Tour was a 2002 concert tour in support of the album, Heathen, and was also notable for the performances of all songs from the 1977 Low album.
Start date 11 June 2002
End date
23 October 2002
The Tour band
• David Bowie – vocals, acoustic guitar, harmonica
• Earl Slick – lead guitar
• Mark Plati – rhythm guitar, acoustic guitar, bass guitar, backing vocals
• Gail Ann Dorsey – bass guitar, rhythm guitar, clarinet, vocals
• Sterling Campbell – drums, percussion
• Mike Garson – keyboards, piano
• Catherine Russell – keyboards percussion backing vocals


(Visited 159 times, 1 visits today)