David Bowie 2002-07-10 Manchester ,Old Trafford Cricket Ground – Big Fat Dog – (Move Festival).
Sound Quality Rating
101. Mark And Lard Intro.flac
102. Life On Mars.flac
103. Ashes To Ashes.flac
104. Cactus.flac
105. Slip Away.flac
106. Starman.flac
107. China Girl.flac
108. I Would Be Your Slave.flac
109. I've Been Waiting For You.flac
110. Changes.flac
111. Stay.flac
112. Fame.flac
201. I'm Afraid Of Americans.flac
202. 5-15 The Angels Have Gone.flac
203. "Heroes".flac
204. Heathen (The Rays).flac
205. Everyone Says Hi.flac
206. Hallo Spaceboy.flac
207. Let's Dance.flac
208. Ziggy Stardust.flac
Label : From The Hunky Geordie Tapes – HUG073CD
Audio Source : Audience recording
Lineage : DAT-master (Stated to be DAT master (presumably Tarquin's own)
Taping Gear : Unknown
Taper: Tarquin ???
Recording Location: Unknown
Total running time : 1:39:12
Sound Quality : very good. Equals record or radio/TV apart from a slight noise and some dullness.
Attendance : Unknown
Artwork : By Steve23yh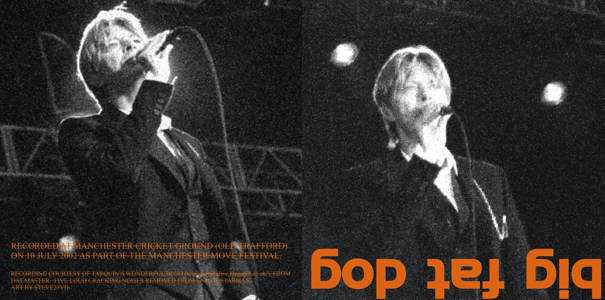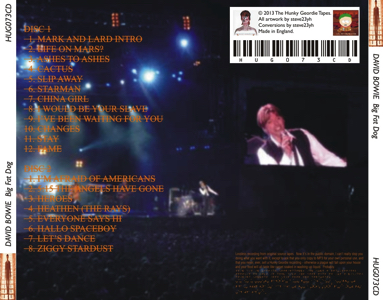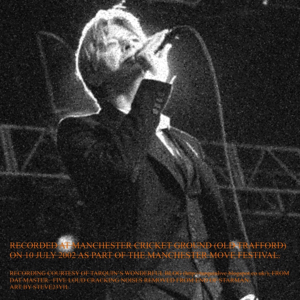 David Bowie Tour band 2002 Heathen Tour
The David Bowie Heathen Tour was a 2002 concert tour in support of the album, Heathen, and was also notable for the performances of all songs from the 1977 Low album.
Start date 11 June 2002
End date
23 October 2002
The Tour band
• David Bowie – vocals, acoustic guitar, harmonica
• Earl Slick – lead guitar
• Mark Plati – rhythm guitar, acoustic guitar, bass guitar, backing vocals
• Gail Ann Dorsey – bass guitar, rhythm guitar, clarinet, vocals
• Sterling Campbell – drums, percussion
• Mike Garson – keyboards, piano
• Catherine Russell – keyboards percussion backing vocals



=============================
Fix notes:
Sourced from the excellent Tarquin blog (http://tarquinlive.blogspot.co.uk/) in the very brief period between it being loaded and Megaupload being taken down!
Stated to be DAT master (presumably Tarquin's own).
Only fix was to remove five loud digital bangs from the end of Starman.
(Visited 1,124 times, 1 visits today)