David Bowie 2002-09-24 Paris ,le Zenith – Coming Back To Paris –
Sound Quality Rating
101. Life on Mars.flac
102. Ashes to Ashes.flac
103. Survive.flac
104. Breaking Glass.flac
105. Cactus.flac
106. China Girl.flac
107. Slip Away.flac
108. Fame.flac
109. I'm Afraid of Americans.flac
110. 5-15 The angels have gone.flac
111. I've been waiting for you.flac
112. Afraid.flac
113. Fashion.flac
114. Rebel Rebel.flac
115. "Heroes".flac
201. Heathen(the Rays).flac
202. A new career in a new town.flac
203. Sunday.flac
204. Hallo Spaceboy.flac
205. Everyone Says Hi.flac
206. Let's Dance.flac
207. Ziggy Stardust.flac
Bonus Tracks: Live At Olympia Music Hall, July 1st 2002
208. Be my wife.flac
209. Changes .flac
Label : Stardust Records
Audio Source : Audience recording
Lineage : Unknown
Taping Gear : Unknown
Taper: Unknown
Recording Location: Unknown
Total running time : 1:57:31
Sound Quality : Excellent quality! Equals record or radio
Attendance : Unknown
Artwork : Yes
The sound on this is superb.Therefore, in my opinion it captures aurally the true excitement and elan of seeing Bowie live; you can almost touch the atmosphere and see in your mind's eye this superb performer.
It comes alive on listening and Bowie and the band are on fire. He also seems to be enjoying himself immensely, which adds to the feel, and throughout he joshes and teases the band. An especially, humorous section has Bowie riffing with Gail Ann Dorsey of having had, "Plenty of French", as the concert is in Paris.
Some people may not get this but in the past when people where less open about sex this was code for oral sex or could it be that Bowie is just alluding to some secrets in that he knows she's has plenty of French lovers? Overall a fantastic bootleg,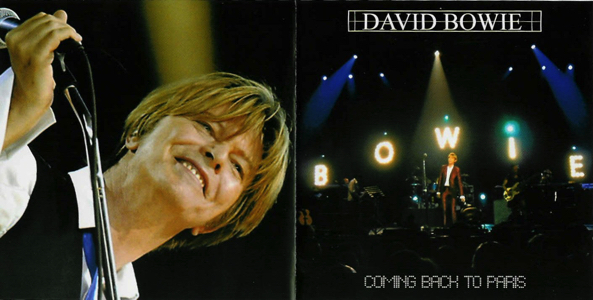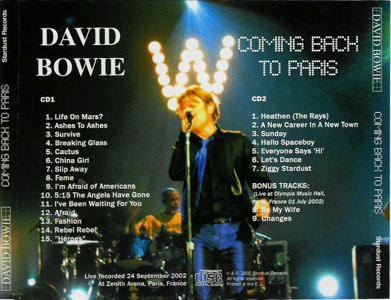 David Bowie Tour band 2002 Heathen Tour
The David Bowie Heathen Tour was a 2002 concert tour in support of the album, Heathen, and was also notable for the performances of all songs from the 1977 Low album.
Start date 11 June 2002
End date
23 October 2002
The Tour band
• David Bowie – vocals, acoustic guitar, harmonica
• Earl Slick – lead guitar
• Mark Plati – rhythm guitar, acoustic guitar, bass guitar, backing vocals
• Gail Ann Dorsey – bass guitar, rhythm guitar, clarinet, vocals
• Sterling Campbell – drums, percussion
• Mike Garson – keyboards, piano
• Catherine Russell – keyboards percussion backing vocals



(Visited 262 times, 1 visits today)