David Bowie 2002-10-23 Boston ,Orpheum Theatre – Boston Orpheum 2002 –
Sound Quality Rating
01 – Sunday.flac
02 – Cactus.flac
03 – Breaking Glass.flac
04 – Fame.flac
05 – Ashes To Ashes.flac
06 – Slip Away.flac
07 – China Girl.flac
08 – 5.15 The Angels Have Gone.flac
09 – Starman.flac
10 – Absolute Beginners.flac
11 – I've Been Waiting For You.flac
12 – Afraid.flac
13 – Fashion.flac
14 – Be My Wife.flac
15 – Alabama Song.flac
16 – Sound And Vision.flac
17 – Rebel Rebel.flac
18 – I'm Afraid Of Americans.flac
19 – Life On Mars.flac
20 – "Heroes".flac
21 – Heathen (The Rays).flac
Encore
22 – White Light White Heat.flac
23 – Let's Dance.flac
24 – Ziggy Stardust.flac
Label : No label
Audio Source : Audience recording
Lineage : Unknown
Taping Gear : Unknown
Taper: Unknown
Recording Location: Unknown
Total running time : 2:01:22
Sound Quality : Good. Equals record or radio/TV apart from a slight noise and some dullness.
Attendance : Unknown
Artwork : Yes
The final show of a great tour.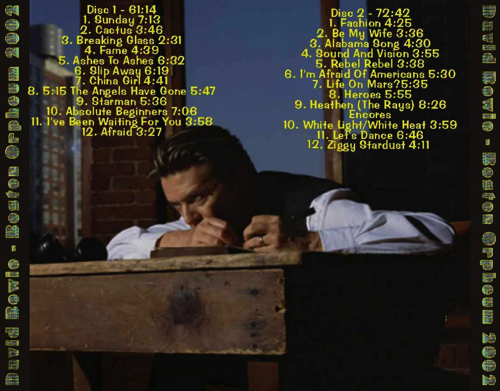 Philadelphia City Paper – Like Clockwork by A.D. Amorosi
Bowie's voice — whether delivered through clenched teeth or in full yelp — still soars powerfully when in theatrical croon mode, still bites down archly and chews slowly Dada-ist texts in his clipped English accent. This is good. Any great actor should get better with age.
Bowie let newer tunes like "Heathen (The Rays)" bathe in the same brilliant dramatic light as his usual suspects, nursing each nuance of this apocalyptic paean to steel-and-glass-smashed skies. Few artists of his age and caliber can maintain the passion for artful new writing and performance like this. Bravo



David Bowie Tour band 2002 Heathen Tour
The David Bowie Heathen Tour was a 2002 concert tour in support of the album, Heathen, and was also notable for the performances of all songs from the 1977 Low album.
Start date 11 June 2002
End date
23 October 2002
The Tour band
• David Bowie – vocals, acoustic guitar, harmonica
• Earl Slick – lead guitar
• Mark Plati – rhythm guitar, acoustic guitar, bass guitar, backing vocals
• Gail Ann Dorsey – bass guitar, rhythm guitar, clarinet, vocals
• Sterling Campbell – drums, percussion
• Mike Garson – keyboards, piano
• Catherine Russell – keyboards percussion backing vocals



.
(Visited 972 times, 1 visits today)