David Bowie 2002-08-05 Toronto ,Molson Ampitheatre – Toronto 2002 – (CBC Radio Broadcast) (Area 2 Festival).
Sound Quality Rating
01. Introduction CBC Radio 3
02. Ashes To Ashes
03. Breaking Glass
04. Cactus
05. Slip Away
06. China Girl
07. I've Been Waiting For You
08. 5:15 The Angels Have Gone
09. Heathen (The Rays)
10. Fashion
11. Let's Dance
12. Ziggy Stardust
-bonus tracks-
Michael Parkinson Show (broadcast on September 21th, 2002)
13. Everone Says "Hi"
14. Life On Mars?
Top Of The Pops 2 (recorded at Kaufman Studios, New York on June 2th, 2002)
15. Slow Burn (broadcast on June 7th, 2002)
16. Fame< (broadcast on June 18th, 2002) 17. I Took A Trip On A Gemini Spaceship(broadcast on June 19th, 2002) Label : No label
Audio Source : taken from CBC Radio 3 broadcast mixed by guitarist/engineer Mark Plati
Lineage : Unknown
Taping Gear : Unknown
Taper: Unknown
Recording Location: Unknown
Total running time : 1:15:54
Sound Quality : Excellent quality! Equals record or Radio/TV
Attendance : Unknown
Artwork : Yes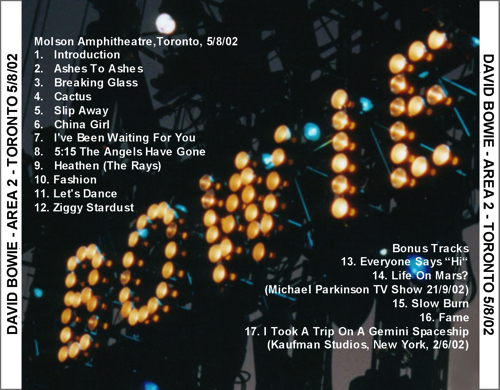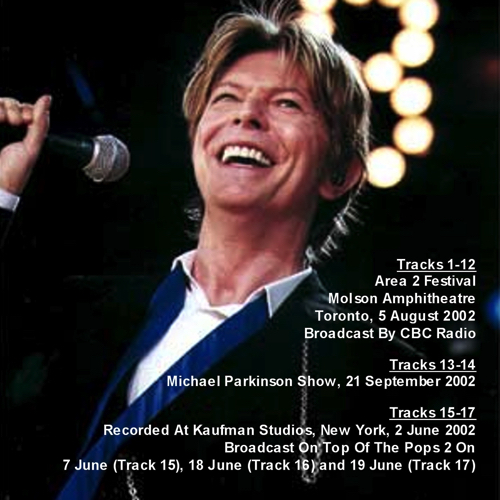 David Bowie Tour band 2002 Heathen Tour
The David Bowie Heathen Tour was a 2002 concert tour in support of the album, Heathen, and was also notable for the performances of all songs from the 1977 Low album.
Start date 11 June 2002
End date
23 October 2002
The Tour band
• David Bowie – vocals, acoustic guitar, harmonica
• Earl Slick – lead guitar
• Mark Plati – rhythm guitar, acoustic guitar, bass guitar, backing vocals
• Gail Ann Dorsey – bass guitar, rhythm guitar, clarinet, vocals
• Sterling Campbell – drums, percussion
• Mike Garson – keyboards, piano
• Catherine Russell – keyboards percussion backing vocals



(Visited 1,281 times, 1 visits today)