David Bowie 2000-06-25 Gladstonbury ,Worthy Farm ,Glastonbury Festival – Live At Midnight: Glastonbury Festival 2000 – (sound and vision 2CD) .
Sound Quality Rating
01. Opening.flac
02. Wild Is The Wind.flac
03. China Girl.flac
04. Changes.flac
05. Stay.flac
06. Life On Mars.flac
07. Absolute Beginners.flac
08. Ashes To Ashes.flac
09. Rebel Rebel.flac
10. Little Wonder.flac
11. Golden Years.flac
12. Fame.flac
13. All The Young Dudes.flac
14. The Man Who Sold The World.flac
15. Station To Station.flac
16. Starman.flac
17. Hallo Spaceboy.flac
18. Under Pressure.flac
19. Ziggy Stardust.flac
20. "Heroes".flac
21. Let's Dance.flac
22. I'm Afraid Of Americans.flac
YAHOO INTERNET MUSIC AWARDS Live at Studio 54 ,New York 7-24-2000.
23. Wild Is The Wind (bonus).flac
24. Life On Mars (bonus).flac
Label : sound and vision – (2CD) – SVACD009CD1-2
Audio Source : BBC Broadcast (Complete Broadcast by BBC Radio 6 on 17th January 2016)
Lineage :
Taping Gear : Unknown
Taper: Unknown
Recording Location: Unknown
Total running time : 2:01:32
Sound Quality : Excellent quality! Equals record or radio
Attendance : 120.000 (20.000 had jumped over fences)
Artwork : Yes
David Bowie memorial S & V Archive Collection Series News Edition CD title latest emergency available from! Complete recording appeared in a live 2016 BBC Radio latest digital remastered full version on the basis of the broadcast master of the 2000 Glastonbury Festival will be the first! ! "Best Ever Moments" and the critically acclaimed stage of this day is now that waged an impassioned performance in 71 years since the long hair is reminiscent of the young figure of the time at the same festival appearances for Bowie's own legend live. DJ "Let's Dance", and the like set list also its part in the attention has also been radio and TV broadcasting from that time, but this time from the opening until the last of the rare as a live showcase of this period "Absolute Beginners" and throw Arrangements first songs complete recording of a long BBC master sound source than the actual broadcast without even entering talk. Sound quality is also also included two songs that have been unveiled only to the back piano YAHOO Music Awards in the same year New York as a bonus track in the perfect quality of undisputed. Mast item of permanent preservation by 2CD press platen. It is the emergence of large moved to tears recommendation title definitive edition of the now again impressed!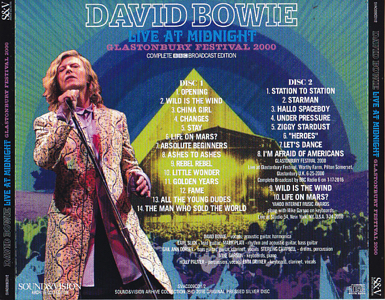 David Bowie Tour band 2000 Mini -Tour
The Mini Tour was a small-scale concert tour by David Bowie including his performance at the Glastonbury Festival on 25 June 2000 and a concert at the BBC Radio Theatre, BBC Broadcasting House, London, on 27 June. It is considered by some to be part of the Hours Tour.
The live recording made on 27 June 2000 for the BBC was documented on a bonus CD included with the first edition of Bowie at the Beeb (2000). The full performance from the Glastonbury show was released as Glastonbury 2000 on 30 November 2018.
Start date: 16 June 2000
End date: 27 June 2000
The Tour band
• David Bowie – vocals, acoustic guitar, harmonica
• Earl Slick – lead guitar
• Mark Plati – rhythm guitar, acoustic guitar, bass guitar, backing vocals
• Gail Ann Dorsey – bass guitar, rhythm guitar, clarinet, vocals
• Sterling Campbell – drums, percussion
• Mike Garson – keyboards, piano
• Holly Palmer – percussion, vocals
• Emm Gryner – keyboard, clarinet, vocals



(Visited 91 times, 1 visits today)