David Bowie 2000-06-27 London ,BBC Radio Theatre ,Portland Place ,BBC Broadcasting House – BBC Radio Theatre June 27 2000 – .
Sound Quality Rating .
01. Mike Garson Intro ('A Foggy Day').flac
02. Wild Is The Wind.flac
03. Ashes To Ashes.flac
04. Seven.flac
05. This Is Not America.flac
06. Absolute Beginners.flac
07. Always Crashing In The Same Car.flac
08. Survive.flac
09. The London Boys.flac
10. I Dig Everything.flac
11. Little Wonder.flac
12. The Man Who Sold The World.flac
13. Fame.flac
14. Stay.flac
15. Hallo Spaceboy.flac
16. Cracked Actor_Band Intro.flac
17. I'm Afraid Of Americans.flac
18. Band Intro by Gail Ann Dorsey.flac
19. Ziggy Stardust [aborted].flac
20. Ziggy Stardust.flac
21. All The Young Dudes [aborted].flac
22. The Jean Genie [instrumental].flac
23. All The Young Dudes.flac
24. Starman.flac
25. "Heroes".flac
26. Let's Dance.flac
Label : No label
Audio Source : Soundboard
Lineage : master tape recorded direct from BBC sound desk
Taping Gear : Unknown
Taper: Unknown
Recording Location: Unknown
Total running time : 2:14:57
Sound Quality : very good. Equals record or radio/TV apart from a slight noise and some dullness
Attendance : 300
Artwork : by Wolf
Remastered: by Captain Acid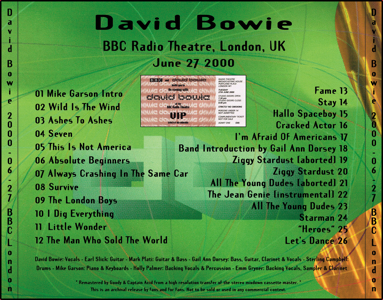 David Bowie Tour band 2000 Mini -Tour
The Mini Tour was a small-scale concert tour by David Bowie including his performance at the Glastonbury Festival on 25 June 2000 and a concert at the BBC Radio Theatre, BBC Broadcasting House, London, on 27 June. It is considered by some to be part of the Hours Tour.
The live recording made on 27 June 2000 for the BBC was documented on a bonus CD included with the first edition of Bowie at the Beeb (2000). The full performance from the Glastonbury show was released as Glastonbury 2000 on 30 November 2018.
Start date: 16 June 2000
End date: 27 June 2000
The Tour band
• David Bowie – vocals, acoustic guitar, harmonica
• Earl Slick – lead guitar
• Mark Plati – rhythm guitar, acoustic guitar, bass guitar, backing vocals
• Gail Ann Dorsey – bass guitar, rhythm guitar, clarinet, vocals
• Sterling Campbell – drums, percussion
• Mike Garson – keyboards, piano
• Holly Palmer – percussion, vocals
• Emm Gryner – keyboard, clarinet, vocals



(Visited 82 times, 1 visits today)