David Bowie 2000-06-16 New York City ,Roseland Ballroom – Roseland Balrooms – (A BowieNet Members Concert).  
Sound Quality Rating
01. INTRO.flac
02. WILD IS THE WIND.flac
03. LIFE ON MARS.flac
04. GOLDEN YEARS.flac
05. CHANGES.flac
06. STAY.flac
07. CHINA GIRL.flac
08. SURVIVE.flac
09. ABSOLUTE BEGINNERS.flac
10. ASHES TO ASHES.flac
11. REBEL REBEL.flac
12. FAME.flac
13. THIS NOT AMERICA.flac
14. ALL THE YOUNG DUDES.flac
15. STARMAN.flac
16. THE MAN WHO SOLD THE WORLD.flac
17. UNDER PRESSURE.flac
18. STATION TO STATION.flac
19. SEVEN.flac
20. THURSDAY CHILD.flac
21. THE PRETTY THINGS ARE GOINING TO HELL.flac
22. HALLO SPACEBOY.flac
23. ZIGGY STARDUST.flac
24. "HEROES".flac
25. LET'S DANCE.flac
26. I'M AFRAID OF AMERICANS.flac
Label : None
Audio Source : Audience recording
Lineage : Unknown
Taping Gear : Unknown
Taper: Unknown
Recording Location: Unknown
Total running time : 2:14:30
Sound Quality : very good. Equals record or radio/TV apart from a slight noise and some dullness.
Attendance : Unknown
Artwork : Yes
Before most artists even had a solid Web presence, Bowie was already on version two of BowieNet, and this show (part of a three-night run at Roseland, a warm-up for his Glastonbury appearance the next week) was for subscribers only. Fans flew in from all corners of the globe, which was why Bowie, not wanting to let anyone down, showed up despite being severely under the weather.
The audience full of diehards likely inspired the performance, as David was visibly relaxed, playing air guitar during "Rebel Rebel" and letting an affectionate grin escape when everyone sang, "Hot tramp, I love you so" with especial emphasis. Even ill, he still managed to hit the high notes when it mattered, most notably on the "Wild Is the Wind" opener.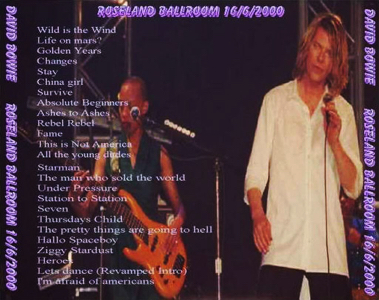 OPEN FOTO GALLERY
 
 
David Bowie Tour band 2000 Mini -Tour
The Mini Tour was a small-scale concert tour by David Bowie including his performance at the Glastonbury Festival on 25 June 2000 and a concert at the BBC Radio Theatre, BBC Broadcasting House, London, on 27 June. It is considered by some to be part of the Hours Tour.
The live recording made on 27 June 2000 for the BBC was documented on a bonus CD included with the first edition of Bowie at the Beeb (2000). The full performance from the Glastonbury show was released as Glastonbury 2000 on 30 November 2018.
Start date: 16 June 2000
End date: 27 June 2000
The Tour band
• David Bowie – vocals, acoustic guitar, harmonica
• Earl Slick – lead guitar
• Mark Plati – rhythm guitar, acoustic guitar, bass guitar, backing vocals
• Gail Ann Dorsey – bass guitar, rhythm guitar, clarinet, vocals
• Sterling Campbell – drums, percussion
• Mike Garson – keyboards, piano
• Holly Palmer – percussion, vocals
• Emm Gryner – keyboard, clarinet, vocals
 
 
 
(Visited 659 times, 1 visits today)