David Bowie 1997-09-30 Boston ,WBCN FM studios – WBCN Boston – .
Sound Quality Rating
Live in WBCN Studio ,FM Broadcasting ,Boston
01 Talk.flac
02 Always Crashing In The Same Car.flac
03 Talk.flac
04 The Supermen.flac
05 Talk.flac
06 Scary Monsters.flac
07 Closing Comments.flac
Live On Late Night with Conan O'Brien -1997-4-11
08 Talk Conan.flac
09 Dead Man Walking Conan.flac
10 I'm Afraid Of Americans Conan.flac
Label : No label
Audio Source : FM Broadcasting en TV Broadcasting
Lineage FM Broadcasting : WBCN- FM radio > Maxell XLII-S master cassette >
Lineage TV Broadcasting :
Taping Gear : Yamaha 500 reciever with digital tuner and wire antenna > NAK.100 cassette deck (dolby off).
Taper: Unknown
Total running time FM Broadcasting : 0:40:39
Total running time TV Broadcasting : 0:19:21
Sound Quality : Excellent quality! Equals record or radio
Attendance : Unknown
Artwork : By The Belay Brother design 2012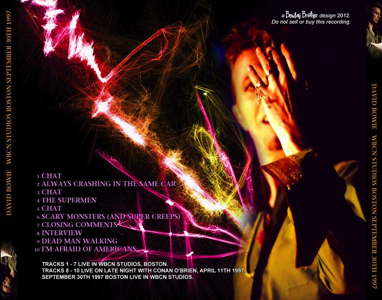 David Bowie – guitar and vocals
Reeves Gabrels – guitar
A this and that production.
David and Reeves perform in front of a small audience in a studio and chat some with the audience. This recording is complete except the first few seconds of the track 1 introduction. Quality is crisp and clear.
Track 4 has a bit of explanation from David how a riff he got from Jimmy Page many years earlier helped him put both those songs together. (yes, even David Bowie learned something from LZ's guitarist).
This was the day before the 1st of 2 shows at the Orpheum Theater in Boston, (with his full band) and there is mention of the webcast of one of those.
It was my 1st ever attempt to see a webcasted concert, and I never got to see more than an occasional broken apart note. live concert webcasting was still a very primitive art in 1997 (apparently) but I later heard the shows were very good ones. Boston has always appreciated David Bowie, even playing a "secret gig" at Avalon (1996?) which I've never heard.
(Visited 231 times, 1 visits today)