David Bowie 1997-07-15 Madrid,Spain Aqualung – Aqualung My Friend – (100pc – JB) 
Sound Quality Rating
01. Quicksand.flac
02. "Heroes".flac
03. The Jean Genie.flac
04. I'm Afraid Of Americans.flac
05. band intro ~ Battle For Britain (The Letter).flac
06. Fashion.flac
07. Seven Years In Tibet.flac
08. Fame.flac
09. Looking For Satellites.flac
10. Under Pressure.flac
11. The Hearts Filthy Lesson.flac
12. Scary Monsters (And Super Creeps).flac
13. Hallo Spaceboy.flac
14. Little Wonder.flac
15. encore applause .flac
16. Dead Man Walking.flac
17. White Light White Heat.flac
18. O Superman.flac
19. Stay.flac
20. V-2 Schneider.flac
21. The Last Thing You Should Do.flac
22. Is It Any Wonder.flac
Label : No label > From The 100& British Archives –
Audio Source : Audience recording
Lineage : Unknown
Taping Gear : Unknown
Taper: Unknown
Recording Location: Unknown
Total running time : 2:05:21
Sound Quality : very good. Equals record or radio/TV apart from a slight noise and some dullness.
Attendance : Unknown
Artwork : Yes
Nice quality recording, with a good atmosphere
Venue was originally the Las Ventas Bullring, but was changed at the last minute to a small club called Aqua Lung, for which you apparently needed breathing equipment to survive in the crush (4-5000 people).
Placebo were the support group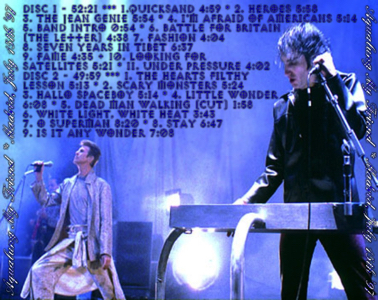 David Bowie Tour band 1997 Earthling Tour
Superb Bowie Performance From The Earthling Tour. David Bowie's 20th studio album was originally released in February 1997 on Arista Records. Earthling showcased an electronica-influenced sound partly inspired by the industrial and drum and bass culture of the 1990s. It was the first album Bowie self-produced since 1974's Diamond Dogs.
The Earthling Tour started on 7 June 1997 at Flughafen Blankensee in Lübeck, Germany, continuing through Europe and North America before reaching a conclusion in Buenos Aires, Argentina on 7 November 1997. On August 14, '97, Bowie performed at Hungary's Student Island Festival in Budapest, where he put on a quite extraordinary show, accompanied as he was by Reeves Gabrels on guitar, Gail Ann Dorsey on bass, Zack Alford on drums and Mike Garson on keyboards. Playing just a few tracks from the new record plus a fine selection of back catalogue gems, the entire show was broadcast, both across Eastern Europe and indeed in the US too on selected FM stations. Previously unreleased this remarkable gig is now available on this priceless CD for the first time..
The Tour band
• David Bowie: vocals
• Reeves Gabrels: guitar, backing vocals
• Gail Ann Dorsey: bass guitar, vocals
• Zachary Alford: drums
• Mike Garson: keyboards, backing vocals
• Mike Garson: keyboards,
 
 
  
====================
15 July 1997
by Gilly
Email: [email protected]
Meanwhile I've seen so many concerts that I can't really tell them apart anymore. What I do remember well is the traveling and the places we see, the people we meet and the fun we have. Like getting mugged in our own hotel-elevator in Madrid. Fortunately we could beat the robbers away, hooray!
In Madrid the concert had been moved from the bullring to a very small disco (?) right next to a public indoors swimming pool. We could see the blue water shimmer through the windows. After the concert and of course Torhout, David should do a concert right in the swimming pool next time! We'd be appropriately dressed and the pushing and sweating would be reduced to a minimum. Anyway the place was packed and we couldn't get as close to the stage as we used to. David was in a very very very good mood and played two encores, one of them the drum and bass set. The crowd was also very enthusiastic and sang along all the time. Still for me the concert didn't reach the quality of Amsterdam or Tilburg, though I cant put my finger on why. Later David told us how much he liked the concert and who dares to look him in the eye and say: Sorry David, but I've seen better ones? Not me!
The next day saw out travel by rented car to Zaragoza through the lovely Spanish countryside. The concert was in a big hall and I liked it better than Madrid even though it was shorter, because here I heard for the first time TMWSTW and The Voyeur o u d. I love The Voyeur! And David was wearing some nice outfit.
BTW did anyone notice that since Werchter he has a new hairdo?
After the concert some stupid Spanish people started an argument with the security people, shouting at them and trying to get past them to see David. Of course David's security know their job, they sheltered him perfectly, so there was no chance for us to see him that evening 🙁
The next day we drove to San Sebastian. Suddenly on the motorway we passed David's coach which had been stopped by the police. I wonder why? We never found out, but the concert in San Sebastian started right on time so they must have let them go again it seems. We spend the day finding us a hostel and walking around the city. It must be quite nice usually, especially the beach, but with our luck it was raining that day. The concert took place in a very big hall again, but was quite short and only mediocre. Afterwards we waited for hours and hours until David finally arrived (they must have gone to a party or so), but we wanted to have one short look at him before we set off home. We got the look and a smile and so we went back home very happily.
The travel to Spain had been very worthwhile, also thanx to most of the Spanish people who are one head smaller than us 😉
(Visited 641 times, 1 visits today)