David Bowie 1996-07-14 St. Polten ,Domplatz Festival – St.Polten Festival – .
Sound Quality Rating
01. Intro.flac
02. Look Back In Anger.flac
03. Scary Monsters.flac
04. The Heart's Filthy Lesson.flac
05. Outside.flac
06. Aladdin Sane.flac
07. The Voyeur of Utter Destruction (As Beauty).flac
08. The Man Who Sold the World.flac
09. Hallo Spaceboy.flac
10. Breaking Glass.flac
11. Telling Lies.flac
12. Jump They Say.flac
13. Under Pressure.flac
14. "Heroes".flac
15. Band Introductions.flac
16. Strangers When We Meet.flac
17. Lust For Life.flac
18. All The Young Dudes.flac
19. White Light White Heat.flac
20. Moonage Daydream.flac
Label : A Dreaming Boy Record 2003
Audio Source : Audience recording
Lineage : Unknown
Taping Gear : Unknown
Taper: A Dreaming Boy Record 2003
Recording Location: Unknown
Total running time : 1:28:55
Sound Quality : very good. Equals record or radio/TV apart from a slight noise and some dullness.
Attendance : 5.000
Artwork : By David Sarandon 2003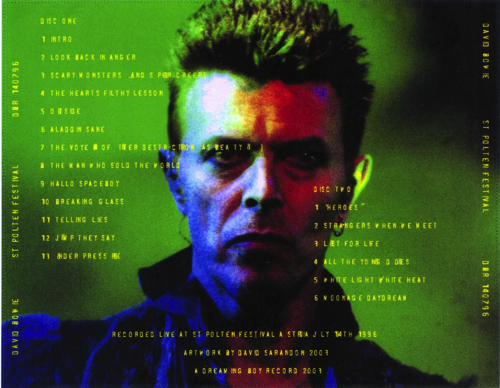 David Bowie live in St. Pölten – All the Young Dudes
.
.
Legendärer Auftritt: Bowie war in St. Pölten
Verstorbener Popstar weilte 1996 in St. Pölten. Fans erinnern sich an seinen musikalischen Besuch.
"Er ist auf einem Bankerl am Sparkassenplatz neben mir gesessen, hat sich eine Tschick angezündet und gesagt, dass ihm diese Kulisse taugt." So erinnert sich René Voak an den in der Vorwoche verstorbenen David Bowie. Knapp 20 Jahre ist es her, dass der Multikünstler im Rahmen seiner "Outside"-Tournee am 14. Juli 1996 am Domplatz sein einziges Open-Air-Konzert in Österreich gab. Der Sparkassenplatz war der Backstagebereich. –
Und Bowie teilte damals das Schicksal manch anderer Top-Acts, die in St. Pölten hinsichtlich des Besucherandrangs deutlich unter ihrem Wert geschlagen wurden. Anstatt der erwarteten 8.000 Fans waren nur 5.000 gekommen. "Aus finanzieller Sicht war das Konzert leider kein Erfolg. Musikalisch war es aber ein unvergesslicher Auftritt", weiß Voak, der selbst ein großer Bowie-Fan ist.
Für ihn von besonderem Wert ist, dass St. Pölten gerade auf der "Outside"-Tournee die einzige Open-Air-Station in Österreich war: "Das 'Outside'-Album ist meiner Meinung nach eines seiner besten. Es war also ein großer Moment für die ganze Stadt." David Bowies letztes Album "Blackstar" kaufte sich Voak gleich am 8. Jänner – also am Erscheinungstag und zwei Tage vor Bowies Tod. Das Plakat des St. Pölten-Auftritts – die NÖN war übrigens damals schon Medienpartner der wichtigsten Events in der Stadt – ziert noch heute das Büro des VAZ-Chefs, der als 22-Jähriger das Konzert mitorganisierte und erste Erfahrungen als Konzert-Veranstalter sammelte.
"Er war einer der ganz großen Künstler"
An ein kurzes Zusammentreffen mit dem Pop-Helden erinnert sich auch das heimische Musik-Urgestein Didi Prochaska. Er organisierte 1996 Infrastruktur, Bühne und Technik des Stadtfestes. "Bowie und die Band waren abgeschottet. Über ein 'Hi' ging unser Kontakt nicht hinaus." Dass Stars wie Bowie St. Pölten beehrt haben, ist für Prochaska großartig. "Früher mussten wir durch halb Europa pilgern, um das zu sehen." Im Reigen dieser Giganten nehme Bowie eine Ausnahmestellung ein. "Er war einer der ganz großen Künstler der vergangenen Jahrzehnte. Sein Tod hat mich berührt.
" Konzert war "ein Ausnahmeerlebnis"
Ähnlich sieht das der St. Pöltner Musiker Christoph Richter, der 1996 das Konzert als glühender Fan erlebt hat. "Gut drei Jahre zuvor habe ich seine Musik kennengelernt: Ein Freund spielte mir 'Life on Mars?' am Telefon vor und ich war hin und weg." Das Konzert sei ein Ausnahmeerlebnis gewesen. Dass sein Held in St. Pölten konzertierte, sei für ihn eine "absolute, geniale Überraschung" gewesen.
Bowies Tod ist für Richter das Ende eines Genies. "Er war eine künstlerische Instanz. Niemand wird diese Lücke füllen können." Auch für Künstlerbund-Obmann Ernest Kienzl war Bowies Auftritt eine Sensation – ebenso wie für Ballycotton-Kopf Alexander König, den bereits die bloße Präsenz Bowies beeindruckte. "Das war wirklich ganz besonders." Der Schlusssatz im damaligen "St. Pölten Konkret"-Bericht könnte übrigens auch heute manchmal geschrieben werden: "Irgendwann werden wahrscheinlich alle zu schätzen wissen, was da ein Wochenende lang in unserer oft als 'Provinznest' titulierten Stadt auf die Beine gestellt wurde."
 
 
  
 David Bowie Tour band 1996 – Outside Summer Festivals Tour & East Coast Ballroom Tour
Outside Summer Festivals Tour was a concert tour by David Bowie. Following on from the Outside Tour which ended in February 1996, the tour opened at Nippon Budokan in Tokyo, Japan on 4 June 1996. With a slimmed-down tour band from the previous tour, this tour visited to Japan, Russia and a string of performances on the European Summer festivals circuit.
Personeel
• David Bowie: vocals
• Reeves Gabrels: guitar, backing vocals
• Gail Ann Dorsey: bass guitar, vocals
• Zachary Alford: drums
• Mike Garson: keyboards, backing vocals
 
 
  
(Visited 700 times, 1 visits today)