David Bowie 1995-11-08-13 Borehamwood ,Estree Studios – Outside Tour Rehearsels – (2CDR)
Sound Quality Rating
Live rehearsals at Elstree Studios, Borehamwood, UK, November 8th-13th,1995
101. Boys Keep Swinging.flac
102. Strangers When We Meet.flac
103. I'm Deranged.flac
104. Breaking Glass.flac
105. We Prick You.flac
106. Nite Flights.flac
107. My Death.flac
108. DJ.flac (Bowie vocals).flac
109. DJ (vocals).flac
201. The Motel.flac
202. Look Back In Anger.flac
203. The Heart's Filthy Lesson.flac
204. Scary Monsters.flac
205. The Voyeur Of Utter Destruction (As Beauty).flac
206. I Have Not Been To Oxford Town.flac
207. Outside.flac.flac
208. Andy Warhol.flac
209. The Man Who Sold The World.flac
Label : Project Zip. PJZ-552A/B
Audio Source : Soundboard recording
Lineage : Unknown
Taping Gear : Unknown
Taper: Unknown
Recording Location: Unknown
Total running time : 1:37:49
Sound Quality : Excellent quality! Equals record or radio
Attendance : Unknown
Artwork : Yes
David Bowie of '95 "Outside tour" 2 Disc that valuable rehearsal was recorded in high-quality sound board sound source appeared!
This rehearsal was held in November 95 London Elstree Studios album a new song from the "outside" of Scott Walker at the center "Night Flight" and to Ziggy era of cover to have been Jacques Brel "Maidesu the "etc. have also been picked up is a large recommendation live rehearsal that does not miss in Bowie collectors in an interesting place.
David Bowie Tour band 1995-1996 – Outside Tour
The Outside Tour was a tour by English rock musician David Bowie, opening on 14 September 1995 at Meadows Music Theatre – Hartford, Connecticut. Support during the US leg of the tour was provided by Nine Inch Nails, who segued their set with Bowie's to form a continuous show.
Prick opened the first date of the tour. Morrissey was the support act for the European leg, but withdrew from the tour after nine dates.
On selected dates Reeves Gabrels performed songs from his album, The Sacred Squall of Now in addition to performing with Nine Inch Nails and David Bowie. The opening of the concert tour preceded the release of the 1. Outside album which was released on 25 September 1995.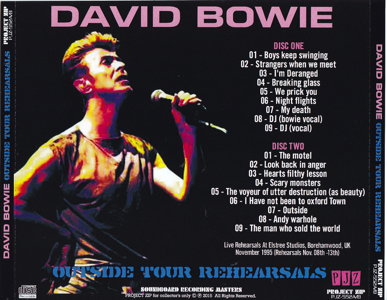 • David Bowie – vocals
• Reeves Gabrels – guitar
• Carlos Alomar – guitar, backing vocals
• Gail Ann Dorsey – bass guitar, vocals
• Zack Alford – drums
• Mike Garson – piano
• Peter Schwartz – synthesizer, musical director
• George Simms – backing vocals, keyboards
(Visited 17 times, 1 visits today)