David Bowie 1996-06-22 St.Goarshausen ,Loreley ,Open Air Festival – Old old eyes – .
Sound Quality Rating
Live at the Loreley Festival, St. Goarshausen, Germany 1996-06-22 .
100. Look Back In Anger (not listed on back cover but song included)
101. Scary Monsters (And Super Creeps)
102. Diamond Dogs
103. Heart's Filthy Lesson
104. Outside
105. Aladdin Sane
106. Andy Warhol
107. The Voyeur Of Utter Destruction (As Beauty)
108. The Man Who Sold The World
109. Telling Lies
110. Universal Baby
111. Hallo Spaceboy
112. Breaking Glass
113. We Prick You
114. Jump (They Say)
115. Lust For Life
201. Under Pressure
202. "Heroes"
203. White Light, White Heat
204. Moonage Daydream
205. All The Young Dudes
Live at Wembley Arena, London, UK 1995-11-15 .
206. I Have Not Been To Oxford Town
207. A Small Plot Of Land
208. Boys Keep Swinging
209. Nite Flights
210. My Death
211. DJ
212. Teenage Wildlife
Label : Monada/Osa OOE1/2 , 005 01/2
Audio Source : Soundboard/Broadcast
Lineage : Unknown
Taping Gear : Unknown
Taper: Unknown
Recording Location: Unknown
Total running time : 2:15:51
Sound Quality : very good. Equals record or radio/TV apart from a slight noise and some dullness.
Attendance : 7.000
Artwork : Yes
Note :The title on the cover is Old OLD Eyes, but on the discs the title is Old ODD Eyes.
The title on the discs was the intended title, but something went wrong on the cover!
Label: DCD OO5 01/2
Audio Source: audience
Total running time: 2:15:34
Note: Excellent quality audience recording – I'd give it SQ 9
Attendance: 7.000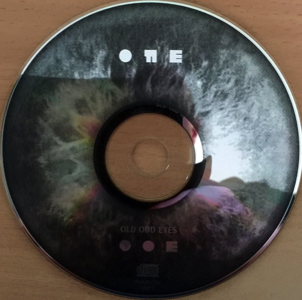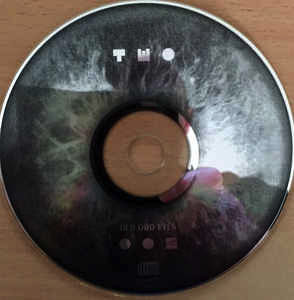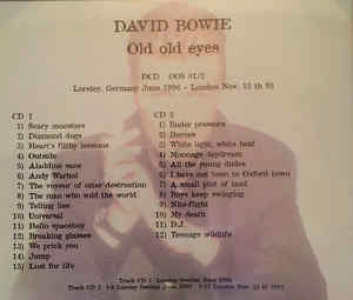 David Bowie Tour band 1996 – Outside Summer Festivals Tour & East Coast Ballroom Tour
Outside Summer Festivals Tour was a concert tour by David Bowie. Following on from the Outside Tour which ended in February 1996, the tour opened at Nippon Budokan in Tokyo, Japan on 4 June 1996. With a slimmed-down tour band from the previous tour, this tour visited to Japan, Russia and a string of performances on the European Summer festivals circuit.
Personeel
• David Bowie: zang
• Reeves Gabrels: gitaar, achtergrondzang
• Gail Ann Dorsey: basgitaar, zang
• Zachary Alford: drums
• Mike Garson: keyboards, achtergrondzang
 
 
 
(Visited 445 times, 1 visits today)