David Bowie 1995-09-12 Hartford ,Meadows Music Theater (Rehearsal) – Noise Angel –
Sound Quality Rating
01. gave up (bc).wav
02. down in it.wav
03. eraser (instrumental).wav
04. subterraneans.wav
05. scary monsters (and super creeps).wav
06. reptile.wav
07. hallo spaceboy.wav
08. hurt.wav
09. the voyeur of utter destruction (bc).wav
10. the heart's filthy lesson.wav
11. breaking glass.wav
Label : No label > – OBJCD 028
Audio Source : Audience DAT recording
Lineage : Unknown
Taping Gear : Unknown
Taper: Gordo55
Recording Location: Unknown
Total running time : 0:53:33
Sound Quality : Much noise ,dull ,but still good listened to
Attendance : Unknown
Artwork : A Bewlay Brother design 2012
Comments
Taper won tickets to see NIN perform at their rehearsal in front of about 30 people. They were ushered in while the rehearsal was going on (hence why it fades in during "Gave Up").
The recording goes up to the point where Bowie comes in and then the winners were moved out. I would assume that NIN ran through their entire setlist. But since it's not entirely known, just the setlist that can be confirmed from the recording is on this page.
In terms of the audio quality on this recording, it's amazing! Having an emtpy amphitheater gives a slight advantage! Very rare to see a rehersal show recorded.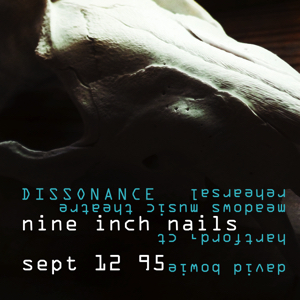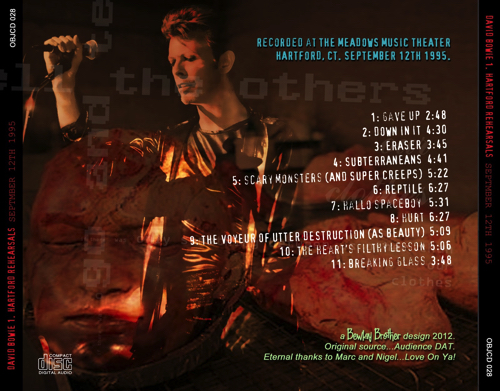 (Visited 466 times, 1 visits today)