1990-01-20 New York ,Sound And Vision Rehearsals – Floating In A Most Peculiar Way – (SBD).
Sound Quality Rating
01 – Rebel Rebel.flac
02 – Be My Wife (1).flac
03 – End of Be My Wife.flac
04 – Be My Wife (2).flac
05 – Changes (1).flac
06 – End Of Changes (1).flac
07 – End Of Changes (2).flac
08 – End Of Changes (3).flac
09 – Changes (2).flac
10 – Space Oddity.flac
11 – Changes (3).flac
12 – (Part Of) Queen Bitch.flac
13 – Cracked Actor.flac
14 – Jean Genie.flac
15 – Bowie Having Fun.flac
16 – Ziggy Stardust.flac
17 – Ziggy Stardust – Instrumental.flac
18 – (Funny) Band Intro.flac
Label : Godfather – GR966
Audio Source : Soundboard recording
Lineage : Unknown
Taping Gear : Unknown
Taper: Unknown
Recording Location: Unknown
Total running time : 0:45:40
Sound Quality : very good. Equals record or radio apart from a slight noise and some dullness.
Attendance : 0
Artwork : Yes
Note: Unknown Location,
This recording features rehearsals from the 'Sound + Vision Tour' but differs from the 'Overture & Beginners' and 'Rehearsing Sound + Vision' bootlegs.
I think that one was recorded some time before (some songs are still far from being perfect). When I received that tape it mentioned 'New York January 20th, 1990'
but I can't really be so sure about the date.Maybe someone will confirm or not ?
Anyway this is a great recording, soundboard sourced, and Bowie is in really good mood, having fun like I never heard him on rehearsals before !
It also features 'Cracked Actor' which is the only version from the Tour I know, making this recording a 'must have' in my opinion.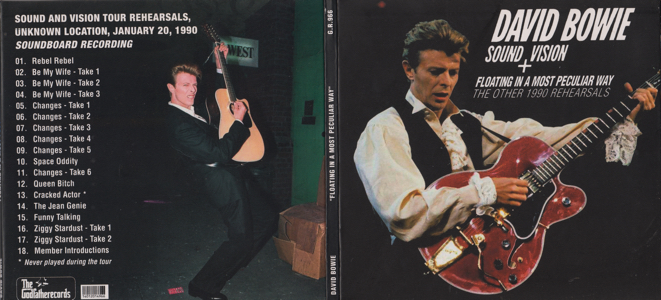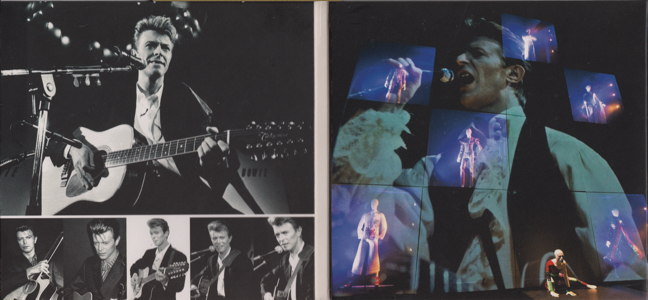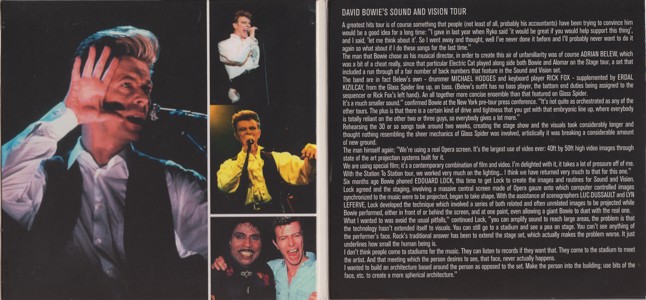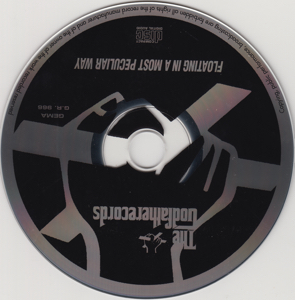 David Bowie Tour band 1990 – Sound+Vision Tour
Bowie specifically chose a smaller band for the tour, saying in a contemporary interview that "It's a much smaller sound. It's not quite as orchestrated as any of the other tours. The plus of that is that there is a certain kind of drive and tightness that you get with that embryonic line-up, where everybody is totally reliant on the other two or three guys, so everybody gives a lot more"
• David Bowie – vocals, guitar, saxophone[
• Adrian Belew – guitar, backing vocals, music director
• Erdal Kızılçay – bass guitar, backing vocals
• Rick Fox – keyboards, backing vocals
• Michael Hodges – drums
[real3dflipbook id="3″]

.
(Visited 664 times, 1 visits today)