David Bowie 1990-03-13 Calgary ,Olympic Saddledome – Sometimes You Get So Lonely –
Sound Quality Rating
101. applause.flac
102. Space Oddity.flac
103. Changes.flac
104. TVC 15.flac
105. Rebel Rebel.flac
106. Golden Years.flac
107. Be My Wife.flac
108. Ashes To Ashes.flac
109. John I'm Only Dancing.flac
110. Queen Bitch.flac
111. Fashion.flac
112. Life On Mars.flac
113. Blue Jean.flac
114. Let's Dance.flac
115. Stay.flac
116. Band introductions.flac
117. China Girl.flac
201. Ziggy Stardust.flac
202. Sound + Vision.flac
203. Station To Station.flac
204. Alabama Song.flac
205. Young Americans.flac
206. Panic In Detroit.flac
207. Suffragette City.flac
208. Fame 90.flac
209. "Heroes".flac
Encore:
210. The Jean Genie.flac
211. Pretty Pink Rose.flac
212. Modern Love.flac
213. Rock'n'Roll Suicide.flac
Label : From The Hunky Geordie Tapes – HUG272CD
Audio Source : Audience recording
Lineage : TDK SA90 + SF90 (lo gen)
Taping Gear : Unknown
Taper: Unknown
Recording Location: Unknown
Total running time : 2:10:54
Sound Quality : very good. Equals record or radio apart from a slight noise and some dullness.
Attendance : 16.000
Artwork : By Steve23yh
Good show , David talked and joked a lot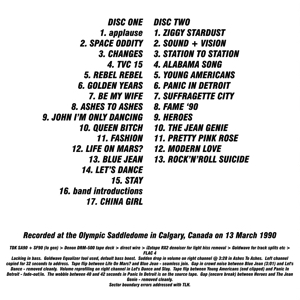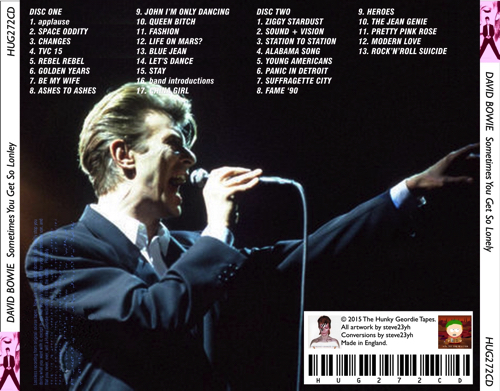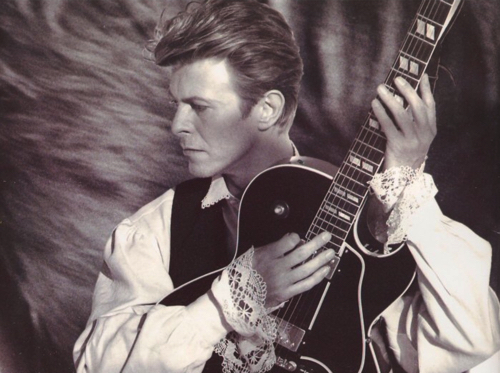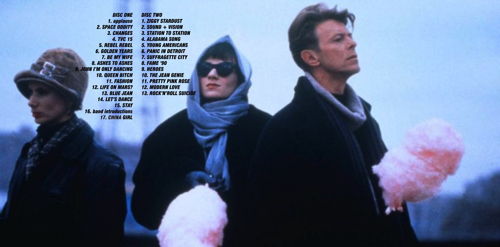 ================================================
Bowie provides bare essentials
David Bowie is one shrewd entertainer.
After some 20 years of deliberate excess – in dress, makeup, theatrics, special effects – the 43- year-old English star stripped his performance down to almost bare essentials for his swan song, the Sound and Vision tour.
If he's to be believed, this is the last time he'll ever tour with his '70s and '80s hits. So it was a wise move to keep the focus on the singer and the songs – giving the fans more to remember than just the event, and creating a notable contrast with overblown greatest-hits extravaganzas like the Stones' Steel Wheels tour.
That's not to say that Bowie and choreographer/designer Edouard Lock didn't use the latest technology. Video, pre- taped and simultaneous, played a key role in Tuesday's show, with images of the star and a dishy dancer from Lock's Montreal troupe La La La Human Steps projected on a huge, transparent screen that dropped in and out of view, as well as on two side screens.
But the technology never dwarfed or distracted from what was happening on stage. There, a skinny blond guy in a white shirt and dark suit just sang, usually strumming an electric guitar, backed by four top-flight but thoroughly unflashy musicians, notably guitarist Adrian Belew.
The sound quality was much better than your average arena mush. The stage was spare, just a floor (which lit up), some "woodcut" gargoyles adorning the front, and several light towers with the capacity to illuminate the whole audience of 15,000 at just the right moments – such as for Rebel Rebel's ecstatic, "Hot tramp, I love you so!"
Somehow, at retrospective shows, it's those tiny moments that raise the gooseflesh and give you that near-religious thrill of memory mixed with immediacy. The crunching opening chords of Ziggy Stardust; the video image of a ghoulish black-and-white Bowie enlarging the impact of Ashes to Ashes' lyrics; the huge white silhouette of him dancing to China Girl (unmistakable moves – you know it's him just from an outline) lifted the show, for me, beyond just a competent showcase of past achievement.
For somebody else the highlights probably would've been different, since Bowie delivered a two-hour showcase including Space Oddity, Jean Genie, Golden Years, Fame, Suffragette City, Young Americans, Panic In Detroit, and many more – even a Kurt Weill/Bertolt Brecht number that suggested Marlene Dietrich might appear.
He closed with Rock 'N' Roll Suicide, perhaps because that's the last song he performed before his 1973 "retirement." Could it be rock's great manipulator is toying with us once again?
David Bowie Tour band 1990 – Sound+Vision Tour
Bowie specifically chose a smaller band for the tour, saying in a contemporary interview that "It's a much smaller sound. It's not quite as orchestrated as any of the other tours. The plus of that is that there is a certain kind of drive and tightness that you get with that embryonic line-up, where everybody is totally reliant on the other two or three guys, so everybody gives a lot more"
• David Bowie – vocals, guitar, saxophone[
• Adrian Belew – guitar, backing vocals, music director
• Erdal Kızılçay – bass guitar, backing vocals
• Rick Fox – keyboards, backing vocals
• Michael Hodges – drums
[real3dflipbook id="3″]

.
======================
Notes
Lacking in bass. Goldwave Equalizer tool used, default bass boost.
Sudden drop in volume on right channel @ 3:28 in Ashes To Ashes. Left channel copied for 32 seconds to address.
Tape flip between Life On Mars? and Blue Jean – seamless join.
Gap in crowd noise between Blue Jean (3:01) and Let's Dance – removed cleanly.
Volume reprofiling on right channel in Let's Dance and Stay.
Tape flip between Young Americans (end clipped) and Panic In Detroit – fade-out/in.
The wobble between 40 and 42 seconds in Panic In Detroit is on the source tape.
Gap (encore break) between Heroes and The Jean Genie – removed cleanly.
Sector Boundary Errors removed with TLH.
(Visited 354 times, 1 visits today)