David Bowie 1990-07-06 Ottawa ,Landsdowne Park – (RAW) –
Sound Quality Rating
01. SPACE ODDITY – REBEL REBEL – CHANGES – ASHES TO ASHES – LIFE ON MARS – PRETTY PINK ROSE – STAY – WHITE LIGHT WHITE HEAT – BLUE JEAN – LET'S DANCE
02. SOUND AND VISION – ZIGGY STARDUST – CHINA GIRL – STATION TO STATION – YOUNG AMERICANS – SUFFRAGETTE CITY – FAME – "HEROES" – BABY WHAT YOU WANT ME TO DO – JEAN GENIE – GLORIA – WAITING FOR THE MAN – JEAN GENIE
Label : No label
Audio Source : Audience recording
Lineage : Unknown > 3rd generation copy
Taping Gear : Unknown
Taper: Unknown
Recording Location: Unknown
Total running time : 1:43:48
Sound Quality : Noise ,dull ,but still good listened to
Attendance : 7000
Artwork : None (selfmade)
Tracksplit : No track makers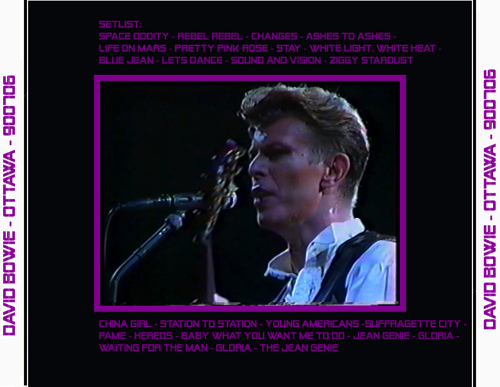 David Bowie plays Ottawa Civic Centre in 1990
David Bowie performed in Ottawa five times over the course of 30 years and we found some video of his show at the Ottawa Civic Centre during his Sound and Vision tour in 1990.
Bowie had previously played the Civic Centre in 1974 and 1978. In 1987 he played an outdoor show at Lansdowne Park when his Glass Spider Tour stopped in Ottawa.
His most recent Ottawa performance took place in Kanata in 2004 when the arena was called the Corel Centre.
We dug into the CBC archives and found the video above from his 1990 show. It also features a funny comment about how "teeny-boppers" might not like his music.
———
David Bowie, in Ottawa and beyond
How fitting that after a life and career built on the unexpected, death would be David Bowie's final surprise.
Though most of us didn't know Bowie was ill, he died of cancer on Sunday(2016-01-11), two days after his 69th birthday and the release of his 25th studio album, Blackstar. "Look up here, I'm in Heaven," he sang on the new song Lazarus. "I've got scars that can't be seen/ I've got drama, can't be stolen/ everybody knows me now."
For perhaps most people alive today there's never been a time when Bowie wasn't there. I grew up hearing The Rise and Fall of Ziggy Stardust and the Spiders from Mars spinning on our family turntable. As a boy I could recite most any line from that 1972 masterpiece — "it was cold, and it rained, so I felt like an actor" from Five Years, or "didn't know what time it was the lights were low-oh-oh," from Starman. Like many fans I could sing them all. Don't get us started.
RELATED
1987: David Bowie breaks attendance record for Ottawa rock shows
'He gave us magic for a lifetime': Madonna, Paul McCartney and Kanye share how David Bowie inspired them
I'll never forget how David Bowie made me famous for a minute
David Bowie famed as much for powerful influence on fashion design as he was for his music
David Bowie — who transcended humble origin to become influential performer of many alter egos — dead at 69
Given the almost universal acclaim, it's important to remember how out there and daring Ziggy Stardust was.
"It was just such an unusual move in music at that time, given what else was going on," says Mark Monahan, director of Bluesfest and Folkfest. "It was so different."
Ziggy was this androgynous waif singing about aliens and apocalypse and spiders and yelling "I'm an alligator." It could have been farcical, but for Bowie it was another confident step in the pageant of alter-egos that he would create.
"British-invasion rhythm and blues imitator in 1964," the Citizen once reported, "mod wannabe in 1966, catchy pop tunesmith in 1967, acoustic-guitar-playing hippie in 1969, androgynous alter ego Ziggy Stardust in 1972, fey plastic soul brother in 1975, cocaine-fuelled Thin White Duke in 1976, recording-studio recluse in Berlin in 1977, mainstream arena-rocker in 1983, proto-grunge-band member in 1989, embracer of alt-rock aggression in 1996, gracefully aging crowd-pleaser in 2003-04."
It was in 2004 when Bowie last played Ottawa. I'd like to say the show at the Corel Centre was one of the best I've seen, but Bowie ran through the hits — Rebel Rebel, Fame, Modern Love — in competent fashion, as if he was tired of the tour and ready for home.
Many in Ottawa have more vivid memories of the 1987 Glass Spider show at Lansdowne, which with approximately 30,000 people was the biggest concert in the city to that date. The enormous stage was wider than the football end zone it covered, and Bowie descended into view from the belly of a giant spider.
An intimate memory comes from Ken Craig, the Ottawa-based concert promoter with Live Nation who, in 1987, was a production assistant, and who led Bowie and entourage beneath the south-side stands to a meet-and-greet session with a few lucky fans.
"I remember walking into that room, and these 40 or so people gave him a standing ovation," Craig says. "He spoke to everyone, he smiled with everyone, he shook their hands. The reason I started loving the (concert) business at that time is because he was such a class act . . . It would be one of the highlights of my career."
Dennis Ruffo, who was the promoter for the show at Lansdowne, remembers Bowie selflessly encouraging those fans to leave the reception in time for the opening act. "He said, 'You want to get out there, you don't want to miss Duran Duran'," Ruffo recalls.
Almost 30 years after that concert, Ottawa's appetite for Bowie is unabated. I was in a record store Saturday afternoon and Blackstar had already sold out on vinyl, less than 24 hours after its release.
A review in the Citizen hailed the new album as "idiosyncratic" and "experimental," having fused rock, jazz, electronica and contemporary beats. Literally to the end, Bowie was a vanguard, reaching for something new and thwarting expectations. As cancer consumed him from within, he looked outward and forward, setting an example for young artists — or, for that matter, people in any field.
His influence has been huge, drawing in everyone from Lady Gaga to Chris Hadfield, the Canadian astronaut who covered Bowie's Space Oddity while in space. More Earth-bound and quaint, by comparison, was the Ottawa property developer who was the target of a protester's glitter bomb in 2012 and told the Citizen, "It's the closest I'm ever going to come to looking like David Bowie."
The breadth of Bowie's cultural influence was on display at the Art Gallery of Ontario two years ago, in a touring exhibition of his costumes and career ephemera. The exhibition drew huge crowds in Toronto and London, England, as people reflected upon Bowie's place in the history of art and style. I had a moment of genuflection as I stood before the handwritten lyrics to Lady Stardust: "People stared at the makeup on his face/ laughed at his long black hair, his animal grace. . ."
Bowie's immediate profile waxed and waned— the highs of Let's Dance in the 1980s, or the less-acclaimed years of the 1990s — but he never stopped creating even into his golden years. He never ran for the shadows, not even as the cancer spread. To paraphrase a lyric he wrote long ago, death "waits so patiently on your song."
***
Ottawa artist David Jones posted a brush with Bowie on Facebook, used here with permission and slightly edited:
"I financed my university education by working as a bell hop at the swankiest hotel in Ottawa, at the time the Holiday Inn (corner Kent and Queen.) May 2,1978: David Bowie has arrived with his entourage on his Isolar II tour. A big black van pulls up, fans are screaming, the entourage unloads about eight or 10 shiny, extremely heavy metal suitcases — but no David Bowie.
I have two carts of heavy suitcases to get into the elevator and up to the 24th floor's "Presidential Suite." I overhear that Bowie is already there, via the below-ground parking lot. Security help me push the unwieldy carts into the elevator. I arrive at the suite and a body guard, the size of an industrial kitchen fridge, opens the door, stares at me.
I say, "I have Mr. Bowie's luggage."
He replies, "you can't come in, I'll take it," and I'm thinking that if he takes the luggage there goes my tip. The body guard is at least three times my size, so I stand aside while he rolls the two carts of heavy luggage into the room.
I start to walk back to elevator when he shouts, "Hey, wait a second." I return to the door and he says," I noticed your name tag. Is your name really David Jones?"
David Bowie Tour band 1990 – Sound+Vision Tour
Bowie specifically chose a smaller band for the tour, saying in a contemporary interview that "It's a much smaller sound. It's not quite as orchestrated as any of the other tours. The plus of that is that there is a certain kind of drive and tightness that you get with that embryonic line-up, where everybody is totally reliant on the other two or three guys, so everybody gives a lot more"
• David Bowie – vocals, guitar, saxophone[
• Adrian Belew – guitar, backing vocals, music director
• Erdal Kızılçay – bass guitar, backing vocals
• Rick Fox – keyboards, backing vocals
• Michael Hodges – drums
[real3dflipbook id="3″]

.
(Visited 341 times, 1 visits today)