David Bowie 1990-04-17 Rome ,Palaurer – Italian Toilet – (Matrix SBD).
Sound Quality Rating
Two Source matrix Soundboard/Audience.
101. Space Oddity (fade in).flac
102. Changes.flac
103. TVC 15.flac
104. Rebel Rebel.flac
105. Be My Wife.flac
106. Ashes To Ashes.flac
107. Golden Years.flac
108. Fashion.flac
109. Life On Mars.flac
110. Blue Jean.flac
111. Lets Dance.flac
112. Stay.flac
113. Band Introduction.flac
114. China Girl.flac
115. Sound And Vision.flac
116. Ziggy Stardust.flac
117. Station To Station.flac
118. Young Americans.flac
201. Panic In Detroit.flac
202. Suffragette City.flac
Audience 1990-04-17 Palaurer Rome
203. "Heroes".flac
204. Pretty Pink Rose .flac
205. Jean Genie.flac
206. Queen Bitch.flac
207. Rock N Roll Suicide.flac
208. Space Oddity.flac
Bonus Tracks
Audience 1990-04-22 Westfalenhalle Dortmund
209. Young Americans.flac
210. Suffragette City.flac
211. Fame.flac
212. "Heroes".flac
213. Panic In Detroit.flac
214. Pretty pink Rose.flac
215. The Jean Genie.flac
Label : Old Gold Records – OGCD183 A/B
Audio Source : mostly from the Soundboard
Lineage : Unknown
Taping Gear : Unknown
Taper: Unknown
Recording Location: Unknown
Total running time : 2:24:06
Sound Quality : very good. Equals record or radio apart from a slight noise and some dullness.
Attendance : Unknown
Artwork : Yes
Great sound and great shows!
In the main this is an excellent sounding Soundboard recording. However it is incomplete for although five songs from the audience
nearly provide the entire show, unfortunately Fame is missing which I believe is also from the soundboard.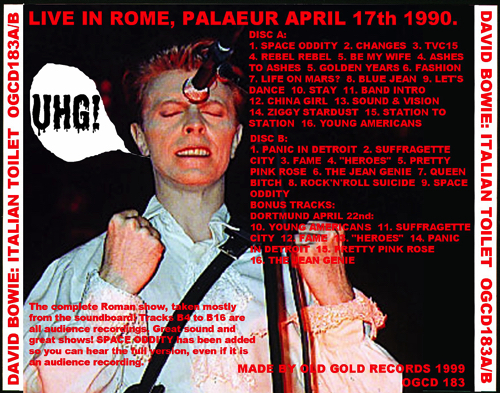 Bowie is none too happy about the venue acoustics, referring to it as a toilet, otherwise he is quite happy to be in Rome and has a lot of enthusiasm as the performance builds. Based upon the last section of songs from Station To Station, the basic arrangements of the songs allow the band the room to feed off each other and by the time they get into Suffragette City, it's time for all out rock and roll. One can surmise he has not played a rock show like this since the days of the Spiders in the early 70's. Simply put, a well played and very enjoyable concert.
David Bowie Tour band 1990 – Sound+Vision Tour
Bowie specifically chose a smaller band for the tour, saying in a contemporary interview that "It's a much smaller sound. It's not quite as orchestrated as any of the other tours. The plus of that is that there is a certain kind of drive and tightness that you get with that embryonic line-up, where everybody is totally reliant on the other two or three guys, so everybody gives a lot more"
• David Bowie – vocals, guitar, saxophone[
• Adrian Belew – guitar, backing vocals, music director
• Erdal Kızılçay – bass guitar, backing vocals
• Rick Fox – keyboards, backing vocals
• Michael Hodges – drums
[real3dflipbook id="3″]

.
(Visited 805 times, 1 visits today)