David Bowie 1990-06-07 Houston ,Woodlands Pavilion – He's Hot Tonight – (Taper Sean the bootlegger) .
01. Intro.flac
02. Space Oddity.flac
03. Changes .flac
04. Rebel Rebel.flac
05. Ashes To Ashes.flac
06. Fashion.flac
07. Queen Bitch.flac
08. Fashion.flac
09. Life On Mars.flac
10. Blue Jean.flac
11. Let's Dance.flac
12. Pretty Pink Rose.flac
13. Band Introductions.flac
14. Stay.flac
15. Sound And Vision.flac
16. Ziggy Stardust.flac
17. China Girl.flac
18. Station To Station.flac
19. Young Americans.flac
20. The Jean Genie.flac
21. Modern Love.flac
Label : No label
Audio Source : Audience recording
Lineage : master cassettes >wav (96/24) > wav (44.1/16) > flac.
Taping Gear : Sony Recording Walkman>Stereo clip on mic
Taper: Sean the bootlegger
Recording Location: Unknown
Total running time : 1:32:50
Sound Quality :
Attendance : Unknown (sold out)
Artwork : Yes
Notes:
This show is from the Sound + Vision tour.
The tour at the time was billed as a greatest hits tour with the intention of not performing the songs again once the tour was over. This show features an interesting moment during Fashion which Bowie stops the band half way through the song and after a minute or so of talking to the audience decides that they should play Queen Bitch. Once Queen Bitch is done they start Fashion again from the beginning playing it up until the end on the second go round. The other oddity is that a few setlist regulars are missing; Suffragette City, Fame and Heroes. According to Sean this is the full show and full recording.
Sean's notes:
Brother, buddy, girlfriend and myself. Buddy ends up getting a headache before the show starts, so he pops a couple of aspirin. But, he doesnt have anything to drink. So, he starts choking. He starts looking at me pointing at his throat and I have to give him the heimlich. The show hasnt even STARTED yet. So, the show starts. The Woodlands is an outside venue. We're out on the green with a good view of the stage and able to see up above the Pavilion. Theres a huge full moon hanging above the stage. When they get to "Let's Dance" and David delivers his line "Under the moonlight, the serious moonlight" the crowd goes crazy. Youll hear them on the recording. Thats why theyre going nuts. A huge perfect orb right above the stage. And yes, you just may hear me asking my g/f (who has been to plenty of shows and knows Im taping) "Can't you ever just shut the fuck up?"
Yeah. For some reason we split up a couple of months later.
Anyway, it was a great show. The recording came out very nice. It is one that I have popped in quite a bit to enjoy.
Previously uncirculated. My thanks to Weedwacker for the transfer/preservation.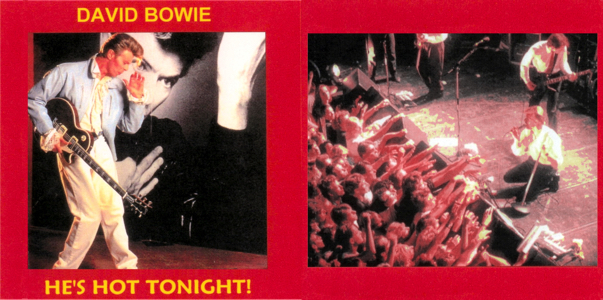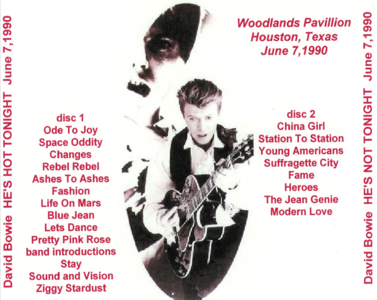 David Bowie Tour band 1990 – Sound+Vision Tour
Bowie specifically chose a smaller band for the tour, saying in a contemporary interview that "It's a much smaller sound. It's not quite as orchestrated as any of the other tours. The plus of that is that there is a certain kind of drive and tightness that you get with that embryonic line-up, where everybody is totally reliant on the other two or three guys, so everybody gives a lot more"
• David Bowie – vocals, guitar, saxophone[
• Adrian Belew – guitar, backing vocals, music director
• Erdal Kızılçay – bass guitar, backing vocals
• Rick Fox – keyboards, backing vocals
• Michael Hodges – drums
[real3dflipbook id="3″]

.
(Visited 231 times, 1 visits today)