David Bowie 1990-07-16 Uniondale ,Nassau Veterans Memorial Coliseum – Nassau Copliseum 1990 – (TapeTyrant Master Series Volume 27).
Sound Quality Rating
01. Space Oddity.flac
02. Fashion.flac
03. Rebel Rebel.flac
04. Ashes To Ashes.flac
05. Band Introduction.flac
06. Life On Mars.flac
07. Pretty Pink Rose.flac
08. Stay.flac
09. Blue Jean.flac
10. Let's Dance.flac
11. Sound And Vision.flac
12. Ziggy Stardust.flac
13. China Girl.flac
14. Station To Station.flac
15. Young Americans.flac
16. Suffragette City.flac
17. Fame.flac
18. "Heroes".flac
19. White Light, White Heat.flac
Encore:
20. The Jean Genie.flac
21. Gloria.flac
22. Modern Love.flac
Label : TT27
Audio Source : Audience recording
Lineage : Of master
Taping Gear : NAK 300's mics > Sony TC-D5 recorder
Taper: tapetyrant
Recording Location: Unknown
Total running time : 1:45:06
Sound Quality : Noise ,dull ,but still good listened to
Attendance : Unknown
Artwork : Yes
Known Faults:
– Sound And Vision: start slightly cut
-"Heroes": start cut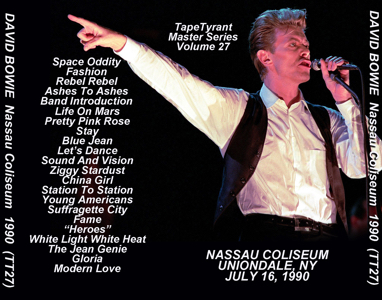 Welcome to Volume 27 of our master series featuring the master recordings of dime member "tapetyrant". The series will predominately feature captures in the Northeast and Southern California areas. We will touch on multiple genres with a strong focus on Jazz Fusion, New Wave and Rock.
Tapetyrant was an active taper in the 1980's and much of the 1990's before, like many of us, hanging up the mics. What he captured during that time is uniformly excellent quality and his master tapes have been safely stored, the first batch are in pristine condition. Some shows may circulate from lower generation copies but most have remained uncirculated until now and have never circulated directly from the masters.
Prior to DAT, the heavy lifting was entirely done by a Sony D5 with NAK 300's and taping was serious business, acquiring the best seats possible and working to keep neighbors in check.
Volume 27 features a second excellent recorder source for David Bowie's stop at Nassau Coliseum on his "Sound And Vision" greatest hits tour. Recorded between the 10th and 15th row I believe this master is a solid upgrade to Recorder 1.
Thanks as always to goody for the pitch confirmation/adjustments and of course continued thanks to "tapetyrant" for doing such a great job capturing these important shows, for reaching out and entrusting me to present his excellent work for all to enjoy for decades to come.
We are indebted to his generosity (tapers don't let those tapes and your hard work get lost to the ages, there are plenty of folks to get in touch with here to help get them out, we're all working to leave no tape behind).
David Bowie Tour band 1990 – Sound+Vision Tour
Bowie specifically chose a smaller band for the tour, saying in a contemporary interview that "It's a much smaller sound. It's not quite as orchestrated as any of the other tours. The plus of that is that there is a certain kind of drive and tightness that you get with that embryonic line-up, where everybody is totally reliant on the other two or three guys, so everybody gives a lot more"
• David Bowie – vocals, guitar, saxophone[
• Adrian Belew – guitar, backing vocals, music director
• Erdal Kızılçay – bass guitar, backing vocals
• Rick Fox – keyboards, backing vocals
• Michael Hodges – drums
[real3dflipbook id="3″]

.
.
(Visited 53 times, 1 visits today)