David Bowie 1990-02-00 New York – Sound + Vision Tour Rehearsels –
Sound Quality Rating
01. Space Oddity.flac
02. Changes.flac
03. TVC15.flac
04. Rebel Rebel.flac
05. Golden Years.flac
06. Be My Wife.flac
07. Ashes To Ashes.flac
08. John, I'm Only Dancing.flac
09. Queen Bitch.flac
10. Fashion.flac
11. Life On Mars?.flac
12. Blue Jean.flac
13. Ziggy Stardust.flac
14. Stay.flac
15. Sound And Vision.flac
16. Station To Station.flac
17. Alabama Song.flac
18. Pretty Pink Rose.flac
Label : MSG Records 110
Audio Source : Soundboard Recording > DAT
Lineage : Unknown
Taping Gear : Unknown
Taper: Unknown
Recording Location: Unknown
Total running time : 1:07:19
Sound Quality : very good. Equals record or radio apart from a slight noise and some dullness.
Attendance : 0
Artwork : Yes
This is the so called "DAT version" of the recording, and is better quality than the material used on the silver "Overtures And Beginners" CD.
This is roughly a one hour recording from the Sound + Vision tour rehearsals taken directly from the soundboard. The date and venue are unknown, but generally thought to be New York in the winter of 1990.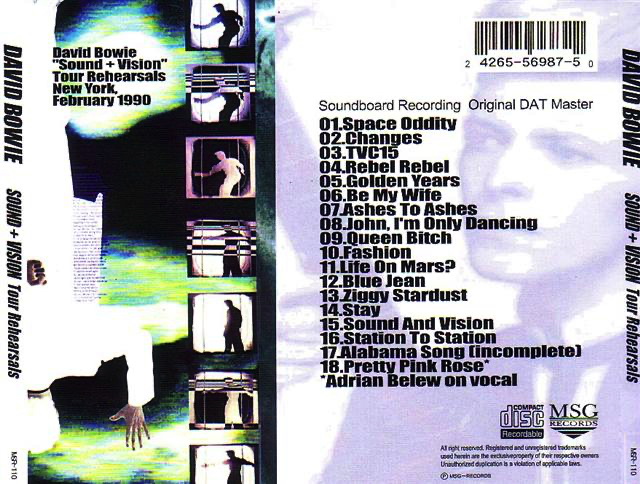 David Bowie Tour band 1990 – Sound+Vision Tour
Bowie specifically chose a smaller band for the tour, saying in a contemporary interview that "It's a much smaller sound. It's not quite as orchestrated as any of the other tours. The plus of that is that there is a certain kind of drive and tightness that you get with that embryonic line-up, where everybody is totally reliant on the other two or three guys, so everybody gives a lot more"
• David Bowie – vocals, guitar, saxophone[
• Adrian Belew – guitar, backing vocals, music director
• Erdal Kızılçay – bass guitar, backing vocals
• Rick Fox – keyboards, backing vocals
• Michael Hodges – drums
David Bowie Sound And Vision Tour Book
.
(Visited 12 times, 1 visits today)