David Bowie 1987-07-18 Torino ,Stadio Comunale di Torino – Sweet Is The Night –
Sound Quality Rating
101. Purple Haze.flac
102. Carlos's Guitar Intro.flac
103. Up The Hill Backwards.flac
104. Glass Spider.flac
105. Up The Hill Backwards.flac
106. Day In Day Out-fixed.flac
107. Bang Bang.flac
108. Absolute Beginners.flac
109. Loving The Alien.flac
110. China Girl.flac
111. Fashion.flac
112. Scary Monsters.flac
113. All The Madmen.flac
114. Never Let Me Down.flac
115. Big Brother.flac
116. Chant Of The Ever Circling Skeletal Family.flac
117. 87 & Cry.flac
201. "Heroes".flac
202. Time Will Crawl.flac
203. Band introductions.flac
204. Young Americans.flac
205. Beat Of Your Drum.flac
206. The Jean Genie.flac
207. Sons Of The Silent Age.flac
208. Dancing With The Big Boys.flac
209. Zeroes.flac
210. White Light White Heat.flac
211. Let's Dance.flac
212. Fame.flac
Encore:
213. Time.flac
214. Blue Jean.flac
215. Modern Love.lac
Label : From The Hunky Geordie Tapes – HGSS10CD
Audio Source : Audience recording
Lineage : Maxell UR90 x 1,5 (Master) > Denon DRM-500 deck
Taper: ???
Recording Location: ???
Total running time : 02:18:35
Sound Quality : noise ,dull ,but still good listened to
Attendance : ???
Artwork : By Steve23yh
A Good show and 26 songs
Bowie invited a Dutch girl Heidi on stage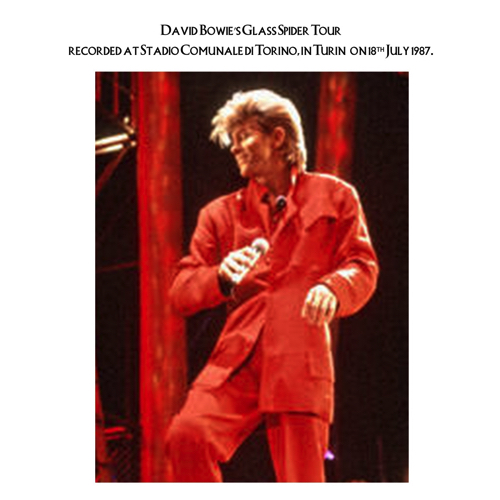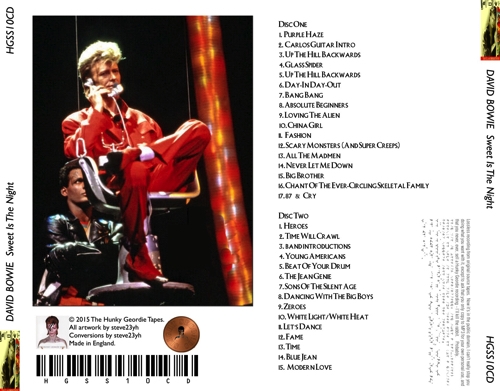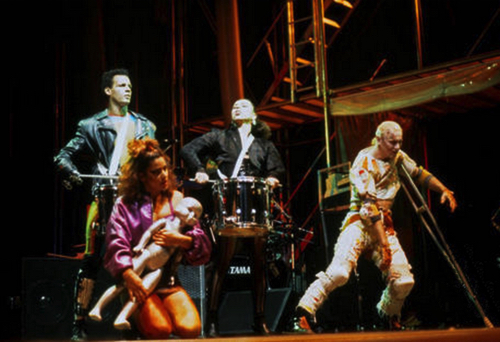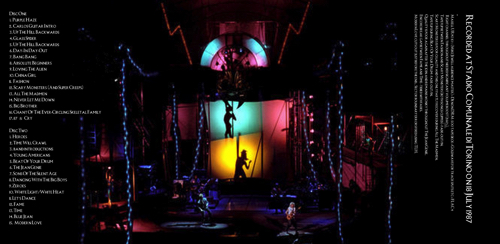 .
David Bowie Tour band 1987 – The Glass Spider Tour
• David Bowie – vocals, guitar
• Peter Frampton – guitar, vocals
• Carlos Alomar – guitar, backing vocals, music director
• Carmine Rojas – bass guitar
• Alan Childs – drums
• Erdal Kızılçay – keyboards, trumpet, congas, violin, backing vocals
• Richard Cottle – keyboards, saxophone, tambourine, backing vocals
Tour dancers
• Melissa Hurley
• Constance Marie
• Spazz Attack (Craig Allen Rothwell)
• Viktor Manoel
• Stephen Nichols
• Toni Basil (choreography)
Tour design
• Allen Branton – Lighting design
• Mark Ravitz – Set design
• Christine Strand – Video director
| | |
| --- | --- |
| [real3dflipbook id="5″] | [real3dflipbook id="6″] |
| David Bowie The Glass Spider Tour Boek part 1 | David Bowie The Glass Spider Tour Boek part 2 |
.
======================
Notes
Right channel throughout needed significant volume boost (266%).
Tape flip between Fashion and Scary Monsters (both songs clipped) – fade-out/in.
Scary Monsters is poor quality and this only partly recovers during All The Madmen.
Tape flip during Beat Of Your Drum – fade-out/in.
Quality is poor again after the join and remains wonky throughout The Jean Genie.
Encore break gap between Fame and Time – tidied with fades.
Modern Love cuts out just before the end.
Sector boundary errors resolved using TLH.
(Visited 296 times, 1 visits today)