David Bowie 1987-06-23 Sunderland ,Roker Park – SQ 8
01. Intro_Carlos Intro.flac
02. Up The Hill Backwards.flac
03. Glass Spider.flac
04. Up The Hill Backwards Reprise.flac
05. Day In Day Out.flac
06. Bang Bang.flac
07. Absolute Beginners.flac
08. Loving The Alien.flac
09. China Girl.flac
10. Fashion.flac
11. Scary Monsters.flac
12. All The Madmen.flac
13. Never Let Me Down.flac
14. Big Brother.flac
15. '87 And Cry.flac
16. "Heroes".flac
17. Time Will Crawl.flac
18. Band Intro.flac
19. Beat of your Drum.flac
20. Sons of the silent age.flac
21. Dancing with the big boys.flac
22. Zeroes.flac
23. Lets Dance.flac
24. Fame.flac
Encores
25. Blue Jean.flac
26. Modern Love.flac
27. Modern Love Complete.flac
28. Time will crawl complete.flac
Total running time: 120:31.52
Attendance 36.000
REVIEW
David Bowie thrills 36,000 fans at Roker Park, Sunderland, in 1987
Here in the region, Bowie had performed landmark shows at Newcastle City Hall in 1972 and 1973, returning for a trio of celebrated gigs at the same venue in June 1978,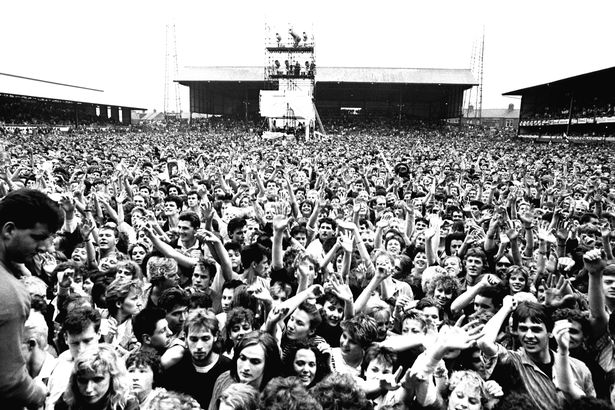 Later he would grace Newcastle Mayfair in 1991, Newcastle Riverside in 1997, and he was the first major artist to appear at Newcastle Arena in 1995.
But it was the Roker Park show in 1987 which attracted his biggest North East crowd.
More than 36,000 fans descended for the show on a day which began with sunshine, but ended with torrential rain.
Bowie, in fact, might have performed at St James' Park had a Chronicle story from March 1983 come to fruition. We reported how promoter Harvey Goldsmith was considering promoting a summer show at the Toon's home following the success of the Stones a year earlier – but the plan was scrapped.
David Bowie Tour band 1987 – The Glass Spider Tour
• David Bowie – vocals, guitar
• Peter Frampton – guitar, vocals
• Carlos Alomar – guitar, backing vocals, music director
• Carmine Rojas – bass guitar
• Alan Childs – drums
• Erdal Kızılçay – keyboards, trumpet, congas, violin, backing vocals
• Richard Cottle – keyboards, saxophone, tambourine, backing vocals
Tour dancers
• Melissa Hurley
• Constance Marie
• Spazz Attack (Craig Allen Rothwell)
• Viktor Manoel
• Stephen Nichols
• Toni Basil (choreography)
Tour design
• Allen Branton – Lighting design
• Mark Ravitz – Set design
• Christine Strand – Video director
| | |
| --- | --- |
| [real3dflipbook id="5″] | [real3dflipbook id="6″] |
| David Bowie The Glass Spider Tour Boek part 1 | David Bowie The Glass Spider Tour Boek part 2 |
.
.
(Visited 458 times, 1 visits today)