David Bowie 1987-06-06 Berlin ,Platz der Republik – Berlin – (Blackout Archives).
Sound Quality Rating
01. Purple Haze Intro.flac
02. Guitar Intro.flac
03. Up The Hill Backwards.flac
04. Glass Spider.flac
05. Up The Hill Backwards (Reprise).flac
06. Day-In, Day-Out.flac
07. Bang Bang.flac
08. Absolute Beginners.flac
09. Loving The Alien.flac
10. China Girl.flac
11. Fashion.flac
12. Scary Monsters.flac
13. All The Madmen.flac
14. Never Let Me Down.flac
15. Big Brother.flac
16. 87 And Cry.flac
17. "Heroes".flac
18. Time Will Crawl.flac
19. Band Introductions.flac
20. Beat Of Your Drum.flac
21. Sons Of The Silent Age.flac
22. New York's In Love.flac
23. Dancing With The Big Boys.flac
24. Zeroes.flac
25. Let's Dance.flac
26. Fame.flac
Encores
27. Time.flac
28. Blue Jean.flac
29. Modern Love.flac
Label : From the Blackout archives – OBJCD44
Audio Source : audience
Lineage : Unknown Generation (low)
Taper: ???
Recording Location: ???
Total running time : 2:12:24
Sound Quality : Much noise ,dull ,but still good listened to
Attendance : There were over 60000 people
Artwork : a Nathan Adler Design 2012
This is an early show from Bowie's glass spider tour and features Peter Frampton on guitar.
This is a very good quality audience recording of the Berlin show from 1987, it is complete and a good performance.
The RIAS 2 radio version contains 75 minutes of the show and this is a good companion because it shows you what might have been had they left the radio reels going! In any event, this is an excellent early Glass Spider show.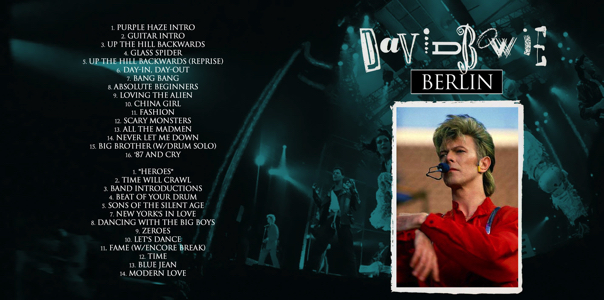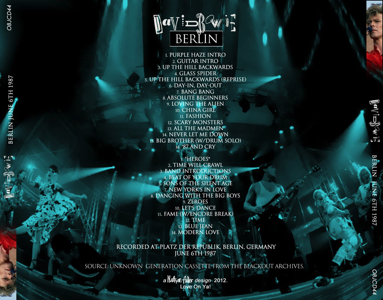 David Bowie Tour band 1987 – The Glass Spider Tour
• David Bowie – vocals, guitar
• Peter Frampton – guitar, vocals
• Carlos Alomar – guitar, backing vocals, music director
• Carmine Rojas – bass guitar
• Alan Childs – drums
• Erdal Kızılçay – keyboards, trumpet, congas, violin, backing vocals
• Richard Cottle – keyboards, saxophone, tambourine, backing vocals
Tour dancers
• Melissa Hurley
• Constance Marie
• Spazz Attack (Craig Allen Rothwell)
• Viktor Manoel
• Stephen Nichols
• Toni Basil (choreography)
Tour design
• Allen Branton – Lighting design
• Mark Ravitz – Set design
• Christine Strand – Video director
The Glass Spider Tour Boek part 1
The Glass Spider Tour Boek part 2
.
(Visited 355 times, 1 visits today)