David Bowie 1983-05-20 Frankfurt ,Festhalle – Nothin' But a Star – (blackout) .
Sound Quality Rating
101. JEAN GENIE INTRO.flac
102. STAR.flac
103. "HEROES".flac
104. WHAT IN THE WORLD.flac
105. WILD IS THE WIND.flac
106. GOLDEN YEARS.flac
107. TVC15.flac
108. FASHION.flac
109. LET'S DANCE.flac
110. BREAKING GLASS.flac
111. LIFE ON MARS.flac
112. SOROW.flac
113. CAT PEOPLE.flac
114. CHINA GIRL.flac
115. SCARY MONSTERS.flac
116. REBEL REBEL.flac
117. WHITE LIGHT , WHITE HEAT.flac
201. STATION TO STATION.flac
202. CRACKED ACTOR.flac
203. ASHES TO ASHES.flac
204. SPACE ODDITY.flac
205. BAND INTRODUCTION.flac
206. YOUNG AMERICANS.flac
207. HANG ON TO YOURSELF.flac
208. FAME.flac
ENCORE:
209. THE JEAN GENIE.flac
210. MODERN LOVE.flac
Label : Chamelion Record
Audio Source : audience
Lineage : LP –> Cassette
Total running time : 1:39:48
Sound Quality : very good. Equals record or radio apart from a slight noise and some dullness.
Attendance : 8.000
Artwork : by Saloca 2003
People who have been there say this concert was much less than Brussels.
There exist an incredible number of tapes and bootlegs of this concert,because this was the 'official start' of the tour (the Brussels concerts were try-outs with a much bigger repertory) and so there were many more bootleggers present.
Description: An excellent audience recording of the first official gig of the Serious Moonlight Tour.
You will hear the LP crackling at some places in the recording, which you will either love or hate, but they aren't very loud and simply confirm this is "LP" based. I have left TVC-15 on side 1 just like it is on the LP, and you really can't tell that it should have gone after Fame, so a pretty seamless job by the bootleggers.
The other omission of interest is Stay from the encores. Occasionally early in the tour this would be dropped.
Great quality recording!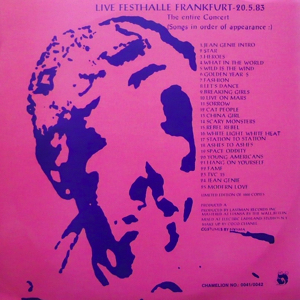 David Bowie Tour band 1983 – The Serious Moonlight World Tour :
• David Bowie – lead vocals, guitar, saxophone
• Earl Slick – guitar
• Carlos Alomar – guitar, backing vocals, music director
• Carmine Rojas – bass guitar
• Tony Thompson – drums, percussion
• Dave Lebolt – keyboards, synthesizers
The Borneo Horns:
• Steve Elson – saxophones
• Stan Harrison – saxophones, woodwinds
• Lenny Pickett – saxophones, woodwinds
Backing vocals
• George Simms – backing vocals
• Frank Simms – backing vocals• Frank Simms – backing vocals
| | |
| --- | --- |
| [real3dflipbook id="86″] | [real3dflipbook id="100″] |
| FLIPBOEK > World Convention 1983 | FLIPBOEK > 1983 Souvenir Serious Moonlight Tour |
.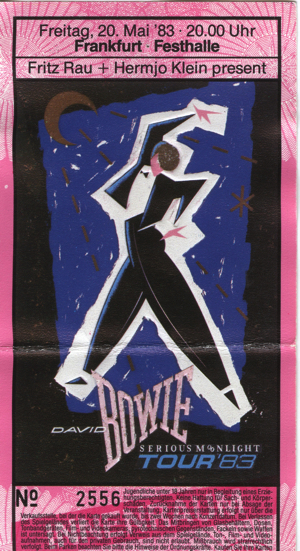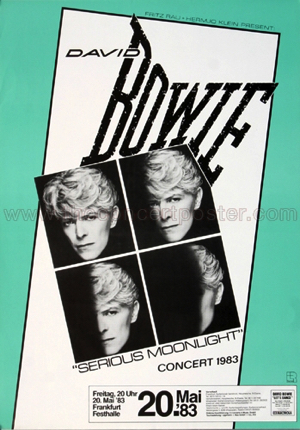 (Visited 519 times, 1 visits today)