David Bowie 1983-08-11 Tacoma ,Tacoma Dome – Worldwide Moonlight 1983 –
Sound Quality Rating
101. Intro.wav
102. The Jean Genie Intro – Star.wav
103. "Heroes".wav
104. What In The World.wav
105. Golden Years.wav
106. Fashion.wav
107. Let's Dance.wav
108. Red Sails.wav
109. Breaking Glass.wav
110. Life On Mars.wav
111. Sorrow.wav
112. Cat People (Putting Out Fire).wav
113. China Girl.wav
114. Scary Monsters (And Super Creeps).wav
115. Rebel Rebel.wav
116. White Light White Heat.wav
201. Station to Station.wav
202. Cracked Actor.wav
203. Ashes to Ashes.wav
204. Space Oddity.wav
205. Band Introductions.wav
206. Young Americans.wav
207. Fame.wav
208. TVC 15.wav
209. Stay.wav
Encore:
210. The Jean Genie.wav
211. Audience.wav
212. Modern Love.wav
Bonus Track :Joe Louis Arena, Detroit, MI. USA. 30th July 1983
213. I Cant' Explain .wav
Label : The Godfather Records
Audio Source : audience
Lineage : Unknown
Taping Gear: Unknown
Taped By: Unknown
Total running time : 1:57:29
Sound Quality : noise ,dull ,but still good listened to
Attendance : 27.000
Artwork : Yes
lovely tits:
"Firstly I'd like to thank the Tubes for their excellent support over the last few days" Bowie says,and then an awkward moment,when he says "They have lovely tits. I'd like to intro­duce my band to you,who have no tits but big talents". Bowie calls Young Americans "a folk song from the mid-Seventies" and the audience's response to recognising the first notes is very positive. TVC15 ends with Bowie and the band producing a much­ prolonged drawing-out; must be quite exhausting!
Notes:
David's stop for the Seattle area in the newly opened Tacoma Dome for the Serious Moonlight tour. This show was the very first show to be booked at the Tacoma Dome when it first opened. The first artist to perform here though goes to The Tubes who opened for Bowie this night.
The recording sounds good but the microphones starts to have issues from Fame until the end of the show so the sound quality drops and fluctuates from that point on.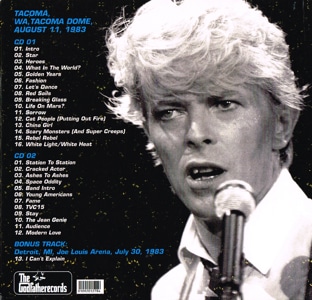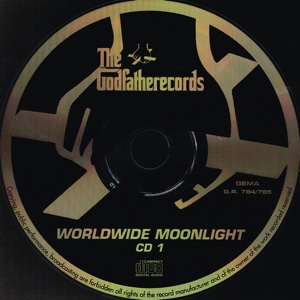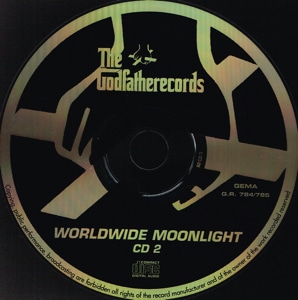 David Bowie Tour band 1983 – The Serious Moonlight World Tour :
• David Bowie – lead vocals, guitar, saxophone
• Earl Slick – guitar
• Carlos Alomar – guitar, backing vocals, music director
• Carmine Rojas – bass guitar
• Tony Thompson – drums, percussion
• Dave Lebolt – keyboards, synthesizers
The Borneo Horns:
• Steve Elson – saxophones
• Stan Harrison – saxophones, woodwinds
• Lenny Pickett – saxophones, woodwinds
Backing vocals
• George Simms – backing vocals
• Frank Simms – backing vocals• Frank Simms – backing vocals
| | |
| --- | --- |
| [real3dflipbook id="86″] | [real3dflipbook id="100″] |
| FLIPBOEK > World Convention 1983 | FLIPBOEK > 1983 Souvenir Serious Moonlight Tour |
.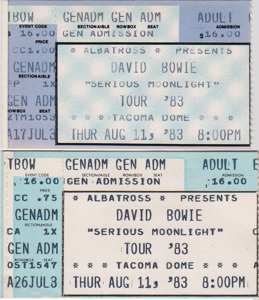 (Visited 6 times, 1 visits today)