David Bowie 1983-10-30 Osaka ,Expo Memerial Park – The Dressman & The Nippon Girl – volume 1 – (Vinyl) – SQ 8+
Sound Quality Rating
01. Announcement.wav
02. Look Back In Anger.wav
03. "Heroes" – Riot.wav
04. "Heroes" – Again.wav
05. What In The World.wav
06. Golden Years.wav
07. Fashion.wav
08. Let's Dance.wav
09. Breaking Glass.wav
10. Life On Mars_.wav
11. Sorrow.wav
12. China Girl.wav
Label : Holsten Team Records ‎– LC 62-13831030 LP 99 A/B
Audio Source : audience
Lineage :
Total running time : 0:39:41
Sound Quality : noise ,dull ,but still good listened to
Attendance : 15.105
Artwork : Yes
Actually the front of the cover is the main photograph and the title is on the back. Nice shiny cover with a rather interesting black and white photo of a man or a woman…can't make it out.
The sound quality is reasonable with a nice Japanese intro followed by the usual explosive DAVID BOWIIIEEE and his band!!! Even the band commence with ichi nii, ichi nii san shi (1,2 – 1,2,3,4).
At the beginning of "Heroes" Bowie stops the concert because fanatical Japanese are moving dangerously close to the stage. "Ho: Ho! Please! Back, back!" he calls out and says a few words in Japanese. "Heroes" starts anew and Then Bowie speaks to the audience again. On this tape the audience can only be heard as a vague murmur in the background, though one can hear the continual chatter of a girl. "My little Mekong girl" Bowie sings in China Girl. During the band intro Bowie speaks Japanese again; I don't understand regrettably,but he makes the audience laugh. At the end of this excellent concert Bovie calls out "Sayanora!".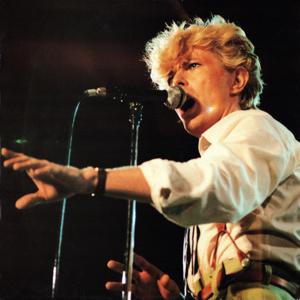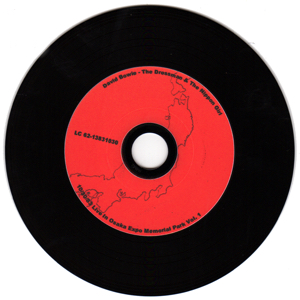 Tour band 1983 – The Serious Moonlight World Tour :
• David Bowie – lead vocals, guitar, saxophone
• Earl Slick – guitar
• Carlos Alomar – guitar, backing vocals, music director
• Carmine Rojas – bass guitar
• Tony Thompson – drums, percussion
• Dave Lebolt – keyboards, synthesizers
The Borneo Horns:
• Steve Elson – saxophones
• Stan Harrison – saxophones, woodwinds
• Lenny Pickett – saxophones, woodwinds
backing vocals
• George Simms – backing vocals
• Frank Simms – backing vocals
•
David Bowie World Convention 1983
David Bowie – 1983 Souvenir Serious Moonlight Tour
(Visited 94 times, 1 visits today)