David Bowie 1983-07-27 New York ,Madison Square Garden – Sean Oddity –
Sound Quality Rating
101. introduction.flac
102. The Jean Genie.flac
103. Star.flac
104. "Heroes".flac
105. What In The World.flac
106. Golden Years.flac
107. Fashion.flac
108. Let's Dance.flac
109. Breaking Glass.flac
110. Life On Mars.flac
111. Sorrow.flac
112. Cat People.flac
113. China Girl.flac
114. Scary Monsters.flac
115. Rebel Rebel.flac
116. White Light White Heat.flac
201. Station To Station.flac
202. Cracked Actor.flac
203. Ashes To Ashes.flac
204. Space Oddity.flac
205. Band introductions.flac
206. Young Americans.flac
207. Fame.flac
208. TVC 15.flac
209. Stay.flac
Encore:
210. The Jean Genie.flac
211. Modern Love.flac
Label : From The Hunky Geordie Tapes – HUG236CD
Audio Source : audience
Lineage : TDK SA90 x 1Ω (Arcorman)
Total running time : 1:47:00
Sound Quality : noise ,dull ,but still good listened to
Attendance : 19.250
Artwork : By steve23yh
"Ladies and gentlemen,on stage for the final triplet night this week at Madison Square Garden … " the announcer cries in the sensationa1 was he has been doing throughout the tour. The crowds are as enthusiastic as during the last two concerts and this tape matches the other two as well. During the beginning of Space Oddity Bowie says: "I want to dedicate this to a little boy called Sean".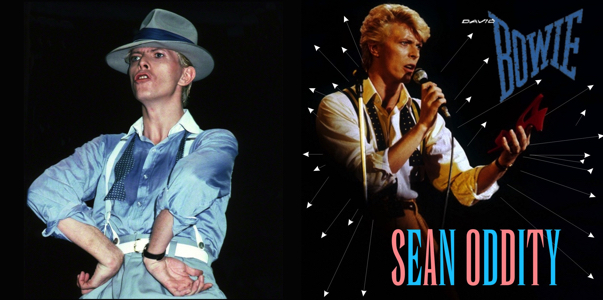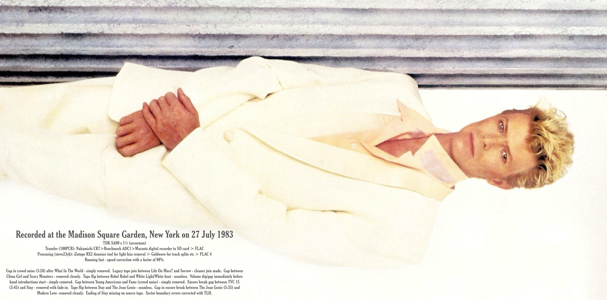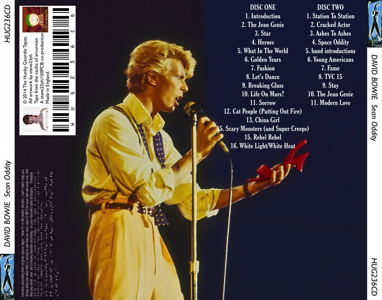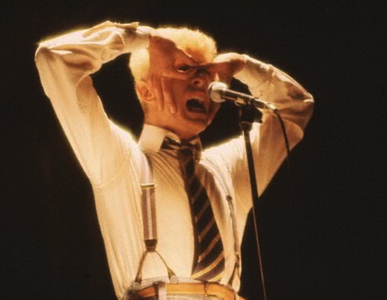 David Bowie Tour band 1983 – The Serious Moonlight World Tour :
• David Bowie – lead vocals, guitar, saxophone
• Earl Slick – guitar
• Carlos Alomar – guitar, backing vocals, music director
• Carmine Rojas – bass guitar
• Tony Thompson – drums, percussion
• Dave Lebolt – keyboards, synthesizers
The Borneo Horns:
• Steve Elson – saxophones
• Stan Harrison – saxophones, woodwinds
• Lenny Pickett – saxophones, woodwinds
Backing vocals
• George Simms – backing vocals
• Frank Simms – backing vocals• Frank Simms – backing vocals
David Bowie World Convention 1983
David Bowie – 1983 Souvenir Serious Moonlight Tour
ROCK CONCERT: DAVID BOWIE AS PERFORMANCE ARTIST
THROUGHOUT his 15-year career as a rock performer, David Bowie has worked out new modes of presentation, won new converts, then challenged them, his older fans and his own limits by confronting them with new work in a new mode.
Mr. Bowie doesn't just make albums and do tours. In fact, he doesn't tour much at all; his three sold-out performances at Madison Square Garden this week are his first here in more than five years. But wherever his work confronts us – on a single, an album, a selfdirected video, a film or, ideally, when he is on stage fronting a rock band – Mr. Bowie does his best to take us by surprise. He doesn't just have a new sound or a new look, though he does always seem to have those. He also has new ideas, new slants on the most effective ways to mix sound and image in live performance, and a new set of concepts to tie everything together.
Mr. Bowie's "Serious Moonlight" show consists of songs from many of his albums, but it is more properly a performance piece, a single, coherent, resourceful and at times virtuosically imaginative mixed-media work. It deserves that designation as much as an extended piece by Robert Ashley or Laurie Anderson, and it is by turns subtler, more ferocious, more moving and more dazzling – intellectually and sensually – than anything the art world's most celebrated performance artists have come up with.
The tour began in Europe, and there were early reports of some musical roughness, as well as gossip about the last-minute replacement of the lead guitarist Stevie Ray Vaughan (who played on Mr. Bowie's current hit album and single, "Let's Dance") with an earlier Bowie band regular, Earl Slick. But by the time Mr. Bowie and his musicians opened at Madison Square Garden last night, only a few musical kinks remained to be ironed out. The rhythm section of Carmine Rojas (bass) and Tony Thompson (drums), hadn't yet found a comfortable tempo and groove for some of Mr. Bowie's earlier songs, and there were occasional timing problems with a few of the more intricate arrangements. But these were very minor blemishes. As an evening of sound, light and image; as Mr. Bowie's critical, conceptual gloss on his diverse body of work, and as visceral rockand-roll, the show was practically flawless.
When a rock star has been around as long as Mr. Bowie, it's easy to chose the easy options, to give an audience what one thinks it wants, to lavish just enough imagination and care on a song or an album or a show to get by, please the fans, keep money in the bank.
But Mr. Bowie uses everything at his disposal – his knowledge of rock and rhythm-and-blues history; his training in body language through mime; his interest in the early performance art of the Dadaists and Surrealists and in William Burroughs's ideas about manipulating psychology through association-blocks of sound and image; his stage and film acting experience; the observations of cultures and cultural styles made on his extensive travels and, one suspects, some reading in the literature of crowd psychology.
But all of this would be crassly Pavlovian if there weren't some heart, some feeling in Mr. Bowie's work. That's the area he seems most concerned with at present, and in musical terms this means hard work on the elusive subtleties of feel. In the past, Mr. Bowie's big problem was a lingering impression of coldness in his work. One sensed, or thought one sensed, a remote, disdainful, manipulative intelligence marshaling spectacular theatrical and musical epiphanies without ever feeling their effects.
And in this respect, the David Bowie of "Serious Moonlight" is a new Bowie – relaxed, smiling, jaunty and more emphatically, physically involved in the music than ever before. In "The Elephant Man," Mr. Bowie impressed the drama critics by using his body to make apparent changes in his physical appearance. In his latest stage show, he is using that talent, the impact of his most enduring songs, and the wealth of knowledge and experience he has acquired to make great popular art – and, more to the point, great rock-and-roll.
.
.
=====================
Notes
Lightweight iZotope RX2 denoiser for hiss removal – but only side 3 (The Jean Genie and Modern Love) dehissed.
Running fast – speed correction with a factor of 96%.
Gap in crowd noise (3:26) after What In The World – simply removed.
Legacy tape join between Life On Mars? and Sorrow – cleaner join made.
Gap between China Girl and Scary Monsters – removed cleanly.
Tape flip between Rebel Rebel and White Light/White heat – seamless.
Volume dip/gap immediately before band introductions start – simply removed.
Gap between Young Americans and Fame (crowd noise) – simply removed.
Encore break gap between TVC 15 (3:45) and Stay – removed with fade-in.
Tape flip between Stay and The Jean Genie – seamless.
Gap in encore break between The Jean Genie (5:35) and Modern Love- removed cleanly.
Ending of Stay missing on source tape.
Sector Boundary Errors fixed with TLH.
(Visited 396 times, 1 visits today)