David Bowie 1983-07-19 Philadelphia ,Spectrum Arena – The Philadelphia Tea Party –
Sound Quality Rating
01. Intro Music – Intro – Jean Genie Intro.flac
02. Star.flac
03. "Heroes".flac
04. What in the World.flac
05. Golden Years.flac
06. Fashion.flac
07. Lets Dance.flac
08. Breaking Glass.flac
09. Life on Mars.flac
10. Sorrow.flac
11. Cat People.flac
12. China Girl.flac
13. Scary Monsters.flac
14. Rebel Rebel.flac
15. White Light ,White heat.flac
16. Station to Station.flac
17. Cracked Actor.flac
18. Ashes to Ashes.flac
19. Space Oddity.flac
20. Band Introductions.flac
21. Young Americans.flac
22. Fame.flac
23. TVC 15.flac
Encore 1:
24. Stay.flac
25. The Jean Genie.flac
Encore 2:
26. Modern Love.flac
Label : 100% Welsh – KGCD-30
Audio Source : audience
Lineage : HG Cassettes
Total running time : 1:53:57
Sound Quality : noise ,dull ,but still good listened to
Attendance : 17.000
Artwork : Yes
note : Decent recording, though there's a lot at the top end, making the sound a little harsh.
Watch out for an inferior recording with very tired sound and missing Star from the beginning (as the artwork indicates, the complete show is not the norm on this one).
The audience were exultant,and Bowie's enthusiasm matched theirs in this concert. "Good eve­ ning! Very glad you could come! Tea of coffee? Coffee? Tea?" he asks,and both times the audience cry "Yeah!". "Was that with sugar or without sugar? With sugar". Some indistinct noises follow,which make the audienee cheer. Then Bowie starts playing the first guitar notes of Young Americans and after the sax intro,while the hand is playing,Bowie says: "l'd like to an­nounce my band. On synthesizers aod keyboards David Labolt. On saxophones,just quitting a quick tea break,Lenny Piekett,Stan Harrison,Steve Elson". Bowie introduces the band during the number,not before,thus turning it into a rare as well as a mag­nificent version! It sounds real good and I wonder why Bowie hasn't done it more of ten. After the number Bowie asks someone from the audience : "What's your name? Kerim? Hello Herim . How old are you? 'fwenty-eight? Get up that shoulders". At the end of Fame Bowie starts improvising,yelling; "Gimme same fame! Fame in The living room,fame in the bed,Fame ON THE CHAIR,…… (?) … in your head,fame! Hey you! Hey you! Hey you! What's your name!"
During Stay Bowie adds some lines to the original text: "Why don't you stay . If you want to,only if you want to. No,you can stay. Don't have to go home tonight. Lend me your room tonight babe. Why don't you stay".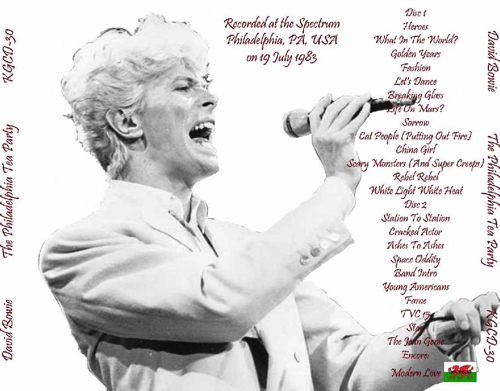 David Bowie Tour band 1983 – The Serious Moonlight World Tour :
• David Bowie – lead vocals, guitar, saxophone
• Earl Slick – guitar
• Carlos Alomar – guitar, backing vocals, music director
• Carmine Rojas – bass guitar
• Tony Thompson – drums, percussion
• Dave Lebolt – keyboards, synthesizers
The Borneo Horns:
• Steve Elson – saxophones
• Stan Harrison – saxophones, woodwinds
• Lenny Pickett – saxophones, woodwinds
Backing vocals
• George Simms – backing vocals
• Frank Simms – backing vocals• Frank Simms – backing vocals
David Bowie World Convention 1983
David Bowie – 1983 Souvenir Serious Moonlight Tour

July 19 1983 Philadelphia show report
(Visited 650 times, 1 visits today)