David Bowie 1983-06-18 Bad Segeberg ,Freilichtbuhne – Event Of David Bowie –
Sound Quality Rating
01 – The Jean Genie (Intro) – Star.flac
02 – "Heroes".flac
03 – What In The World.flac
04 – Golden Years.flac
05 – Fashion.flac
06 – Let's Dance.flac
07 – Red Sails.flac
08 – Breaking Glass.flac
09 – Life On Mars.flac
10 – Sorrow.flac
11 – Cat People.flac
12 – China Girl.flac
13 – Scary Monsters.flac
14 – Rebel Rebel.flac
15 – White Light White Heat.flac
16 – Station To Station.flac
17 – Cracked Actor.flac
18 – Ashes To Ashes.flac
19 – Space Oddity.flac
20 – Band introduction.flac
21 – Young Americans.flac
22 – TVC 15.flac
23 – Fame.flac
24 – Stay.flac
25 – The Jean Genie.flac
26 – encore call .flac
27 – Modern Love.flac
Label : Cheat & Fraud Records ‎– CAF 83-06-17-
Audio Source : audience
Lineage : bootleg LP
Total running time : 1:46:39
Sound Quality : very good. Equals record or radio apart from a slight noise and some dullness.
Attendance : 12.075
Artwork :Yes
It's a great show with David in very good mood and it provides the rarely played Red Sails. I attended the show in Frankfurt on 20.05.1983 which was one of the first of the whole tour.
After Star Bowie cries "Danke,gute Abend" which is answered by some faint applause from the audience who are hardly audible on this tape.
it is a lovely concert,performed with full concentration. As usual Earl Slick produces a fantastic whire when Station to Station starts,really splendid. Dozens of frisbees were thrown to the stage by the audience.
During Stay such a frisbee touched Bowie's head,he kept it in his hand througbout the rest of the song and then returned it to the audience like a proper disco­bulus.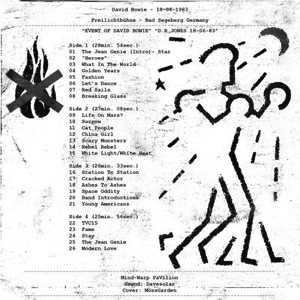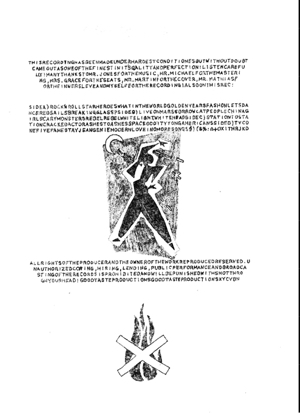 David Bowie Tour band 1983 – The Serious Moonlight World Tour :
• David Bowie – lead vocals, guitar, saxophone
• Earl Slick – guitar
• Carlos Alomar – guitar, backing vocals, music director
• Carmine Rojas – bass guitar
• Tony Thompson – drums, percussion
• Dave Lebolt – keyboards, synthesizers
The Borneo Horns:
• Steve Elson – saxophones
• Stan Harrison – saxophones, woodwinds
• Lenny Pickett – saxophones, woodwinds
Backing vocals
• George Simms – backing vocals
• Frank Simms – backing vocals• Frank Simms – backing vocals
David Bowie World Convention 1983
David Bowie – 1983 Souvenir Serious Moonlight Tour
(Visited 383 times, 1 visits today)