David Bowie 1983-05-19 Brussels ,Vorst Nationaal – Like Your Dreams Tonight –
Sound Quality Rating
101. Right Now Right Now (Alan Freed Orchestra).flac
102. The Jean Genie.flac
103. Star.flac
104. "Heroes".flac
105. What In The World.flac
106. Look Back In Anger.flac
107. Joe The Lion.flac
108. Wild Is The Wind.flac
109. Golden Years.flac
110. Fashion.flac
111. Let's Dance.flac
112. Red Sails.flac
113. Breaking Glass.flac
114. Life On Mars.flac
115. Sorrow.flac
116. Cat People.flac
117. China Girl.flac
118. Scary Monsters.flac
119. Rebel Rebel.flac
120. I Can't Explain.flac
121. White Light White Heat.flac
201. Station To Station.flac
202. Cracked Actor.flac
203. Ashes To Ashes.flac
204. Space Oddity.flac
205. Band introductions.flac
206. Young Americans.flac
207. Soul Love.flac
208. Hang On To Yourself.flac
209. Fame.flac
210. TVC 15.flac
211. Stay.flac
212. The Jean Genie.flac
213. Modern Love.flac
Label : From The Hunky Geordie Tapes – HUG169CD
Audio Source : audience
Lineage : TDK SA90 x Ω + BASF Chromdioxid Maxima II C90 (Arcorman)
Total running time : 2:076:26
Sound Quality : very good. Equals record or radio apart from a slight noise and some dullness.
Attendance : 8.000
Artwork : By steve23yh
the concert was better than the night before,because Bowie,much more confident now of himself and his show,was even more happy and effusive. Reper­tory and music were identical,but Bowie's immense gaiety,vita­lity and emanation could be felt even better.
The at­ mosphere in the hall was very good, but there was much more squash.
Especially durng Scary Monsters,when Bowie was skipping about,and the audience star­ted imitating him.
During Let's Dance a bunch of roses was thrown onto the stage; Bowie picked one out singing: "if you should fall into my arms,and tremble like a flower" – just before the last words he 'committed seppuku' with the rose and crumbled down! This impromptu was welcomed by the cheers echoing through this mas­sive,concrete hall.
China Girl was spoilt somewhat by Bowie singing the climax rather bad. The band got all attention in White Light-White Heat. "Here she comes!" cried Bowie,and there came Earl Slick stumbling & crawling over the floor alone to finish the song.
Space Oddyty started and an English­ man called for Amsterdam ! He obviously had a good recollection of the early Ziggy shows in which Amsterdam was often played,and he kept on calling for the number. Bowie an­ nounced "I'd like to introduce you to my very fine band",and ,after doing so he saw and heard the man calling and laughed. "No ,Young Americans".he said and kicked the globe into the hall.
The rest of the concert was also performed masterly; after Jean Genie the audience got something of a shock when the hall lightss went on ! This lasted three seconds,then Bowie re­turned for the last time to do Modern Love. His shirt was wet with perspiration and he was laughing at the crowd. "But I never wave bye bye" he sang and,indeed, after the song,he left the stage without a goodbye,without a word.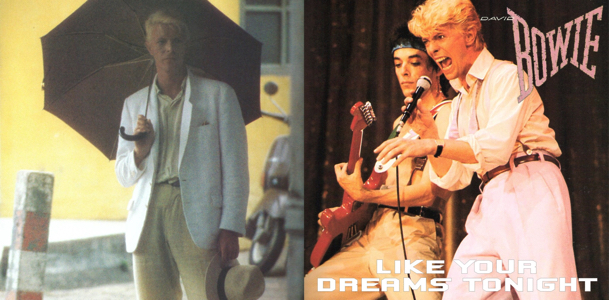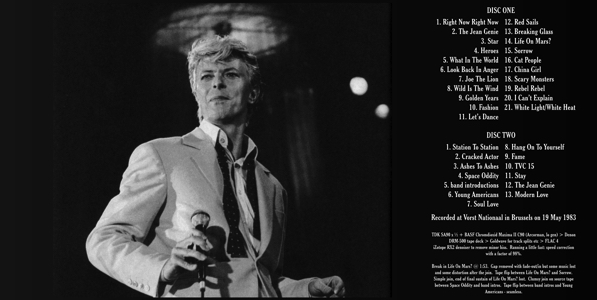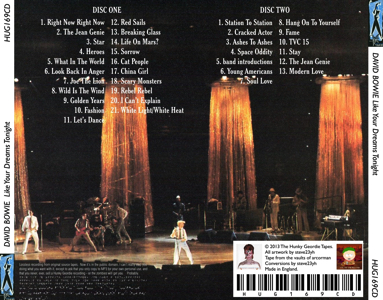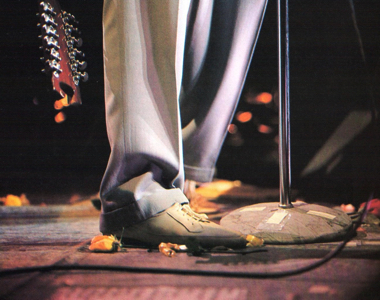 David Bowie Tour band 1983 – The Serious Moonlight World Tour :
• David Bowie – lead vocals, guitar, saxophone
• Earl Slick – guitar
• Carlos Alomar – guitar, backing vocals, music director
• Carmine Rojas – bass guitar
• Tony Thompson – drums, percussion
• Dave Lebolt – keyboards, synthesizers
The Borneo Horns:
• Steve Elson – saxophones
• Stan Harrison – saxophones, woodwinds
• Lenny Pickett – saxophones, woodwinds
Backing vocals
• George Simms – backing vocals
• Frank Simms – backing vocals• Frank Simms – backing vocals
David Bowie World Convention 1983
David Bowie – 1983 Souvenir Serious Moonlight Tour
===========
Notes
iZotope RX2 to remove very minor hiss.
Running a teeny bit fast. Speed correction with a factor of 98%.
Break in Life On Mars? @ 1:53. Gap removed with fade-out/in but some music lost and some distortion after the join.
Tape flip between Life On Mars? and Sorrow. Simple join, end of final sustain of Life On Mars? lost.
Clumsy join on source tape between Space Oddity and band intros.
Tape flip between band intros and Young Americans – seamless.
(Visited 402 times, 1 visits today)