David Bowie 1983-05-20 Frankfurt ,Festhalle – Frankfurt 20.05.83 – (Matrix).
Sound Quality Rating
Matrix of 2 different recordings from the same show:
Source 1, David Bowie 1983-05-20 Frankfurt, Festhalle – SQ 8,5
Source 2, David Bowie 1983-05-20 Frankfurt ,Festhalle (Source 2) – SQ 8
CD1
01. Intro
02. Star
03. "Heroes"
04. What In The World
05. Wild Is The Wind
06. Golden Years
07. Fashion
08. Let's Dance
09. Breaking Glass
10. Life On Mars?
11. Sorrow
12. Cat People
13. China Girl
14. Scary Monsters
15. Rebel Rebel
16. White Light, White Heat
CD2
17. Station To Station
18. Cracked Actor
19. Ashes To Ashes
20. Space Oddity
21. Band Introductions
22. Young Americans
23. Hang On To Yourself
24. Fame
25. TVC15
encore call 1
26. Jean Genie
encore call 2
27. Modern Love
Label : No label > From the Blackout archives < From The Hunky Geordie Tapes Audio Source : audience
Lineage :
Total running time : 1:43:45
Sound Quality : very good. Equals record or radio apart from a slight noise and some dullness.
Attendance : 8.000
Artwork : Artwork: learm – Photos By Charles Robinson
Matrix : by Learm
Sound samples:
Star
White Light White Heat
People who have been there say this concert was much less than Brussels.
There exist an incredible number of tapes and bootlegs of this concert,because this was the 'official start' of the tour (the Brussels concerts were try-outs with a much bigger repertory) and so there were many more bootleggers present.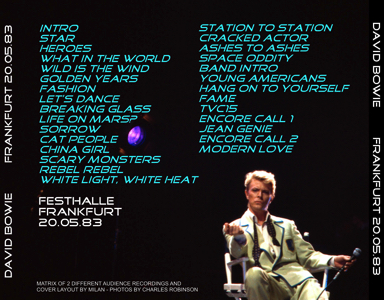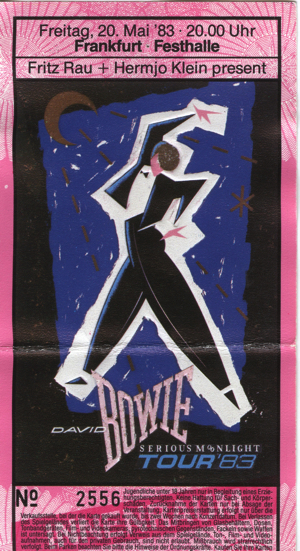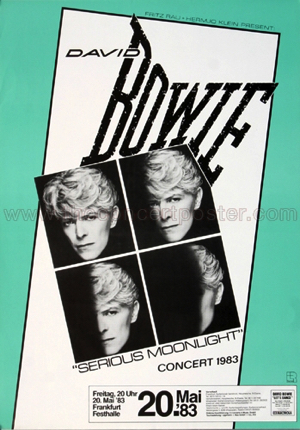 David Bowie Tour band 1983 – The Serious Moonlight World Tour :
• David Bowie – lead vocals, guitar, saxophone
• Earl Slick – guitar
• Carlos Alomar – guitar, backing vocals, music director
• Carmine Rojas – bass guitar
• Tony Thompson – drums, percussion
• Dave Lebolt – keyboards, synthesizers
The Borneo Horns:
• Steve Elson – saxophones
• Stan Harrison – saxophones, woodwinds
• Lenny Pickett – saxophones, woodwinds
Backing vocals
• George Simms – backing vocals
• Frank Simms – backing vocals• Frank Simms – backing vocals
David Bowie World Convention 1983
David Bowie – 1983 Souvenir Serious Moonlight Tour
This was the first Bowie show and so I am (Learm) not quite objective about it.
But I think it was a powerful gig and the Festhalle was steaming. People were pushing others by trying to get closer to the stage and by this others who got too much pressure were fainting and had to be taken out by first aiders.
It's funny that I couldn't remember that there was a short break in the show what I realized only by listening to source 2. Also it's nice to have the really powerful introduction by George Simms also from source 2. Taken into account the quite problematic sound characteristic of the Festhalle this Matrix is surprisingly good in sound. There are only some fluctuations from time to time which surely are originated by the taper(s) being pushed or by others during the show's turbulences. And the only flaw is that the 2 last tracks can't quite cope in sound quality with the rest of the show.
During my research for photos of the show (which was the first official gig of the tour) in the web I found tons of them but the best photos were made by an amateur photographer, Charles Robinson. He is American and he was in Germany for some months at this time. I contacted him and asked him if I couls use his photos for a cover. He was very friendly and also very pleased that I would use them for this purpose. Also he told me that he was only 17 in 83. He and his brother arrived very early at the venue and so they could get in a good position in front of the stage. But during the show they had to fight against people pushing against them all the time. The more it is amazing what great photos this guy took. They could be easily used in professional publications. You can find them here: http://charles.robinsontwins.org/photos/1983/bowie/
Besides the cover I made also a copy of the ticket stub and the poster of the show are attached.
Processing:
Flac files of both recordings -> transfer to Samplitude 11 Silver -> arrangement of matrix (remaster/edit) -> FLAC (44,1 kHz, 16 Bit, Stereo) -> bowiestation
Ex- sound (last 2 songs Vg+) after some EQ. Source 1 is much better in sound and thus has a higher ratio on the matrix. Nevertheless the last 2 tracks are inferior in sound already in source 1.
(Visited 367 times, 1 visits today)