David Bowie 1983-07-12 Montreal ,Montreal Forum – Montreal 1983 First Night – (Soundboard).
Sound Quality Rating
101. Look Back In Anger.flac
102. Breaking Glass.flac
103. Scary Monsters (And Super Creeps).flac
104. Rebel Rebel.flac
105. "Heroes".flac
106. What In The World.flac
107. Life On Mars.flac
108. Sorrow.flac
109. Golden Years.flac
110. Fashion.flac
111. Let's Dance.flac
112. Red Sails.flac
113. China Girl.flac
114. White Heat.flac
201. Station To Station.flac
202. Cracked Actor.flac
203. Ashes To Ashes.flac
204. Space Oddity.flac
205. Band Introduction.flac
206. Young Americans.flac
207. Cat People (Putting Out Fire).flac
208. TVC 15.flac
209. Fame.flac
Encore 1:
210. Star.flac
211. Stay.flac
212. The Jean Genie.flac
Encore 2:
213. I Can't Explain.flac
214. Modern Love.flac
Label : No label
Audio Source : SoundBoard
Lineage :
Total running time : 2:01:28
Sound Quality : very good. Equals record or radio apart from a slight noise and some dullness.
Attendance : 16.270
Artwork : Yes
We have a very special guest for you this evening … it's, your royal highness Prince Charles of England" Bowie jests,"No he's not" he then says,and the audience are rather confused. "Here he is,no he's there. May I know your names? Your names,what's your name? Joey Salabo, this is for Joey Salabo,it's called Young Americans".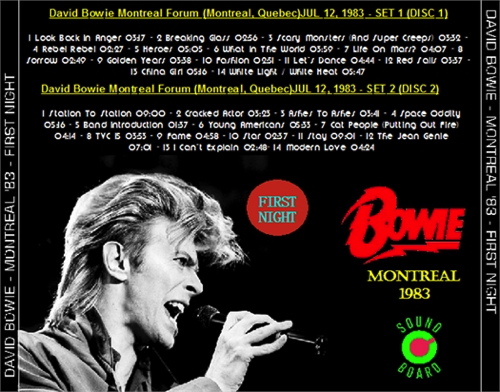 Notes for set 1
This set is taken from the two-night stand David Bowie gave at the Montreal Forum in 1983. Each show during this Serious Moonlight tour had two sets with a 20-minute intermission, resulting in over 90 two hour-plus concerts in 15 countries in 1983.
After a period of releasing dark, more experimental albums such as Low, The Lodger and Scary Monsters in collaboration with Brian Eno while living as a single man in Berlin, Germany, a string of only semi-successful commercial hits and battling a well-publicized cocaine addiction, David Bowie overcame his demons and teamed up with Chic member and producer, Nile Rodgers. The result was 1983's Let's Dance, a commercial record that most critics continue to regard as one of his best.
Smiling and obviously happy with his newfound artistic muse, David Bowie greeted a sold out Montreal forum on this night, and launched into a brilliant show full of both hits from Let's Dance and some of the more radio-friendly tracks he had done during his Berlin sojourn. Fronting a killer band, Bowie began the evening with three lesser known hits – "Look Back In Anger," "Breaking Glass" and "Scary Monsters (And Super Creeps)" – before launching into "Rebel, Rebel," his 1974 hit single from the Diamond Dogs LP. This tour reunited Bowie with guitarist Earl Slick, who had replaced Mick Ronson for the Diamond Dogs recording sessions. Slick delivers the rock edge that had been missing from his music made during the Berlin years. The band is propelled by former Chic/Power Station drummer Tony Thompson, who, along with members of the Tower of Power horn section, helps make this one of the best backing bands in his long musical career.
The majority of the set is essentially a collection of Bowie hits that includes "Heroes," "Life on Mars?," "Fashion" and his two big radio hits from Let's Dance: the title track and the ever infectious "China Girl." Other highlights include Bowie's version of the classic 1967 Pretty Things hit, "Sorrow," (which he originally recorded for 1973's Pin Ups record) and his modern re-make of The Velvet Underground classic "White Light, White Heat."
Notes on set II
Actually the second half of a single show, this recording begins with Bowie offering a compelling version of "Station To Station," the title track from the 1976 album of the same name, to open the second set. From the moment he sings the initial line: "…the return of the thin white duke…" the crowd is all his – on their feet, and reveling in the homecoming. From there, things only escalate. He then launches into a powerful version of "Cracked Actor," a tune from 1973's Aladdin Sane, drawing a special roar from the audience when he delivers the controversial line "…suck baby suck, give me your head…" Leading a monumental, 10-piece band, he grooves through a collection of mostly hit songs that includes "Space Oddity" (his first hit single), "Young Americans" (his first dance hit), "Fame" (which he co-wrote with John Lennon) and a trio of all-out rockers: "Cat People," "Putting Out Fire" and "Jean Genie." This tour only featured one song from his legendary Ziggy Stardust LP, "Star" – but it's a memorable one, nonetheless. Noticeably absent from the show was the usual Bowie show-stopper "Suffragette City," but he more than makes up for it with what would have been, back then, a mix of classic and modern Bowie. Among the other highlights are a version of "Modern Love," which kicks like a mule, and a spunky version of The Who classic "I Can't Explain." A must for all Bowie fans; proof that, no matter what the persona, the man could rock out with the best of them.
David Bowie Tour band 1983 – The Serious Moonlight World Tour :
• David Bowie – lead vocals, guitar, saxophone
• Earl Slick – guitar
• Carlos Alomar – guitar, backing vocals, music director
• Carmine Rojas – bass guitar
• Tony Thompson – drums, percussion
• Dave Lebolt – keyboards, synthesizers
The Borneo Horns:
• Steve Elson – saxophones
• Stan Harrison – saxophones, woodwinds
• Lenny Pickett – saxophones, woodwinds
Backing vocals
• George Simms – backing vocals
• Frank Simms – backing vocals• Frank Simms – backing vocals
David Bowie World Convention 1983
David Bowie – 1983 Souvenir Serious Moonlight Tour
Review
Hi
Was just reading your article on the July 12 1983 show in Montreal. That was the best concert of my life. We got 2nd row seats dirt cheap cause my family knew a ticketbooth worker named Monsieur Foisy (fwuzzy). I was 15. I got a nite out from sleepaway camp to come to town and see the show with my best friend and my older sister and her best friend.
The streets around the forum were buzzing. We had a group of friends who were all hardcore Bowie fans and we were all there that nite.
I was seated in the 2nd row, first seat center isle right.
I was wearing a sweatshirt that I had cut holes out of all over and wrote Ziggy Stardust with a black marker on my chest.
A news photographer offered me $400 to move to the eighth row before the show started and I told him now way in hell.
From the opening chords of Look Back in Anger I was up on my seat singing along to every song with the Man standing right in front of me, at almost eye level cause I was standing all of 6'2″ up on my seat. The peeps who had paid mucho bucks for their seats around me, all of them older, were telling me to sit, but I wouldn't the entire show.
There was an intermission after which Mr B introduced the band, Two celebs who had been seated in the first row directly in front of us had vacated their seats, probably had backstage passes, and so we went into the first row seats for the rest of the show.. DB joked around a bit, and when he said whats your name, he pointed the mic right at ME and I said "Joey Teitel…." but he heard and stated this song is for Joey Taylorbawn, its called Young Americans!
Of course I was blown away, and freaked and quite the hero when I returned to camp the next day and my photo was on the front page of the Montreal Gazette, featured at the show, perhaps the photog I had turned down.
It took me twenty years to find a bootleg of that show, and around 2003 a man in France was kind enough to trick me into giving him my address, and had another stranger in England airmail me a 2 cd copy of the show, which had been my holy grail for two decades. I always thought he had said my name right, but hearing the recording, I realised he did his best lipread in the crowd, as when he said Whats your name? everyone around me answered at the same time.
I love the man so much.
He was more of a dad to me in so many ways than my own dad.
You know.
Thanks
Seph aka Joey T
aka Seph de Montreal,
aka Joe King
(Visited 478 times, 1 visits today)