David Bowie 1983-06-08 Paris ,Hippodrome D'Auteuil (Source 1) .
Sound Quality Rating
101. Announcer.flac
102. Jean Genie Intro.flac
103. Star.flac
104. "Heroes".flac
105. What In The World.flac
106. Golden Years.flac
107. Fashion.flac
108. Let's Dance.flac
109. Breaking Glass.flac
110. Life On Mars.flac
111. Sorrow.flac
112. Cat People.flac
113. China Girl.flac
114. Scary Monsters.flac
115. Rebel Rebel.flac
116. White Light White Heat.flac
201. Station To Station.flac
202. Cracked Actor.flac
203. Ashes To Ashes.flac
204. Space Oddity.flac
205. Band Introductions.flac
206. Young Americans.flac
207. Hang On To Yourself (cut).flac
208. Fame.flac
ENCORE
209. Stay.flac
210. Jean Genie.flac
211. Encore Call.flac
212. Modern Love.flac
Label : Manic Collectors
Audio Source : audience
Lineage : Unused HG Tape (Arcorman) > TEAC W480C Cassette Player
Total running time : 1:42:45
Sound Quality : Much noise ,dull ,but still good listened to
Attendance : 59.200
Artwork : Yes
Note :This tape was originally given to steve23yh as part of the Hunky Geordie series. It was not used in the series.
This concert was a great succes
For the first time in this tour a screen was hung over the stage – as was sometimes done in '74 – for simultaneous pro­jection of the concert. A perfect solution: now people did not have to depend so much on their binoculars.
At 6pm there was first some French band which was not much of a hit,and was soon whistled down. At 7pm Dexys Midnight Runners who did have some succes with the audience up to the moment when singer Kevin Rowland said : "David Bowie is full of shit!". What a nerve to say such a thing before 60,000 fans of the idol! He called Bowie a bad copy of Bryan Ferry (!) and later he told the British press: "We only agreed to the show because France is an important market for us – not because I have any respect for Bowie". Instantaneously the group were drowned in whistling and showe red with tins and other missiles and they left the stage.
At 9. 15pm at last the concert started; the three carneramen were doing a good job,but it was another thirty minutes before the daylight had gone and the projections on the screen became quite visible.
This concert was a great succes; like the shows in Lyon and Frejus it was much praised in the press. After the concert there was a party to celaebrate the succes. Bowie was seen with Grace Jones and many papers showed pictures of the pair.
In one week's time 60,000 tickets were sold,according to promotor Albert Koski. Not really exceptional in comparison with other countries,but for France this was a record!
Of this concert Bowie must have been quite nervous ,for this was his first time to perform for such an immense crowd (apart from the US Festi­val).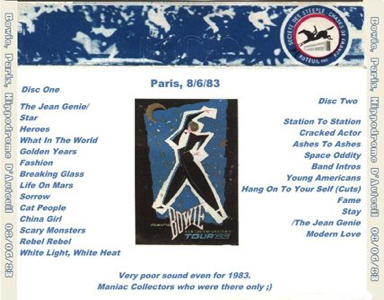 David Bowie Tour band 1983 – The Serious Moonlight World Tour :
• David Bowie – lead vocals, guitar, saxophone
• Earl Slick – guitar
• Carlos Alomar – guitar, backing vocals, music director
• Carmine Rojas – bass guitar
• Tony Thompson – drums, percussion
• Dave Lebolt – keyboards, synthesizers
The Borneo Horns:
• Steve Elson – saxophones
• Stan Harrison – saxophones, woodwinds
• Lenny Pickett – saxophones, woodwinds
Backing vocals
• George Simms – backing vocals
• Frank Simms – backing vocals• Frank Simms – backing vocals
David Bowie World Convention 1983
David Bowie – 1983 Souvenir Serious Moonlight Tour
.
.
(Visited 299 times, 1 visits today)