David Bowie 1983-05-18 Brussels ,Forst National (1st Night).
Sound Quality Rating
01. Star.flac
02. "Heroes".flac
03. What in the World.flac
04. Look Back in Anger.flac
05. Joe the Lion.flac
06. Wild Is the Wind (Johnny Mathis cover).flac
07. Golden Years.flac
08. Fashion.flac
09. Let's Dance.flac
10. Red Sails.flac
11. Breaking Glass.flac
12. Life on Mars?.flac
13. Sorrow (The McCoys cover).flac
14. Cat People (Putting Out Fire).flac
15. China Girl.flac
16. Scary Monsters (And Super Creeps).flac
17. Rebel Rebel.flac
18. I Can't Explain (The Who cover).flac
19. White Light / White Heat (The Velvet Underground cover).flac
20. Station to Station .flac
21. Cracked Actor.flac
22. Ashes to Ashes.flac
23. Space Oddity.flac
24. Band Intro – Young Americans.flac
25. Soul Love.flac
26. Hang On to Yourself.flac
27. Fame.flac
28. TVC15.flac
29. Stay.flac
30. The Jean Genie.flac
31. Modern Love.flac
Label: No label
Audio Source: audience > LDB Special Series #386 (RLR collection)
Liniaire: Unknown recording device > 2nd generation tape
Total running time: 2:03:42
Sound Quality: noise ,dull ,but still good listened to
Attendance: 7.000
Artwork: Sorry no Artwork, hopefully someone will come good on this.
Extremely nice recording from the debut show of the "Serious Moonlight" tour. The set seems longer than the average, clocking 125 minutes vs. the 110 of the standard setlist.
A few tracks were tried but then left out. David is not very talkative but the music talks for himself.
He hadn't toured since 1978 so this was a big challenge. That tour was the biggest he had undertaken, bringing the band into four continents till December 1983.
Soundwise I would rate it 8. The taper had some recording level issues at some point where it fluctuates from quite loud to very calm. There you could clearly note that the gig was recorded with professional devices (Sony Pro?).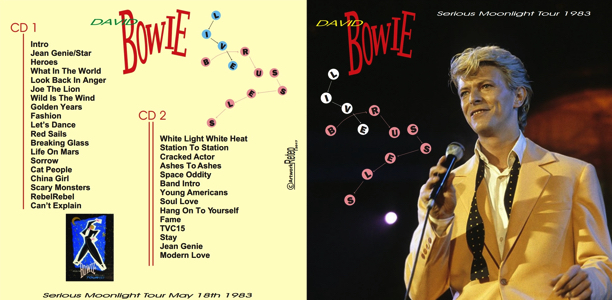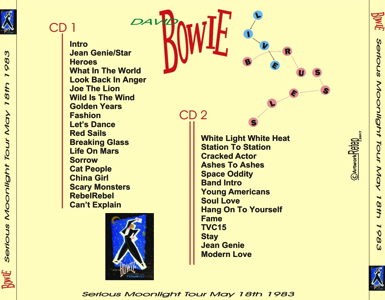 David Bowie Tour band 1983 – The Serious Moonlight World Tour :
• David Bowie – lead vocals, guitar, saxophone
• Earl Slick – guitar
• Carlos Alomar – guitar, backing vocals, music director
• Carmine Rojas – bass guitar
• Tony Thompson – drums, percussion
• Dave Lebolt – keyboards, synthesizers
The Borneo Horns:
• Steve Elson – saxophones
• Stan Harrison – saxophones, woodwinds
• Lenny Pickett – saxophones, woodwinds
Backing vocals
• George Simms – backing vocals
• Frank Simms – backing vocals• Frank Simms – backing vocals
David Bowie World Convention 1983
David Bowie – 1983 Souvenir Serious Moonlight Tour
News papers:
Three Dutch papers wrote about this concert,giving him much praise.
Three Belgian papers also glorified the concert,one calling it 'one interminable orgasm' (!), and: "This was unearthly. Bowie is god,in the unreligious sense of the word".
A Swedish paper wrote "Bowie in tears after debut",and,oddlly enough,there was one not-so-positive review.
A Belgian wrote: "Now everyone wants to hear from those present what it was like,well,good,excellent,amazing,but … no real exuberance,not the real joy of rock & roll really". I will not commenton this! !
Expectations of this concert ,the first after 4,5 years time, were sky high. Besides hundreds of – Belgian and foreign – journalists who had come to Vorst there were Bowie freaks from allover the world.
David Bowie – vocals, guitar, saxophone
Earl Slick – guitar
Carlos Alomar – guitar
Carmine Rojas – bass guitar
Tony Thompson – drums, percussion
Dave Lebolt – keyboards, synthesizers
Steve Elson – saxophones
Stan Harrison – saxophones, woodwinds
Lenny Pickett – saxophones, woodwinds
George Simms – backing vocals
Frank Simms – backing vocals
(Visited 777 times, 1 visits today)