David Bowie 1983-07-13 Montreal ,Montreal Forum – The King Biscuit Flower Hour Presents David Bowie –
Sound Quality Rating
– 01. KING BISCUIT INTRO.flac
– 02. COMMERCIALS.flac
– 03. CRACKED ACTOR.flac
– 04. ASHES TO ASHES.flac
– 05. SPACE ODDITY.flac
– 06. BAND INTRODUCTIONS.flac
– 07. YOUNG AMERICANS.flac
– 08. COMMERCIALS.flac
– 09. LIFE ON MARS.flac
– 10. SORROW.flac
– 11. FASHION.flac
– 12. LET'S DANCE.flac
– 13. COMMERCIALS.flac
– 14. THE JEAN GENIE.flac
– 15. KING BISCUIT OUTRO.flac
– 16. FASHION OUTRO.flac
Label : No label
Audio Source : Broadcast Broadcast date: 8/26/84.
Lineage :
Total running time : 0:47:45
Sound Quality : Excellent quality! Equals record or radio
Attendance : 16.270
Artwork : Yes
magnificent concert:
"This is a new song,it is a song nouveaux, haha,and iL's called China Girl:" Bowie says and gives a marvellous rendering of the number. The height of
the concert was Fame: Bowie took the balloon on his neck,then fucked it,and then busted it to pick up the broken pieces:
The entire concert,with the exception of Breaking Glass,Golden Years TVC-15 and Stay was broadcast on American FM radio in the series 'Supergroups in Concert'. A 100 minutes recording,naturally at a mark 10 quality! The sound mixing is superband it gives a fine impression of the masses of The audience. Excellent quality,great concert,perfect atmosphere, what more could one wish for? George Simms' announcement is great too,with echoing and hys terical crowds in the back­ ground.
The programme is interrupted four Limes for commercials.
"You're listening to Supergroups,with David Bowie in the 1983 Serious Moonlight Tour. You'll hear more,right after this" – commercial – "And now more from David Bowie on Supergroups".
This was a magnificent concert:Bowie showed more energy, danced a lot more,sang bet­ter and with more intensity than during the last two concerts .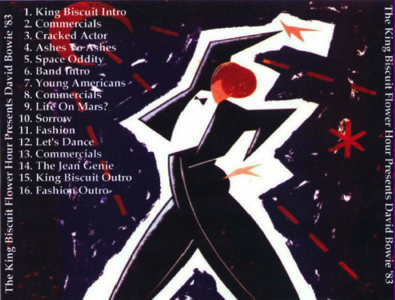 David Bowie Tour band 1983 – The Serious Moonlight World Tour :
• David Bowie – lead vocals, guitar, saxophone
• Earl Slick – guitar
• Carlos Alomar – guitar, backing vocals, music director
• Carmine Rojas – bass guitar
• Tony Thompson – drums, percussion
• Dave Lebolt – keyboards, synthesizers
The Borneo Horns:
• Steve Elson – saxophones
• Stan Harrison – saxophones, woodwinds
• Lenny Pickett – saxophones, woodwinds
Backing vocals
• George Simms – backing vocals
• Frank Simms – backing vocals• Frank Simms – backing vocals
David Bowie World Convention 1983
David Bowie – 1983 Souvenir Serious Moonlight Tour
.
(Visited 1,083 times, 1 visits today)