David Bowie 1978-04-11 Baton Rouge ,Louisiana State University – Louisiana State University –
Sound Quality Rating
01. Warszawa.flac
02. "Heroes".flac
03. What In The World.flac
04. Be My Wife.flac
05. The Jean Genie.flac
06. Blackout.flac
07. Sense Of Doubt.flac
08. Speed Of Life.flac
09. Breaking Glass.flac
10. Beauty And The Beast.flac
11. Fame.flac
12. Band Introduction – Five Years.flac
13. Soul Love.flac
14. Star.flac
15. Hang Onto Yourself.flac
16. Ziggy Stardust.flac
17. Suffragette City.flac
18. Rock 'N' Roll Suicide.flac
19. Art Decade.flac
20. Station To Station.flac
21. Stay.flac
22. TVC 15.flac
23. Rebel Rebel.flac
Label:
Audio Source: audience
Lineage: "bootleg Baton Rouge"
Total running time: 1:41:57
Sound Quality : noise ,dull ,but still good listened to
Attendance: 15.000
Artwork: Yes.
Remaster : This is a remaster of the well known "Baton Rouge" audience recording
This is a remaster of the well known Baton Rouge audience recording. It is widely considered to be the best audience recording of the tour as it is very clear and all the instruments (including not at least David's vocals) are well balanced. Nevertheless the version which circulates has some flaws. The main issues are that it was running too fast and that it has a lack of bass.
I don't know why there wasn't an attempt to correct this before, (I made one before but was not sure about the speed,) but a sort of trigger was a post by Robo on BowieStation who took this whole thing on the agenda.
So I started a new attempt but this time I wanted to be on the safe side with the speed. I know that there is a person who who has proven several times that he is very good at this. This guy is Goody.
So I contacted him and he was very keen in proceeding with speed/pitch correction of the files I sent him (see source above).
He sent me back the corrected files and for the first time I listened to the show in the right speed and pitch. This is where my job started – to give the recording more bass without making it sound dull. After doing this there were some other issues like volume fluctuations (mainly at the start) and removal of some gaps as well as an adjustment of the sound level between left and right channel.
I think that this version now should be currently considered the best one available.
Still there are some other issues like a cut in Fame (no, it's not a mistake of the band or Bowie) and cuts between some songs.
Nevertheless, it is (one of) the best audience recording(s) of the tour. But this is subjective and I leave it to everybody else.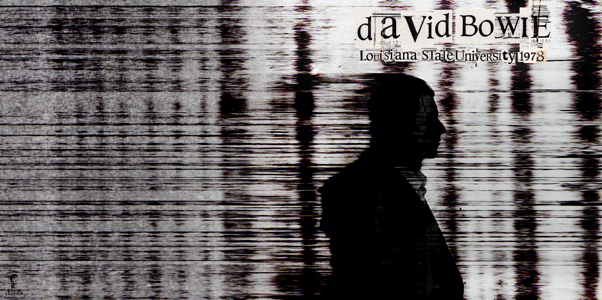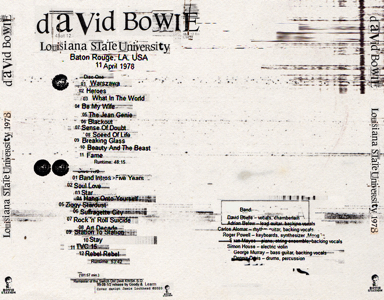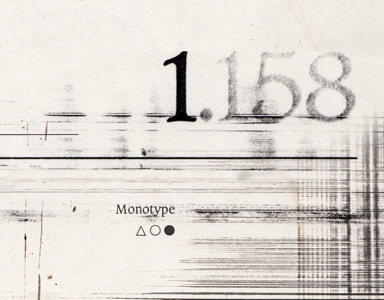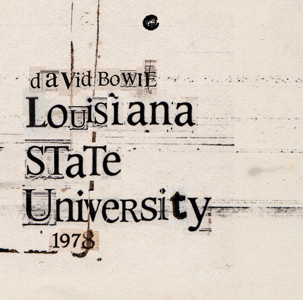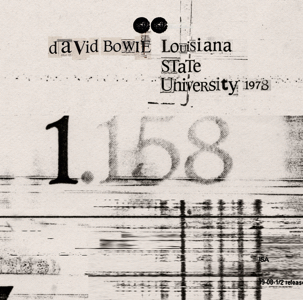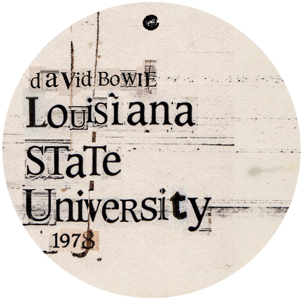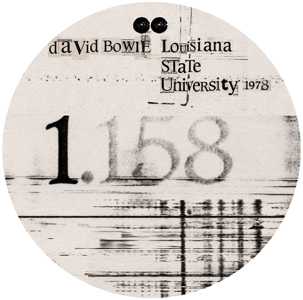 Tour band 1978 – The Low and Heroes World Tour :
David Bowie – vocals, chamberlain
Adrian Belew – lead guitar, backing vocals
Carlos Alomar – rhythm guitar, backing vocals (music director)
George Murray – bass guitar, backing vocals
Dennis Davis – drums, percussion
Roger Powell – keyboards, synthesizer ,Moog Taurus bass pedals ,backing vocals (except 11–14 November 1978)
Dennis Garcia – keyboards, synthesizer (11–14 November 1978 only)
Sean Mayes – piano, string ensemble, backing vocals Simon House – electric violin
Simon House – electric violin.
.
(Visited 155 times, 1 visits today)