David Bowie 1978-12-06 Osaka ,Koseinenkin Kaikan Hall – Osaka 6 December 1978 – (Halloween Jack).
Sound Quality Rating
01 WARSZAWA.flac
02 "HEROES".flac
03 WHAT IN THE WORLD.flac
04 BE MY WIFE.flac
05 THE JEAN GENIE.flac
06 BLACKOUT.flac
07 SENSE OF DOUBT.flac
08 BREAKING GLASS.flac
09 FAME.flac
10 BEAUTY AND THE BEAST.flac
11 BAND INTRO – FIVE YEARS.flac
12 SOUL LOVE.flac
13 STAR.flac
14 HANG ON TO YOURSELF.flac
15 ZIGGY STARDUST.flac
16 SUFFRAGETTE CITY.flac
17 ART DECADE.flac
18 ALABAMA SONG.flac
19 STATION TO STATION.flac
20 TVC15.flac
21 STAY.flac
22 REBEL REBEL.flac
TV OGWT LONDON APRIL 1975 MICK RONSON
23 PLAY DON'T WORY .flac
24 ANGEL No.9 -.flac
Label : Halloween jack Disc
Audio Source : audience
Lineage : C120 tape
Total running time : 1:58:57
Sound Quality : noise ,dull ,but still good listened to
Attendance : ????
Artwork : Yes
"we'll be back in a few minutes time; thank you for coming" Bowie says after Beauty & the Beast. "On a new,Japanese drumset,Dennis Davs. He just got it today ,he's very pleased with it" he tells before Five Years. A fine concert. Stay ends not in the usual way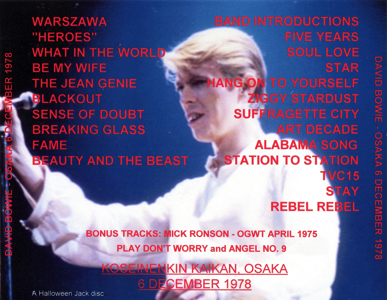 Comments(Bootlegzone):
The easy bit is the venue – Kosei Nenkin Kaikan in Osaka on 6th December 1978.
Fletcher, Pimm Jal and Bassman all refer to an FM broadcast of this gig, which is only half of the gig, but has circulated very widely (most commonly under the names Isolar II and Reaction.
In 2010 Halloween Jack uploaded a restoration of one of his contemporary tapes. It was C120 that had been chewed, so Warszawa and half of Heroes are a mess, but the rest is quite exemplary sound. He used bits of Isolar II and Reaction to repair, and realised they were exactly the same source.
So the question remains, was there ever actually an FM broadcast of this gig, or was it just an exceptionally good audience recording?
HJ added two extras to the end. Normally I'd not be too impressed by this, especially when they don't directly relate – but two Mick Ronson solo tracks from Old Grey Whistle Test in 1975? Yes please! SQ on these tracks is 8 or 8½/10.
Tour band 1978 – The Low and Heroes World Tour :
David Bowie – vocals, chamberlain
Adrian Belew – lead guitar, backing vocals
Carlos Alomar – rhythm guitar, backing vocals (music director)
George Murray – bass guitar, backing vocals
Dennis Davis – drums, percussion
Roger Powell – keyboards, synthesizer ,Moog Taurus bass pedals ,backing vocals (except 11–14 November 1978)
Dennis Garcia – keyboards, synthesizer (11–14 November 1978 only)
Sean Mayes – piano, string ensemble, backing vocals Simon House – electric violin
Simon House – electric violin.
.
.
.
(Visited 785 times, 1 visits today)