David Bowie 1978-06-08+09 Rotterdam, Sportpaleis Ahoy – Rotterdam 78 – (low gen).
Sound Quality Rating
101. WARSZAWA.flac
102. "HEROES".flac
103. WHAT IN THE WORLD.flac
104. BE MY WIFE.flac
105. THE JEAN GENIE.flac
106. BLACKOUT.flac
107. SENS OF DOUBT.flac
108. SPEED OF LIFE.flac
109. BREAKING GLASS.flac
110. FAME.flac
111. BEAUTY AND BEAST.flac
212. BAND INTRODUCTIONS – FIVE YEARS.flac
213. SOUL LOVE.flac
214. STAR.flac
215. HANG ON TO YOURSELF.flac
216. ZIGGY STARDUST.flac
217. SUFFRAGETTE CITY.flac
218. ART DECADE.flac
219. ALABAMA SONG.flac
220. STATION TO STATION.flac
ENCORE:
221. STAY.flac
222. TVC15.flac
223. REBEL REBEL.flac
Label : Halloween Jack
Audio Source : audience
Lineage :
Total running time : 1:40:00
Sound Quality : noise ,dull ,but still good listened to
Attendance : 7.500
Artwork : HJ Graphics
Comments
Mainly from the Ahoy Hall in Rotterdam on 8th June 1978 – easily the best of the three nights from a recordings point of view (see also "Never Hurt You") – HJ has merged in Warszawa and Art Decade (which are missing from the 8th June recording) from the following night's tape.
Surprisingly the two 9th June recordings aren't too bad (quieter, so less distortion), but HJ has over-egged the hiss removal on the remainder of the recording, introducing too much diginoise: which is rather a shame.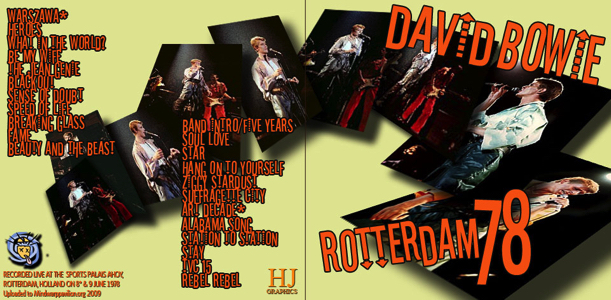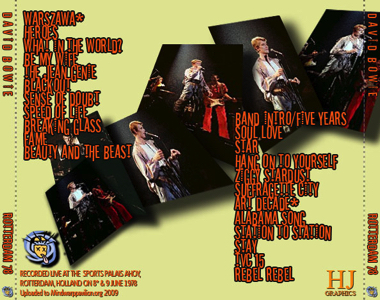 Tour band 1978 – The Low and Heroes World Tour :
David Bowie – vocals, chamberlain
Adrian Belew – lead guitar, backing vocals
Carlos Alomar – rhythm guitar, backing vocals (music director)
George Murray – bass guitar, backing vocals
Dennis Davis – drums, percussion
Roger Powell – keyboards, synthesizer ,Moog Taurus bass pedals ,backing vocals (except 11–14 November 1978)
Dennis Garcia – keyboards, synthesizer (11–14 November 1978 only)
Sean Mayes – piano, string ensemble, backing vocals Simon House – electric violin
Simon House – electric violin.
.
(Visited 288 times, 1 visits today)