David Bowie 1978-05-09 New York City ,Madison Square Garden – MSG Second Night – (blackout).
Sound Quality Rating
01. WARSZAWA.flac
02. "HEROES".flac
03. WHAT IN THE WORLD.flac
04. BE MY WIFE.flac
05. THE JEAN GENIE.flac
06. BLACKOUT.flac
07. SENSE OF DOUBT.flac
08. SPEED OF LIFE.flac
09. BREAKING GLASS.flac
10. BEAUTY AND THE BEAST.flac
11. FAME.flac
12. BAND INTRODUCTIONS.flac
13. FIVE YEARS.flac
14. SOUL LOVE.flac
15. STAR.flac
16. HANG ON TO YOURSELF.flac
17. ZIGGY STARDUST.flac
18. SUFFRAGETTE CITY.flac
19. ART DECADE.flac
20. ALABAMA SONG.flac
21. STATION TO STATION.flac
Encores :
22. STAY ( smal cut end end ).flac
Label: From the Blackout archives
Audio Source: audience
Lineage: TDKSA90 + TDKSA60
running time: 1:25:31
Sound Quality : noise ,dull ,but still good listened to
Attendance: 19.600
Artwork: by Chrisnathou.
Note : 'TVC15' and 'Rebel Rebel' are missing, as they are on all copies of this show.
Originally from the blackout archives this phenominal recording met all the criteria for a really great recording it just
needed a bit of TLC. I basically re-assembled the show knocked the tape hiss back a bit, then balanced the volume between channels and tracks. I then removed most of the fades
so it ran as smoothly as possible and repaired any pops and clicks as I found them.
It still has the original cuts as listed below, I did consider splicing in the missing section from a different source of the same show. But the drop in quality of the added
sections would have ruined this lovely recording.
Finally a massive thanks to Blackout for this fantastic recording, 1978 Bowie shows don't come much better than this.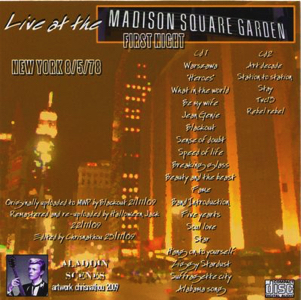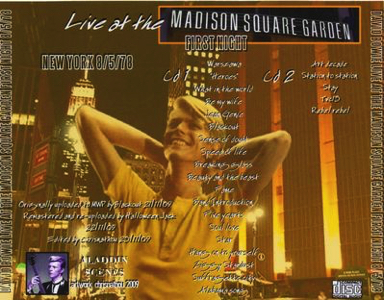 chamberlain
Adrian Belew – lead guitar, backing vocals
Carlos Alomar – rhythm guitar, backing vocals (music director)
George Murray – bass guitar, backing vocals
Dennis Davis – drums, percussion
Roger Powell – keyboards, synthesizer ,Moog Taurus bass pedals ,backing vocals (except 11–14 November 1978)
Dennis Garcia – keyboards, synthesizer (11–14 November 1978 only)
Sean Mayes – piano, string ensemble, backing vocals Simon House – electric violin
Simon House – electric violin.
.
(Visited 362 times, 1 visits today)