David Bowie 1978-11-18 Melbourne ,Cricked Ground – Melbourne 1978-11-18 –
Sound Quality Rating
01. Warszawa.flac
02. "Heroes".flac
03. What In The World.flac
04. Be My Wife.flac
05. Jean Genie.flac
06. Blackout.flac
07. Sense Of Doubt.flac
08. Breaking Glass.flac
09. Fame.flac
10. Beauty and the Beast .flac
11. Band introductions – Five Years.flac
12. Soul love.flac
13. Star.flac
14. Hang On To Yourself.flac
15. Ziggy stardust.flac
16. Suffragette City.flac
17. Art Decade.flac
18. Moon Of Alabama.flac
Label :
Audio Source : audience
Lineage : 1st gen.
Total running time : 1:16:13
Sound Quality : Much noise ,dull ,but still good listened to
Attendance : 20.000
Artwork : by TJB Artwork
Note : it's not the complete show
The rain came pouring down during this concert! Those 40,000 people were really down on their luck.
In an Australian radio interview in November 1983,Bowie is asked about this concert:
?: "One of the memorable things for Melbourne people,from the last concert tour was the Melbourne concert,because if you remember correctly it rained".
DB: "I remember it very well".
?: "And I saw the Brisbane concert – you didn't say a lot of things on stage,yet in Melbourne you actually made a point of stopping and saying,if I remember correctJy: "If you're crazy enough to stay for this while it's raining,we're crazy enough to play", and there was real magic in that concert".
DB: "It was wonderful ,yeah".
?: "What kind of memories do you have about that particular rain-soaked day at Melbourne?".
DB: "Well,exactly that,I think the enthusiasm of both oursel­ves and the audience was something as a concert I always looked back as very fond memories on. That was the high­ light for me of the last tour".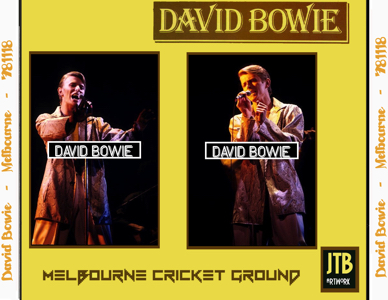 Tour band 1978 – The Low and Heroes World Tour :
David Bowie – vocals, chamberlain
Adrian Belew – lead guitar, backing vocals
Carlos Alomar – rhythm guitar, backing vocals (music director)
George Murray – bass guitar, backing vocals
Dennis Davis – drums, percussion
Roger Powell – keyboards, synthesizer ,Moog Taurus bass pedals ,backing vocals (except 11–14 November 1978)
Dennis Garcia – keyboards, synthesizer (11–14 November 1978 only)
Sean Mayes – piano, string ensemble, backing vocals Simon House – electric violin
Simon House – electric violin.
.
(Visited 481 times, 1 visits today)