David Bowie 1978-05-18 Essen ,Gruga Halle (Re-master of Master Tape by learm – Diedrich).
Sound Quality Rating
01 – Intro.flac
02 – Warszawa.flac
03 – "Heroes".flac
04 – What in the World.flac
05 – Be my Wife.flac
06 – Jean genie.flac
07 – Blackout.flac
08 – Sence of Doubt.flac
09 – Speed of Life.flac
10 – Breaking Glas.flac
11 – Fame.flac
12 – Beaty and the Beast.*from Ancorman source.flac
13 – Band Intro – Five Years.flac
14 – Soul Love.flac
15 – Star.flac
16 – Hang on to Yourself
17 – Ziggy Stardust.flac
18 – Suffragette City.flac
19 – Art Decade.flac
20 – Moon of Alabama.flac
21 – Station to Station.flac
22 – Stay.flac
23 – TVC15.flac
Label: No label
Audio Source: audience
Lineage: Tape
Total running time: 1:46:25
Sound Quality : very good. Equals record or radio apart from a slight noise and some dullness.
Attendance: 7.000
Artwork: by MossGarden.
Remaster : Remaster of the master recording received by Diedrich Streuper.
Note :One track, "Beauty And The Beast", was taken from a different recording (tape by Ancorman, received by steve23yh).
"Wie geht's Essen" Bowie Ask when arriving on stage:
All in all this show is very enjoyable and I would rate the quality of the recording as one of the best audience recordings of the whole tour.
Sometimes the audience noise is a little discommoding (especially a hand clapper close to the taper) but I tried to calm this down between tracks.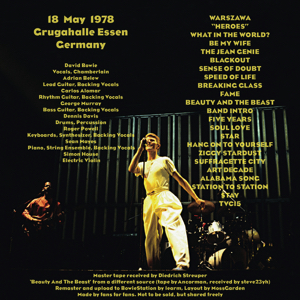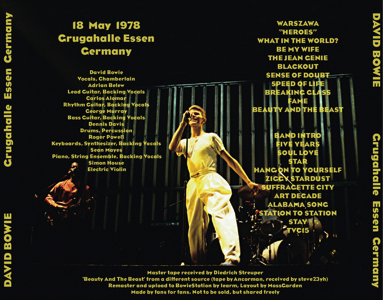 Tour band 1978 – The Low and Heroes World Tour :
David Bowie – vocals, chamberlain
Adrian Belew – lead guitar, backing vocals
Carlos Alomar – rhythm guitar, backing vocals (music director)
George Murray – bass guitar, backing vocals
Dennis Davis – drums, percussion
Roger Powell – keyboards, synthesizer ,Moog Taurus bass pedals ,backing vocals (except 11–14 November 1978)
Dennis Garcia – keyboards, synthesizer (11–14 November 1978 only)
Sean Mayes – piano, string ensemble, backing vocals Simon House – electric violin
Simon House – electric violin.
.
==================
note:
wav master files + flac file (Beauty And The Beast) -> Magix Music Cleaning Lab (remaster/re-edit) -> FLAC (44,1 kHz, 16 Bit, Stereo) -> bowiestation
Vg+/Ex- (vg- Beauty And The Beast) after some EQ was done (bass lowered, treble lifted).
Sound level adjusted. Speed adjusted for Beaty and the Beast (reduced by 2,5 %). Audience noise lowered between songs.
Distortions removed in track 11 (Fame): there were many of them but most very short so the music flow is still quite constant.
Only towards the end of the track the distortions were longer.
As almost the complete track 12 (Beauty and the Beast) was distorted I decided to patch it with the track from the other source (Ancorman).
unfortunately the sound of this is much inferior to the master source. But at the end I thought that it was better to have the complete show.
As this track is intended as the last one on CD1 it can be removed easily.
(Visited 1,044 times, 1 visits today)