David Bowie 1978-07-01 London ,Earl's Court Arena (Matrix – RM Learm).
Sound Quality Rating
101. Warszawa.flac
102. "Heroes".flac
103. What In The World.flac
104. Be My Wife.flac
105. Jean Genie.flac
106. Blackout.flac
107. Sense Of Doubt.flac
108. Speed Of Life.flac
109. Sound And Vision.flac
110. Breaking Glass.flac
111. Fame.flac
112. Beauty And The Beast.flac
201. Band Introductions.flac
202. Five Years.flac
203. Soul Love.flac
204. Star.flac
205. Hang On To Yourself.flac
206. Ziggy Stardust.flac
207. Suffragette City.flac
208. Art Decade.flac
209. Alabama Song.flac
210. Station To Station.flac
211. TVC 15.flac
212. Stay.flac
213. Rebel Rebel.flac
Label : No label
Audio Source : audience
Lineage :
Total running time : 1:52:20
Sound Quality : noise ,dull ,but still good listened to
Attendance : 18.000
Artwork : by Learm
Matrix : by Learm (Matrix of 3 different audience recordings from the same show.)
The usual order plus Sound and Vision after Speed of Life!.
After Station to Stahon: TVC15 / Encore: Stay / RebeL Rebel . "Sit down you motherfuckers!" an angry Briton yells at the beginning.
Be­ fore Sound and Vision Bowie says: "This is some thing we never have done before": indeed it is the first and only time that this song is song live,so this is quite a unique occasion! Yet,I find it rather disappoin­ting,and someone is singing pretty off-key at the back. "As you probably heard this is the last night on tour. So ofcourse I'd like to thank very much the guys that worked with us. I'd like to thank Showco for the sound, … (?) … for the lights,and my trucking company,for the trucks, I'd also like to thank on piano Sean Mayes from Fumble. I mean,what are you guys doing after the show? Are you going to have plans & things? No? Oh good,then we miight tour again!". This ofcourse is met with thunderous ap­ ?lause! The audience sing along with Five Years to a man. Du­ring Stay Bowie throws his sailor's cap into the crowd and immediately he is showered with all sorts of hats and caps from the audience! Stay changes into Rebel Rebel and that is the end of the concert. "Thank you very much. We love you, goodnight".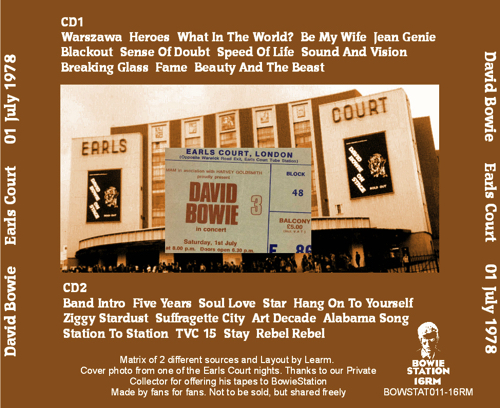 Tour band 1978 – The Low and Heroes World Tour :
David Bowie – vocals, chamberlain
Adrian Belew – lead guitar, backing vocals
Carlos Alomar – rhythm guitar, backing vocals (music director)
George Murray – bass guitar, backing vocals
Dennis Davis – drums, percussion
Roger Powell – keyboards, synthesizer ,Moog Taurus bass pedals ,backing vocals (except 11–14 November 1978)
Dennis Garcia – keyboards, synthesizer (11–14 November 1978 only)
Sean Mayes – piano, string ensemble, backing vocals Simon House – electric violin
Simon House – electric violin.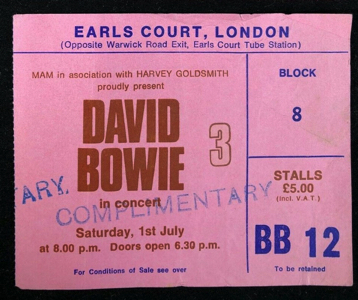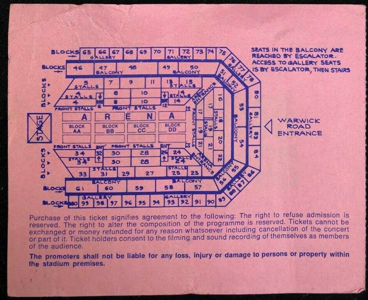 COMMENTS:
Now here comes a real sensation….a new November 2013 bootleg from Japan features the 1st half of the last European 1978 concert of David Bowie in soundboard quality. 1 song from this SBD source was previously released on "bootleg", but the rest was uncirculated outside of the "important collectors" circles. They didn't want money to be made on it, or something…. Well; if I had been getting to listen to this show for free I obviously would not had been purchasing this Japanese bootleg now. And there are far worse things than the "bootlegers" around as far as ethic issue and "undeserved money" is concerned. Maybe one's "moral stands" could be used for something less navel-gazing than hoarding great recordings? Anyway, after 35 years of waiting, this London recording is available to the "common guy" for enjoyment. Thanks to the person who made this available to the public.
Quality here is VG-EX SBD for the 1st half of the show. Great performance, and also: the only performance of "Sound And Vision" in 1978 (as far as I know).
There's very few recordings of Bowie's terrific 1978 tour available in SBD quality. I can only think of 3, all of which are incomplete: Tokyo, Bremen and Dallas,
plus the offical 2LP release "Stage".
2nd half of this bootleg is taken from an audience source. I don't know who taped that one.
===========================
Matrix of 3 different audience recordings from the same show.
Version 1+2 (2 different sources): by a private collector as 96 kHz/24 bit.
Version 3 (same source as version 2) : by learm as 48 kHz/24 bit.
Processing:
Version 1+2:
Flac files of 2 recordings -> Foobar 2000 (downsample of source 1 96/24 > 48/24)
Version 3:
unknown gen tape received in the mid 80's in a trade > transfer via Onkyo tapedeck TA-2330 -> Magix Music Cleaning Lab (wav-file 48/24)
Matrix:
3 48/24 files > Magix Music Cleaning Lab (Matrix/Remaster 48/24) > Foobar 2000 (downsample of source 1 48/24 > 44/16) > TLH (fixed SBEs) > BowieStation
The problem here was that version 2 had a better sound than version 1 but was incomplete (Stay + Rebel Rebel missing).
My own version (same as version 2) was complete so I decided to take this version for part 2 of the concert (starting with the band intro). The sound quality of version 2+3 were not too different so it didn't matter to take version 2 for part 1 of the Matrix.
Measures for remaster/EQ:
Version 1: bass and treble lifted a bit, speed adjusted individally between 1 to 2 % (running too slow)
Version 2: treble lifted
Version 3: bass lifted
Other facts:
Version 1: some audience noise missing, especiall before start of concert and at start of part 2 (before band intro)
Version 2+3: middle section of Fame missing
Version 2: Stay + Rebel Rebel missing (included in version 3)
So at the end the Matrix is almost spanning over the complete show and the result is a very unique sound.
(Visited 282 times, 1 visits today)