David Bowie 1978-04-04 Los Angeles ,Inglewood Forum – Forum Stage –
Sound Quality Rating
01. Warszawa.flac
02. "Heroes".flac
03. What In The World.flac
04. Be My Wife.flac
05. The Jean Genie.flac
06. Blackout.flac
07. Sense Of Doubt.flac
08. Sound And Vision.flac
09. Breaking Glass.flac
10. Beauty And The Beast.flac
11. Fame.flac
12. Five Years.flac
13. Soul Love.flac
14. Star.flac
15. Hang On To Yourself.flac
16. Ziggy Stardust.flac
17. Suffragette City.flac
18. Rock n Roll Suicide.flac
19. Art Decade.flac
20. Station To Station.flac
21. Stay.flac
22. Tvc15.flac
23. Rebel Rebel.flac
Label : No label > The Lost and Found Mike the MICrophone Tapes Vol. 16
Audio Source : Audience recording
Lineage : First-generation cassettes made by Mike Millard for Barry G.
Taping Gear : AKG 451E microphones (CK-1 cardioid capsules) > Nakamichi 550 cassette recorder
Taper: Unknown
Recording Location: Unknown
Total running time : 1:43:27
Sound Quality : very good. Equals record or radio apart from a slight noise and some dullness.
Attendance : 16.000
Artwork : Yes
JEMS is pleased to reignite our Lost and Found Mike the MICrophone series, presenting recordings made by legendary taper Mike Millard, AKA Mike the MICrophone, best known for his masters of Led Zeppelin done in and around LA circa 1975-77. For further details on how some tapes in this series came to be lost and found again, as well as JEMS' history with Mike Millard.
Volume 16 is a special one indeed as it presents Millardís excellent recording of David Bowie at the Forum on the Isolar II tour, a show made famous by the bootleg Slaughter in the Air. As I began working on this project I did a bit of Internet research, where it has been speculated that the Slaughter recording was a Millard master, presumably based on its quality. To the best of our knowledge, previous DIME torrents of Forum í78 are vinyl rips of Slaughter and various other bootlegs sourced from the same tape.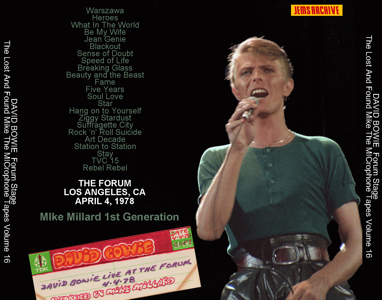 Millard's capture features Warszawa and I assumed it had been cut for space on bootleg vinyl. But when I did an A-B comparison in a couple of spots, I was surprised to learn that Millard's recording is not the one featured on Slaughter and is in fact a third source. While I can't say with certainty it is wholly uncirculated, it is surely new to most and presents the best and most complete recording of this show to date. It offers superior fidelity to Slaughter and is classic Millard in terms of clarity. There are some potent whistlers present and close by, but thanks to mjk5510, we've tamed those for maximum listening pleasure. Samples provided.
Isolar II is one of my favorite Bowie tours, brilliantly mixing the art rock of the Berlin records with a fresh take on the Ziggy era and other contemporary goodies like Station to Station, TVC 15 and Stay. It sounds very fresh today, and you can't beat the pairing of Adrian Below and Carlos Alomar on lead and rhythm guitar respectively, plus the incredible drumming of Dennis Davis.
Millard himself made this set of tapes for Barry G, another close friend who attended many concerts with Mike in the '70s and '80s. We're so grateful that Barry agreed to share his Millard first gens with JEMS for our Lost and Found Mike the Mike series.
Like Jim R., Barry also shot photos at many of the concerts he attended, including this one, and weíve used those images in the artwork. Mike's own cassette art is especially appealing for this show.
JEMS is thrilled to partner with Barry and Jim R to release more of Millard's fantastic recordings and to help set the record straight about the man himself. Itís been 25 years since he passed away, and the Internet version of his life story is highly speculative and often inaccurate.
We can't thank Barry enough for trusting us with his Millard tapes and his own fantastic masters like the recently released Queen Santa Monica 1976. Tip oí the cap as well to mjk5510 for his essential contributions to the Lost and Found series and to Exit Club for taking the Millard journey with us. We hope our efforts honor and celebrate the man and the music he so brilliantly preserved.
Finally, cheers to the late, great Mike the MICrophone and to finding more lost tapes.
May he rest in peace.
BK for JEMS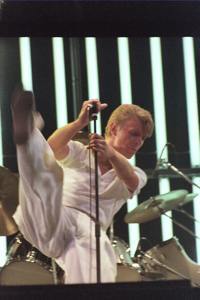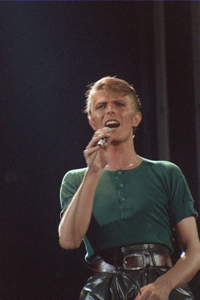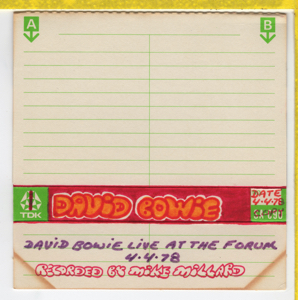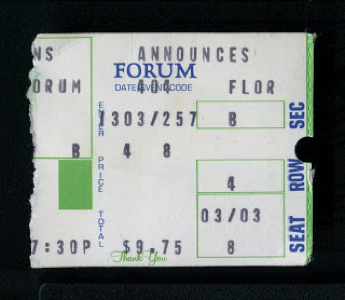 (Visited 625 times, 1 visits today)