David Bowie 1978-05-27 Marseilles ,Palais des Sports – Marseille 78 – (remastered by halloween jack).
Sound Quality Rating
01. WARSZAWA.flac
02. "HEROES".flac
03. WHAT IN THE WORLD.flac
04. BE MY WIFE.flac
05. THE JEAN GENIE.flac
06. BLACKOUT.flac
07. SENSE OF DOUBT.flac
08. BAND INTRODUCTIONS.flac
09. FIVE YEARS.flac
10. SOUL LOVE.flac
11. STAR.flac
12. HANG ON TO YOURSELF.flac
13. ZIGGY STARDUST.flac
14. SUFFRAGETTE CITY.flac
15. FAME.flac
16. BEAUTY AND THE BEAST.flac
17. ALABAMA SONG.flac
18. STATION TO STATION.flac
ENCORE:
19. STAY.flac
20. BREAKING GLASS.flac
21. TVC-15.flac
22. REBEL REBEL (1-2 ONLY).flac
Label : No label
Audio Source : audience
Lineage : TDK SA90
Total running time : 1:32:14
Sound Quality : noise ,dull ,but still good listened to
Attendance : 7.500
Artwork : Yes
Remaster : by halloween jack
This is another surprise…..the history goes something like this. Bowie played Marseilles in '78, and the story goes the power went out during Blackout, and after a delay the show started again. Back then I think an hour or so is a good guess as to how long people had to wait. One could speculate that it was the work of a crazy in-house hired hand, right? I mean a blackout right at the end of Blackout? In reality, the power goes out a little into Sense of Doubt, so maybe the crazy hired hand was a little slow on the draw. You can hear it on the tape for just a couple of seconds then it cuts back to the next song, but I have separated Sense Of Doubt even though it's only a few seconds in that everything goes.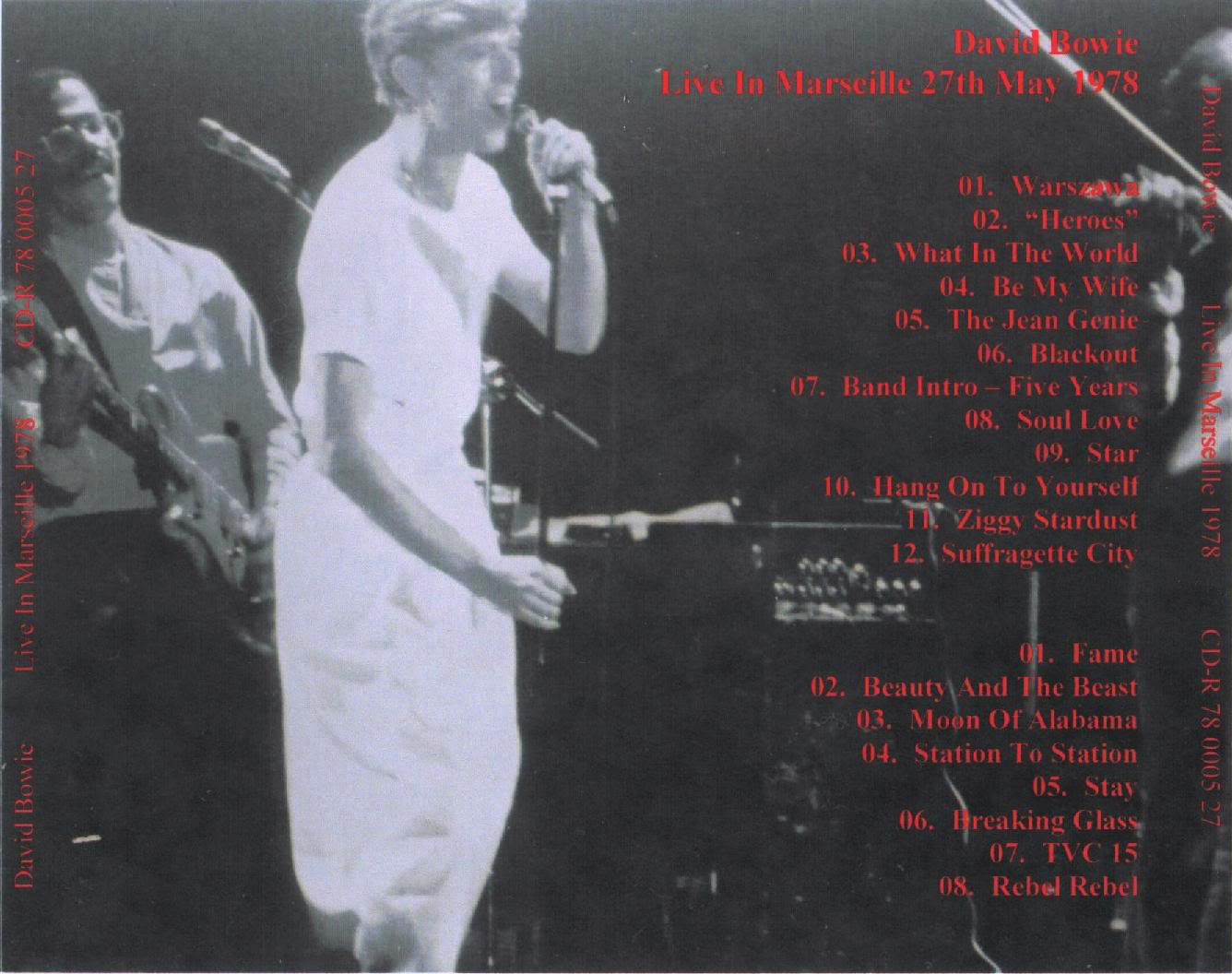 In taper circles the version circulating had always been garbage and for completists only. Then around 1990 or so I made a trade for this version, which was on a list that said better quality. Then I received it and realized I had really stumbled upon something good. The show is nearly complete, with small cuts in Ziggy Stardust and Rebel Rebel. In addition, the quality is really solid. This is a nice recording to my ears, full stereo sound perhaps, good depth to the instruments and the like. The more I listened to it, the more I liked it, and it has one of my favorite versions of "Heroes" I did ask my source at the time if he had a fuller version, alas he said this was how he got it. The cuts are clearly the result of using a 90 minute tape, cutting off the end of each side, and I am sure a full version of this show does exist as there are no other cuts.
Rather an unusual sequence at first sight; most likely you'll think someone has been funny enough to hustle all the songs, but during this concert something happened. After Blackout the electricity failed and a French girl took a header around Bowie's neck. Later he would say: "I didn't know where she came from and I didn't have time to ask her name,but anyway, there she was suddenly with her arms around my neck,a thigh between my knees and her tongue so far down my throat that I feared I must surely choke or suffocate before she came up forair".
A forced interval of more than an hour followed, but when it was over,Bowie came on again and after a couple of French words to the audience,he in­ troduced the band. All this ,togethrer with the fact that presumable ,there was not enough time to play all the songs, made Bowie change the sequence.
Tour band 1978 – The Low and Heroes World Tour :
David Bowie – vocals, chamberlain
Adrian Belew – lead guitar, backing vocals
Carlos Alomar – rhythm guitar, backing vocals (music director)
George Murray – bass guitar, backing vocals
Dennis Davis – drums, percussion
Roger Powell – keyboards, synthesizer ,Moog Taurus bass pedals ,backing vocals (except 11–14 November 1978)
Dennis Garcia – keyboards, synthesizer (11–14 November 1978 only)
Sean Mayes – piano, string ensemble, backing vocals Simon House – electric violin
Simon House – electric violin.
.
(Visited 983 times, 1 visits today)