David Bowie 1976-02-02 Vancouver ,Pacific National Exhibition Coliseum – When God Was An Englishman – (Rehearsals).
Sound Quality Rating
01. Station to station.flac
02. Suffragette City.flac
03. Waiting for the man.flac
04. Word on a wing.flac
05. Stay.flac
06. TVC 15.flac
07. Sister Midnight.flac
08. Life On Mars.flac
09. Five Years.flac
10. Panic In Detroit.flac
11. Fame.flac
12. Changes.flac
13. The Jean Genie.flac
14. Queen Bitch.flac
15. Rebel Rebel.flac
Label: No label
Audio Source: Soundboard
Lineage:
Total running time: 1:24:40
Sound Quality : very good. Equals record or radio apart from a slight noise and some dullness.
Attendance: 0
Artwork: yes.
Note 1: Station to station world tour reharsals, national exhibition center, Vancouver, Canada, Monday, February 2nd 1976
Note 2: Deluxe full color foldout cover, 450 copies made in Blue, Red and White Vinyls, 150 for each vinyl colors. This is the Red Edition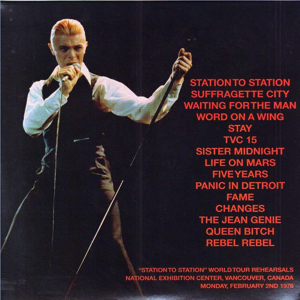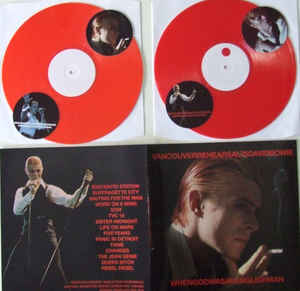 The Tour Band – The Station To Station Tour
• David Bowie – Vocals, saxophone
• Carlos Alomar – Rhythm guitar, music director,backing vocals
• Stacy Heydon – Lead guitar, backing vocals
• George Murray – Bass guitar, backing vocals
• Dennis Davis – Drums, percussion
• Tony Kaye – Keyboards
The band became known as "Raw Moon"
Crew
• Vern Moose Constan, Rob Joyce – Band technicians/personnel
• Lonnie McKenzie, Leroy Kerr, Lester Burton, Buddy Prewitt, Larry Sizemore – Lighting technicians/personnel
• Buford Jones, Scott Wadsworth – Sound technicians/personnel
.
Reviews:
steinib Jul 17 2007
This has to be one of the best Bowie bootlegs of all time, and is easily the best I have heard. It offers the listener a glimpse of the rehearsals to the legendary 1976 tour, which is probably Bowies coolest period. The music is rather dense, being full of many layers of music, with electric guitars soaring above subtle vocal harmony. Listening to the rehearsals brings the listener much closer to the music itself as it unfolds, as the players experiment along. Not that the music is at an experimental stage, it is just being polished and the players are in some places still finding their groove within the songs. The vocal harmonics between Bowie and the backing vocalist (whose name escapes me) is particularly striking because we can hear clearly how the two voices are interwoven. The backing vocals is tortuously difficult at times, something we can not detect from the subsequent live recordings. It is thrilling to hear, if you are interested in that sort of thing. Also, at this stage the musicians can goof around and play recklessly. Some of the song really *bite*. Take "Five Years" for example. It takes three attempts to do properly, mistaking one verse for another, but this track only proves that third time really is lucky. When the song does work, it is staggering, with Bowie singing it as if for the very last time. This delivery is a truly cathartic experience which easily eclipses the studio version.
Stevehawk Jan 09 2007
Now this is quite brilliant! What a find. At times you wouldnt know these are rehearsals. A superb recording (although not quite soundboard) of the Thin White ones tour of 1976. Sadly nothing official ever made it from this tour,apart from the extra tracks on Station To Station so it makes this extra special.
This is simply one of the best Bowie bootleg in terms of sound quality of Bowie recorded around 1976.
Published
Dogs_Body Jan 22 2006
The 1976 Vancouver rehearsals were a complete dress rehearsal for the 1976 tour and took place on the 2nd of February 1976. This infamous bootleg has been released, re-released and butchered many many times over the years on vinyl, cassette and CD and the versions vary in content. The scarce Mainman And The Mainline contains the full rehearsals session, over two disks and the sound quality is very good. The rehearsal session generally went without hick-up apart from Five Years which had to be stopped and re-stated. Bowie took the pause as an opportunity to ask for a cigarette and cup of cocoa! Also, during Changes Bowie starts of by singing a load of mumbo-jumbo; wether or not he just forgot his lyrics I dont know. An essential and much talked about Bowie bootleg.
Anxiety Sep 27 2005
Probably my favorite Bowie bootleggage, if only to hear the Thin White Duke singing skat to "Changes" and to experience one of the most violently funky renditions of "Stay" ever to be recorded. Good stuff.
.
.
(Visited 1,281 times, 1 visits today)