David Bowie 1976-02-17 Denver ,McNichols Sports Arena – Denver 1976 –
Sound Quality Rating
101. Station To Station.flac
102. Suffragette City.flac
103. Fame.flac
104. Word On A Wing.flac
105. Stay.flac
106. Waiting For The Man.flac
107. TVC 15.flac
208. Five Years.flac
209. Panic In Detroit.flac
210. Changes.flac
211. Queen Bitch.flac
212. Diamond Dogs.flac
213. Rebel Rebel.flac
214. The Jean Genie.flac
Label: No label
Audio Source: audience
Lineage: Tape > Technics Rs-bx501 > Zoom H2N (24/96) Flac > Audacity 2.0.5 (Track split) > Downsampling to 16/44 (Foobar2000)
Total running time: 1:13:44
Sound Quality : Not good ,much Noise ,very dull
Attendance: 19.100
Artwork: yes.
It's Only Rock & Roll is included in this tape ,which is not so: at the end of Diamond Dogs Bowie calls out several times "It's only rock & roll,oh yeah",but that is all.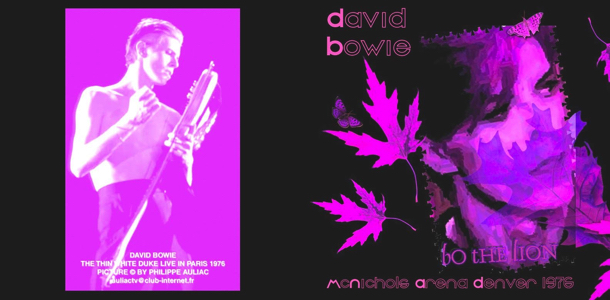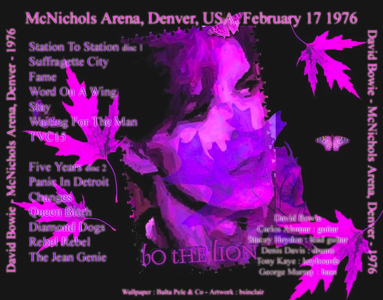 The Tour Band – The Station To Station Tour
• David Bowie – Vocals, saxophone
• Carlos Alomar – Rhythm guitar, music director,backing vocals
• Stacy Heydon – Lead guitar, backing vocals
• George Murray – Bass guitar, backing vocals
• Dennis Davis – Drums, percussion
• Tony Kaye – Keyboards
The band became known as "Raw Moon"
Crew
• Vern Moose Constan, Rob Joyce – Band technicians/personnel
• Lonnie McKenzie, Leroy Kerr, Lester Burton, Buddy Prewitt, Larry Sizemore – Lighting technicians/personnel
• Buford Jones, Scott Wadsworth – Sound technicians/personnel
.
(Visited 290 times, 1 visits today)